(hit "refresh" to get the most recent version of this page; click on photos for larger images)
Euclid Car Wash
Anaheim, CA

2016:

2020:

The Euclid Car Wash uses a lantern motif. [map]
J&S Auto Hand Wash [gone]
Van Nuys, CA
Star Handwash
Sunland, CA
The J&S Auto Hand Wash was built in 1964. It was originally known as the Sultan Car Wash. I have not seen globes and details like these on top of the fins anywhere else. These photos are from 2013. By 2015, this car wash had closed and was fenced off. It had been demolished by 2017.

The Star Handwash looks like the same design as the J&S Auto Hand Wash. The poles probably had globes and/or flags like that car wash originally. [map]
National Car Wash
North Hollywood, CA
The National Car Wash built these steel beam and cable style car washes in Southern and Northern California around 1960. [map]
Beach-Lin Car Wash
Anaheim, CA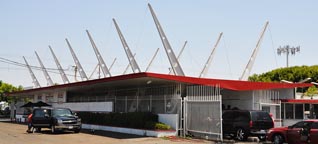 The Beach-Lin Car Wash is another example of the wire-supported cheese hole fin type. It was also built around 1960. In 2018, it was announced that the property will be developed and the car wash will be demolished. [map]
Tan's Touchless Car Wash
Santa Clara, CA
2008:
2014:
Lozano Brushless Car Wash
Sunnyvale, CA
Lozano Brushless Car Wash
Mountain View, CA
Tan's Touchless Car Wash and the Lozano Brushless Car Washes are more examples of this style from the 1960s. There are far fewer mid-century car washes in Northern California than in Southern California. I don't know if fewer were built there or if just fewer survive. The Santa Clara car was has been Tan's since 1982. [Santa Clara map]; [Sunnyvale map]; [Mountain View map]
Top Express Car Wash
Los Angeles, CA
Buena Park Car Wash [gone]
Buena Park, CA
The Top Express Car Wash was previously known as Simm's Car Wash. These arch style car washes are far less common than the fin types. [map]

The Buena Park Car Wash featured a slightly different style arch. This photo is from 2008. By 2011, the car wash had been demolished.
Expert Car Wash
Los Angeles, CA
Trojan Car Wash
Long Beach, CA
The Expert Car Wash was built in 1960. It must have originally had the same "Car Wash" letters suspended on the cables like the Top Express Car Wash above. [map]

The Trojan Car Wash is a self-serve business. [map]
Go Eco Express Wash
Lawndale, CA
I don't know if the Go Eco Express Wash is a remodeled building or recently built in the 1960s style. [map]
Lindstrom's Family Auto Wash
Phoenix, AZ
Francis & Sons Car Wash [gone]
Phoenix, CA
Lindstrom's Family Auto Wash was built in 1965 as the Rainbow Car Wash. It has been Lindstrom's since 1984. [map]

This Francis & Sons Car Wash was built in 1967. This photo is from 2012. The car wash was still there in 2014 but had been demolished by 2015.
Charleston Car Wash
Las Vegas, NV
Cascade Car Wash
El Paso, TX
The Charleston Car Wash appears to be from the 1960s. [map]

The Cascade Car Wash was probably built in the 1960s. There is also a sputnik sign sign here. [map]
Mister Car Wash
Albuquerque, NM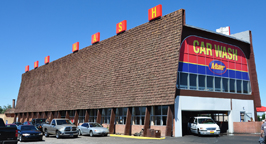 The Mister Car Wash was previously an Octopus Car Wash. I don't know if this location ever had an octopus statue like these. There was another Octopus Car Wash in Albuquerque that had a statue until it, too, was sold to Mister Car Wash. As far as I know, none of the other Octopus Car Washes had buildings like this. It probably housed another car wash originally. [map]
RoadsideArchitecture.com

Copyright. All photos at this website are copyrighted and may only be used with my consent. This includes posting them at Facebook, Pinterest, blogs, other websites, personal use, etc.

Tips & Updates. If you have suggestions about places that I haven't covered, historical info, or updates about places/things that have been remodeled or removed, I'd love to hear from you: roadarch@outlook.com.