(hit "refresh" to get the most recent version of this page; click on photos for larger images)
Madison Car Wash
West Hollywood, CA
Mister Car Wash
Voss Rd.
Houston, TX
The Madison Car Wash may have been built in 1970. It was probably a Mister Car Wash originally. [map]

The Mister Car Wash shares the same design as the Madison Car Wash. Mister Car Wash was founded in Houston in 1969. I would assume that other locations like this were built but I have not seen any in California, Texas, or the states between them. The chain's headquarters is now in Tucson, AZ. [map]

There are at least three other Houston locations with this design as shown below.
Mister Car Wash
FTM 1960 Rd. E
Houston, TX
Mister Car Wash
FTM 1960 Rd. W
Houston, TX
Mister Car Wash
Crosstimbers St.
Houston, TX
Mission Car Wash
San Fernando, CA
I haven't seen any other car washes with fin-toppers like those at the Mission Car Wash. [map]
Minit Man Car Wash
Pomona, CA

2008:
2013:
I have seen several car washes in the Los Angeles area with these V-topped like those at this Minit Man Car Wash. Perhaps there was a Minit Man chain. The fins were repainted sometime between 2008 and 2013. [map]
Sierra Car Wash & Detail Shop
Fontana, CA
Classic Car Wash
Saratoga, CA
I have not seen fins like those at the Sierra Car Wash & Detail Shop anywhere else. This was originally a Magic Minit Car Wash. There is another example of this design in Sacramento, CA. [map]

There are three other Classic Car Wash locations in the Bay Area but only this one has these columns with lanterns. [map]
Rob's Car Wash (now Express Wash)
Sherman Oaks, CA

2008: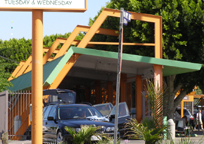 2013 & 2015:
2019: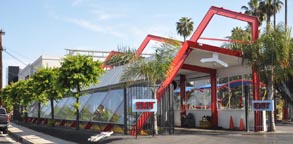 Rob's Car Wash was built by California Car Wash in the early 1960s. There were other car washes of this design but most of them have been remodeled. Both the National Car Wash and California Car Wash companies had headquarters in Van Nuys. In 2018, the car wash was painted red and became the Express Wash. Plastic panels now cover the support "legs." [map]
Canoga Park Hand Car Wash
Canoga Park, CA
Magnolia Car Wash
Burbank, CA
The Canoga Park Hand Car Wash shares the same design as Rob's Car Wash described above. It was built in 1960. [map]

I believe the Magnolia Car Wash was built in the 1960s. [map]
Hollywood Stars Car Wash
North Hollywood, CA

2012:
The Hollywood Stars Car Wash was previously known as the Toluca Lake Car Wash and the Presidential Car Wash after that. It was repainted in 2019. For more, see this website. [map]
Premier Car Wash
Encino, CA
The Premier Car Wash was built in 1966. It was originally known as the Auto Laundry. For more, see this website. [map]
Carson Car Wash
Carson, CA
The Carson Car Wash uses the same design as the Premier Car Wash directly above. I believe it was built in 1964. [map]
Crown Car Wash
Los Angeles, CA
Pacific Car Wash [gone]
Stanton, CA
It appears that the tops of the Swiss cheese hole columns at the Pacific Car Wash were chopped off at some point. This one had the same style plastic signage as several car washes shown above. It was demolished in 2017.
RoadsideArchitecture.com

Copyright. All photos at this website are copyrighted and may only be used with my consent. This includes posting them at Facebook, Pinterest, blogs, other websites, personal use, etc.

Tips & Updates. If you have suggestions about places that I haven't covered, historical info, or updates about places/things that have been remodeled or removed, I'd love to hear from you: roadarch@outlook.com.