(hit "refresh" to get the most recent version of this page; click on photos for larger images)
Randolph Car Wash [gone]
Lincoln, NE
The Randolph Car Wash appeared to be from the 1960s. These photos are from 2009. The car wash was still operating in 2016. By 2018, the fins on the building and the sign were gone. The property was surrounded by chain link fencing.
There are many mid-century car washes left in California. I believe all or most of these buildings were constructed in the early 1960s. I don't know if these car washes were part of chains or if they all operated independently. Some of these structures may have been prefabricated and sold to independent operators who could pick out the designs that they wanted from brochures.
Sofspra Car Wash
Encinitas, CA
Sofspra Car Wash
Los Angeles, CA
Sofspra Car Wash
Watsonville, CA
Sofspra was a nationwide, self-serve car wash chain established in the 1960s. The signs at these locations are the only ones that I know of that still exist. The only other still-open location that I can find is in Rochester, NH. However, that one has a boring, modern box sign.

I assume that those balls on top of the sign in Encinitas must have been sequentially lit. The car wash canopies appear to have been replaced. [map]

The Los Angeles location has the same, original style car wash canopy as the Watsonville location. [map]

The sign at the Watsonville location has what is probably the original wording. There is another location in Watsonville with the original canopies and an updated sign. [map]
former Sofspra Car Wash
Hawthorne, NV
This Sofspra Car Wash opened in 1967. It now operates as the Hughes Car Wash. [map]
former Laurel Canyon Car Wash
Sun Valley, CA (now North Hollywood, CA)
This structure was originally installed on the roof of the Laurel Canyon Car Wash in North Hollywood, CA. It was designed by Armet & Davis. It had been located at U Pick Parts for many years when these photos were taken in 2013. In 2015, the structure was disassembled and moved to the storage lot of the Valley Relics Museum. For more, see this website.
Sparkle Car Wash
San Bernardino, CA
2008:
2013:
2022:
The Sparkle Car Wash features shield signs that spell out "car wash". There are many examples of this fin style in southern California. However, this is the only one I have seen with the balls on top of the fins. The inside of the fins were painted white sometime between 2008 and 2010. Around 2019, the fins and sign letters were repainted with multiple colors. However, the remaining balls on top of the fins were removed. For more, see this website. [map]
Florence Car Wash
Florence, CA
2008:
2020:
The Florence Car Wash is another with these same style fins. It was built around 1961. By 2009, the fins had been painted red which is fading back to blue now. [map]
La Habra Car Wash [gone]
La Habra, CA
The La Habra Car Wash featured these same fins, hidden behind palm trees, and a striking sign. These photos are from 2008. The car wash was still there in 2012 but had been demolished by 2015.
Red Carpet Car Wash
Los Angeles, CA
2013:
2022:
The Red Carpet Car Wash was repainted sometime after 2005. Before that, the fins were blue and yellow. It was last known as the King Express Wash. It closed in 2022 and it appeared that demolition work was underway. For more, see this website. [map]
Bonus Hand Car Wash
Santa Monica, CA
Downtown Car Wash
Fresno, CA
Since at least 2007, the Bonus Car Wash had flags from different countries on top of the fins. This photo is from 2013. Around 2014, all American flags were installed. [map]

The Downtown Car Wash was previously named the New York Hand Car Wash. [map]
Jet Car Wash
Inglewood, CA

2013:
2020:
The Jet Car Wash was built around 1961. In 2014, the fins and sign were painted red and peach. [map]
Los Feliz Car Wash
Los Angeles, CA

2012: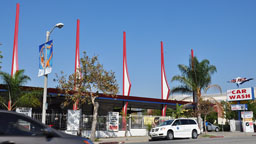 Around 2020, the Los Feliz Car Wash fins were repainted from white and red to white and blue. [map]
La Cienega Car Wash
Los Angeles, CA
2013:
2017:
The La Cienega Car Wash was painted pink for a Lyft promotion during 2017. It was repainted blue after that as shown above. [map]
Lankershim Car Wash
North Hollywood, CA
2013:
2022:
The Lankershim Car Wash was built in 1963. In 2021, the car wash was being remodeled. The fins were chopped in half and are being encased in rectangular boxes. I don't know if this sign will remain. The sign had a Superior Outdoor Display bulb arrow which spelled out "OPEN." That is gone now. [map]
RoadsideArchitecture.com

Copyright. All photos at this website are copyrighted and may only be used with my consent. This includes posting them at Facebook, Pinterest, blogs, other websites, personal use, etc.

Tips & Updates. If you have suggestions about places that I haven't covered, historical info, or updates about places/things that have been remodeled or removed, I'd love to hear from you: roadarch@outlook.com.