(hit "refresh" to get the most recent version of this page; click on photos for larger images)
City Council Chambers
Phoenix, AZ
Truxal Building
Phoenix, AZ
The City Council Chambers was probably built in the 1960s. [map]

The Truxal Building was built in 1960. This photo is from 2012. By 2018, the building was painted light and dark grey. [map]
Police Headquarters
Phoenix, AZ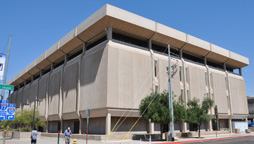 This Police Headquarters building was built in 1973. The original plans were to house both the Fire and Police Departments in this building. For more, see this website. [map]
Friedman Office Building
Phoenix, AZ
Central Towers
Phoenix, AZ
The Friedman Office Building was designed by Ralph Haver and built in 1954. The building now houses the Red Modern Furniture store. [map]

The Central Towers were built from 1959-1962. The complex is often referred to as the "U-Haul Towers" since U-Haul's headquarters is located here. [map]
Fifth Avenue Medical Building
Phoenix, AZ
Mardian Construction
Company Headquarters
Phoenix, AZ
The Fifth Avenue Medical Building was built in 1967. It was designed by Alfred Newman Beadle. For more, see this website. [map]

The Mardian Construction Company Headquarters was built in 1964. It was designed by Max Kaufman. The building now houses the Arizona Water Company. It bears a strong resemblance to his Edward Durell Stone's U.S. Embassy in New Delhi. [map]
U.S. Federal Building & Courthouse
Phoenix, AZ
First American Title Building
Phoenix, AZ
The U.S. Federal Building & Courthouse was built in 1961. It was designed by Lescher & Mahoney. [map]

The First American Title Building was built in 1964. [map]
Lescher & Mahoney Office
Phoenix, AZ
The Lescher & Mahoney Office was built in 1963. Lescher & Mahoney was an architectural firm. For more, see this website. [map]
Northwestern Mutual Life Building
Phoenix, AZ

2012:
2017:

The Northwestern Mutual Life Building was designed by Howard Madole and built in 1977. It now houses the Arizona Association of Realtors. The building had been repainted by 2017. For more, see this website. [map]
Phoenix Financial Center
Phoenix, AZ
The Phoenix Financial Center was designed by W. A. Sarmiento and built from 1964-1972. The tower originally had ten floors. In 1972, the remaining eight stories were added. There were plans for a second tower which mirrored this one but it was never realized. The original tenants included Western Savings & Loan, Standard Oil, Transworld Airlines, among others. Today, most of the tower is used for government offices.

The two round buildings are known as the "North Rotunda" and the "South Rotunda". The interiors feature intact original details such as the surfboard shaped stair steps, leaf-lighting, stained glass skylights, and vaults. For more, see this website. [map]
Pyramid on Central
Phoenix, AZ
Tempe Municipal Building
Tempe, AZ
I believe the Pyramid on Central was built in 1979. [map]

The Tempe Municipal Building was designed by Michael and Kemper Goodwin and built in 1970. For more, see this website. [map]
Fort Lowell Plaza
Tucson, AZ

Fort Lowell Plaza was built in 1963. There are 13 suites. [map]
office building
Tucson, AZ
This office building had been built by 1964. [map]
Broadway Podiatry Building
Tucson, AZ
The Broadway Podiatry Building was designed by Howard Peck and built in 1966. The sculptural cast concrete panels were done by Charles Clement in 1971. Until 2016, the facade was all white. [map]
Kelly Building
Tucson, AZ
The Kelly Building was designed by Nicholas Sakellar and built in 1964. It is now known as the Continental Building. [map]
First Federal Savings Bank
Yuma, AZ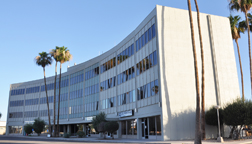 The curved First Federal Savings Bank building was built in 1964. [map]
RoadsideArchitecture.com

Copyright. All photos at this website are copyrighted and may only be used with my consent. This includes posting them at Facebook, Pinterest, blogs, other websites, personal use, etc.

Tips & Updates. If you have suggestions about places that I haven't covered, historical info, or updates about places/things that have been remodeled or removed, I'd love to hear from you: roadarch@outlook.com.