(hit "refresh" to get the most recent version of this page; click on photos for larger images)
City Center Motel
Phoenix, AZ

2012:
2017:
The City Center Motel was designed by William D. Knight and built in 1959. Since 2016, the building has housed a Travelodge. For more, see these websites: 1, 2, and 3. [map]
Marriott Renaissance Hotel
Phoenix, AZ
2012:
2017:
The Marriott Renaissance Hotel was built as the Hotel Adams in 1975. It was designed by Schwenn & Clark. The building replaced an earlier Hotel Adams which was demolished in 1973. Between 2016-2017, the building was painted white and a slipcover was placed over the arches on the bottom part of the building. [map]
former E-Z 8 Motel
Tucson, AZ

2018: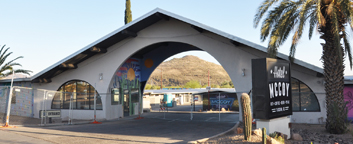 2020:
The E-Z 8 Motel was based in California. There are still a few examples of this design left there. This location was being renovated in 2018 for use as the Hotel McCoy. For more, see this website. [map]
former E-Z 8 Motel
Lake Havasu City, AZ

This E-Z 8 Motel was built in 1973. The buildings are now used as apartments. [map]
former Belaire Motel [gone]
Williams, AZ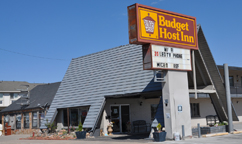 The Belaire Motel A-frame building appeared to be from the 1960s. It has housed a Budget Host Inn since at least 2008. In 2018, the building was rebuilt in a boxy style. For more, see these websites: 1, 2, and 3. [map]
Super 8 Motel [gone]
Tempe, AZ

This photo of the Super 8 Motel was taken in 2008. By 2012, the motel had been completely remodeled. The mid-century modern features are gone.
Sahara Inn
Holbrook, AZ

The Sahara Inn was originally built as a Whiting Bros. Motor Hotel, most likely in the 1960s. For more, see this website. [map]
Whispering Winds Motel
Flagstaff, AZ
The Whispering Winds Motel was originally known as the Whispering Winds Motor Hotel. It was built in 1964. While the color scheme has changed, the exterior is intact. This sign was there by the mid-1960s when the "Motor Hotel" part of the name had been changed to "Motel." However, there was a larger sign there when the place first opened. In 2020, a complete renovation of the buildings and sign began. The original look of both will be recreated. Work on the property was still going on in 2021. For more, see these websites: 1, 2, and 3. [map]
former Pony Soldier Motor Hotel
Flagstaff, AZ
The Pony Soldier Motor Hotel opened in 1962. The motel has been operated by Best Western since at least the late 1970s. For more, see this website. [map]
RoadsideArchitecture.com

Copyright. All photos at this website are copyrighted and may only be used with my consent. This includes posting them at Facebook, Pinterest, blogs, other websites, personal use, etc.

Tips & Updates. If you have suggestions about places that I haven't covered, historical info, or updates about places/things that have been remodeled or removed, I'd love to hear from you: roadarch@outlook.com.