(hit "refresh" to get the most recent version of this page; click on photos for larger images)
The Palms
Scottsdale, AZ
The Palms was built in 1958 as the Jacaranda Resort Apartments. The building was remodeled and renamed in 2000. For more, see these websites: 1 and 2. [map]
Villa Catalina Apartments
Tucson, AZ
The Villa Catalina Apartments were built from 1957-1961 as Tucson's first "own your own apartments". They were designed by Lionell Mayell with Friedman & Jobusch. The complex is listed on the National Register of Historic Places. For more, see this website. [map]
former TiKo-Tu Apartments
Tempe, AZ
The TiKo-Tu Apartments were built in 1963. They are now known as the Tempe Cottages. [map]
Pueblo Grande Apartments
Casa Grande, AZ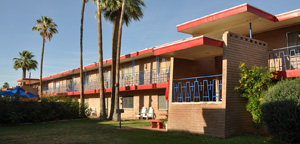 The Pueblo Grande Apartments were built in 1958. [map]
House
Mesa, AZ
The House is located in the Apache Country Club Estates neighborhood. [map]
Sunny Brook Apartments
Mesa, AZ
Arbor Apartments
Mesa, AZ
The Sunny Brook Apartments were built in 1969. [map]

The Arbor Apartments were built in 1969. [map]
Pierre Apartments
Phoenix, AZ
2012:
2018:
The Pierre Apartments were built in 1961. The developer was Staman, Fields & Co. The apartments have been converted into condos. The building was repainted in 2017. For more, see this website [map]
Shorewood Apartments
Phoenix, AZ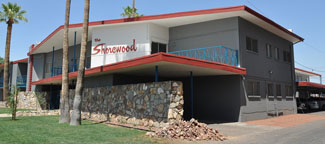 The Shorewood Apartments, now the Shorewood at Midtown, were built in 1960. This photo is from 2012. The red painted details have been painted black in 2020. [map]
Olympus Condominiums
Phoenix, AZ
The Olympus Condominiums were designed by Robert Starkovich and built in 1964. [map]
RoadsideArchitecture.com

Copyright. All photos at this website are copyrighted and may only be used with my consent. This includes posting them at Facebook, Pinterest, blogs, other websites, personal use, etc.

Tips & Updates. If you have suggestions about places that I haven't covered, historical info, or updates about places/things that have been remodeled or removed, I'd love to hear from you: roadarch@outlook.com.