(hit "refresh" to get the most recent version of this page; click on photos for larger images)
Spire
Scottsdale, AZ
Melody Cleaners
Yuma, AZ
This Spire was designed by Frank Lloyd Wright in 1957 for the Arizona State Capitol in Phoenix. The design was rejected but the spire was finally built here in 2004. It is 125 feet tall and composed of 1,700 pieces of steel. The Spire is lit at night. [map]

Melody Cleaners is probably from the 1950s or 1960s. [map]
Globe Medical Center
Globe, AZ

The Globe Medical Center was built in 1957. [map]
Nogales-Santa Cruz County Public Library
Nogales, AZ
The Nogales-Santa Cruz County Public Library was built in 1962. It was designed by Ed E. Pierson. It was renamed the Nogales-Rochlin Public Library in 2005. These photos are from 2018. The building has been painted white and gray. [map]
Hirsh's Shoes
Tucson, AZ
The Hirsh's Shoes building was designed by Bernard Friedman and built in 1954. The store closed in 2016. It was still vacant when these photos were taken in 2017. For more, see this website. [map]
Murphey Building
Tucson, AZ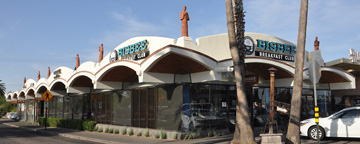 The Murphey Building was designed by Juan Worner y Bas and built in 1961. The terracotta statues represent saints and philosophers. The building now houses the Bisbee Breakfast Club. For more, see this website. [map]
former Broadway
Tucson, AZ

This Broadway store opened in 1974. It was designed by Charles Luckman. This building later housed a Macy's. The building is vacant now. This design was used for a few other Broadway stores but I don't believe any are left. There was one in Phoenix like this but it was demolished in 2016. For more, see this website. [map]
Mettler Dance Studio
Tucson, AZ
The Mettler Dance Studio was built in 1963. It was designed by John H. Howe, an apprentice of Frank Lloyd Wright. The building now houses the Tucson Creative Dance Center. For more, see these websites: 1, 2, and 3. [map]
Shelter Cocktail Lounge
Tucson, AZ

The Shelter Cocktail Lounge opened in 1961. This sign panel, which was not original, has been replaced. [map]
former Papago Lanes
Scottsdale, AZ

The Papago Lanes was designed by Donald T. Van Ess and built in 1960. The building is now partially occupied by the Rock Church. [map]
Advantage Melcher Chapel of the Roses
Mesa, AZ

The Advantage Melcher Chapel of the Roses mortuary building was constructed in 1972. [map]
Hansen Mortuary
Phoenix, AZ
The Hansen Mortuary building was constructed in 1961. [map]
former Melrose Liquors
Phoenix, AZ

2018: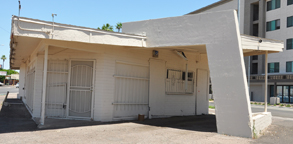 2019:
This Melrose Liquors building was built in 1957. It featured double drive-thru windows. The store closed in 2017 and was nearly demolished. In 2018, it was announced that the building would be adapted for a restaurant. By 2019, it had been repainted but there were no signs of a tenant. The property is currently surrounded by chain link fencing. [map]
Police Department
Phoenix, AZ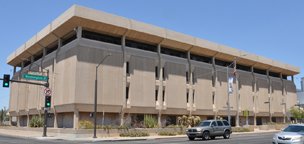 This Police Department building was built in 1973. [map]
Good Samaritan Hospital
Phoenix, AZ
444 Osborn Medical Center
Phoenix, AZ
This Good Samaritan Hospital was built from 1979-1982. It was designed by Bertrand Goldberg. The design is quite similar to his earlier St. Joseph's Hospital in Tacoma, WA. For more, see this website. [map]

The 444 Osborn Medical Center was built in 1962. [map]
Corral Cleaners & Launderers
Phoenix, AZ

The Corral Cleaners & Launderers was built in 1952 as a drive-in restaurant. In 1962, it was adapted for this dry cleaning business. For more, see this website. [map]
Celebrity Theatre
Phoenix, AZ
The Celebrity Theatre was built in 1963. The building originally had copper panels. It was designed as a conference center but wound up opening as a theater-in-the round known as the Star Theatre. The round stage is open on all sides to the audience and can revolve. Around 1974, the theatre was renamed the Celebrity Theatre. For more, see these websites: 1 and 2. [map]
RoadsideArchitecture.com

Copyright. All photos at this website are copyrighted and may only be used with my consent. This includes posting them at Facebook, Pinterest, blogs, other websites, personal use, etc.

Tips & Updates. If you have suggestions about places that I haven't covered, historical info, or updates about places/things that have been remodeled or removed, I'd love to hear from you: roadarch@outlook.com.