(hit "refresh" to get the most recent version of this page; click on photos for larger images)
former Hot Dog Castle
Abilene, TX

2011:
2017:
The Hot Dog Castle, a drive-thru restaurant, was built in 1975. After housing several other restaurants over the years, The Forge opened in 2010. Later that year, the building was housing Heff's Burgers. In 2017, the building was remodeled for Bosses Pizza. The building has been repainted and now houses Stonewalls Pizza Wings & Things. [map]
Ocean Treasures
Corpus Christi, TX
Ocean Treasures is a souvenir and gift shop. Does anyone know when this display was built? [map]
Magic Palace
Houston, TX
290 Wine Castle at Chateau de Chasse
Johnson City, TX
The Magic Palace was built around 2005. The building is vacant now and the building has been painted white. [map]

The 290 Wine Castle at Chateau de Chasse was built in 2018. [map]
Camelot Inn
Amarillo, TX
The Camelot Inn was built in 1971. It housed a Ramada Inn from 1976-1984 before the name was changed back to the Camelot Inn and Suites. For more, see these websites: 1 and 2. [map].
The Natatorium
Amarillo, TX
Wheeler County Jail
Wheeler, TX
The Natatorium was built in 1922 as an open-air swimming pool. It was enclosed in 1923. In 1926, the building was converted into a dance hall. The castle facade was added in 1935 when the place was known as The Nat Dine and Dance Palace. It closed in the 1960s but was sometimes used for concerts and community events. The building now houses The Nat Antiques & Collectibles. For more, see this website. [map]

The Wheeler County Jail was built in 1909 with concrete and steel. The building now houses a library, museum, and city offices. [map]
FinishMaster
Victoria, TX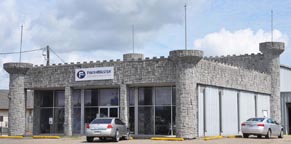 I don't know what this FinishMaster building housed originally. It housed the Gladwin Paint Co. before this. In the 1990s, it housed the Aztec Rental Center. It is located on King Arthur St. and the other streets in this neighborhood has Knights of the Round Table names like Lancelot and Guinevere. [map]
Newman's Castle
Bellville, TX
Newman's Castle was built by Mike Newman from 1998-2006. Tours are available with a reservation. For more, see this website.
Castle Apartments
Ellensburg, WA
Vista House
Ellensburg, WA
The Castle Apartments building was constructed in 1889. It was remodeled to look like a castle in 1930. [map]

The Vista House houses American Legion Post #8. It was built in 1930 by veterans of World War I.
Tillicum Toy Co.
Tacoma, WA
The Tillicum Toy Co. building was constructed in 1930. In 1935, the building was sold to Tacoma Milk Shippers. Since 2015, the building has housed Gallucci's Catering. For more, see this website. [map]
La Reau's
World of Miniatures
Pardeeville, WI
Mars Cheese Castle
Kenosha, WI
La Reau's World of Miniatures was the creation of Paul La Reau. He built famous buildings out of styrofoam. The place closed in 2002. In 1972, the first thing La Reau built was this castle wall. It was more elaborate but this was all that was left when this photo was taken in 2011. For more, see these websites: 1 and 2. [map]

Mars Cheese Castle opened in 1947. The original store burned down in 1957. The castle name and design were inspired by a castle in Italy which was owned by the store owner's mother. In 2011, the store was forced to move and rebuild nearby due to widening of I-94. The 80-foot-tall sign from the 1950s was allowed to stay. The new building is twice the size of the old one. It was built like a more authentic castle. The store reopened in 2011. These photos are from 2012. In 2016, the sign was removed. It was replaced with a similar but smaller one with backlit plastic letters instead of neon and a graphic display panel. For more, see these websites: 1, 2, 3, and 4. [map]
Global Spas
Cheyenne, WY
2012:
2022:
The Global Spas building is painted to resemble a castle. Does anyone know what was located here originally? By 2018, the building was housing E-Z Shed. By 2021, the top part of the tower was missing. [map]
Sweetwater Brewery
Green River, WY
The Sweetwater Brewery was built in 1900. It ceased being used for beer production in the 1930s. The building now houses a bar. For more, see this website. [map]
RoadsideArchitecture.com

Copyright. All photos at this website are copyrighted and may only be used with my consent. This includes posting them at Facebook, Pinterest, blogs, other websites, personal use, etc.

Tips & Updates. If you have suggestions about places that I haven't covered, historical info, or updates about places/things that have been remodeled or removed, I'd love to hear from you: roadarch@outlook.com.