(hit "refresh" to get the most recent version of this page; click on photos for larger images)
This section of castle-like buildings is organized alphabetically by state.
Castle Cafe and Ingrid's Jewelers
Daleville, AL
The Castle Cafe is a German restaurant. Around the back of the building is Ingrid's Jewelers. I believe both businesses are owned by the same family. Does anyone know the history of this building? [map]
Kidz Kastle
Dothan, AL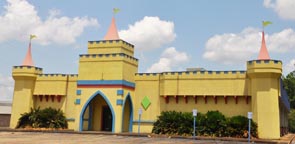 This building was built for Kidz Kastle, possibly in 1984. It was an indoor play center and restaurant. In 2008, the building began housing the Pizza Kastle. It closed around 2012 and the building remains vacant. [map]
Bunkley RV Superstore
Theodore, AL
Knight Times Tattoo
Fayetteville, AR
This castle-like building housed the Bunkley RV Superstore when this photo was taken in 2010. By 2013, it housed the Queen's Attic antiques store. By 2017, the builsing was housing Castle Treasures thrift store. Does anyone know what business was here originally or more about this place? [map]

The Knight Times Tattoo building previously housed a Mr. Burger. It was remodeled in 1998 as a castle for the tattoo shop. [map]
Earl's at the Castle
Bullhead City, AZ
I don't know if the building that houses Earl's at the Castle has always been a restaurant or when it was built. By 2018, the building had been painted yellow. [map]
Golfland Sunsplash
Mesa, AZ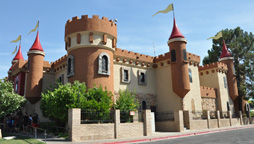 Golfland Sunsplash
Roseville, CA
The Golfland Sunsplash in Mesa opened in 1983 as the chain's original location. These parks have water parks and mini golf courses. [map]

The Golfland Sunsplash in Roseville was built in 1996. [map]
Athwal Real Estate
Ceres, CA
The Athwal Real Estate building has castle-like features. Does anyone know when it was built or what business was originally here? [map]
Kid's Castle
Gridley, CA
The Kid's Castle building has been here since at least the 1990s. Does anyone know more about it? I'm told it may have been a church originally. [map]
Castle Croydon
Long Beach, CA
castle apartments
Long Beach, CA
Castle Croydon was built in 1929 as an addition to house from 1912. The building was named after a recent owner. The building houses retail space on the ground floor and residential space on the second floor. For more, see this website. [map]

These castle apartments were probably built in the 1920s. [map]
Castle Car Wash
Long Beach, CA
I believe this Castle Car Wash was built in 1950. [map]
Post Office
Valley Village, CA
Glass Slipper Inn
Palo Alto, CA
This Post Office has turrets on the two corners of the building. It was built in 1950 as the Foodtime Market. For more, see this website. [map]

The Glass Slipper Inn was built in 1964 as the Glass Slipper Motel. For more, see this website. [map]
The Castle
Greenbrae, CA
Taco Jalisco
Indio, CA
King Cole Pizza
Los Angeles, CA
The Castle in Greenbrae was built in 1946 for the Greenbrae Co. Real Estate office. The building now houses a Coldwell Banker office. For more, see this website. [map]

Taco Jalisco has been closed since at least 2012. I don't know if that was the original occupant. [map]

King Cole Pizza opened in 1972 and this building appears to be from then. [map]
Friar Tuck's Bar & Grille
Pomona, CA
Friar Tuck's Bar & Grille was built as the Magic Towers in 1968. The addition was made later on to house an ice cream parlor. The Magic Towers closed in 1978. It became Friar Tuck's in 1990. These photos are from 2013. After that, the bar housed Stein Haus Brau & Brats. That bar closed and the building has been vacant since 2015. In 2018, renovation was taking place to reopen the place as a restaurant. It was still closed in 2019. For more, see this website. [map]
Twin Castle
North Hollywood, CA
The Twin Castle was built in 1964. [map]
RoadsideArchitecture.com

Copyright. All photos at this website are copyrighted and may only be used with my consent. This includes posting them at Facebook, Pinterest, blogs, other websites, personal use, etc.

Tips & Updates. If you have suggestions about places that I haven't covered, historical info, or updates about places/things that have been remodeled or removed, I'd love to hear from you: roadarch@outlook.com.