(hit "refresh" to get the most recent version of this page; click on photos for larger images)
Warm Springs Castle
Boise, ID
The Warm Springs Castle house was built from 2009-2011. For more, see these websites: 1 and 2. [map]
castle building
Idaho Falls, ID
This castle building built in 1975. It housed the Puerto Vallarta Mexican restaurant from at least 2008 until it closed in 2020. I don't know if that was the original occupant. The building is currently vacant. [map]
Castle Car Wash
Chicago, IL
The Castle Car Wash was built in 1925 as the John J. Murphy Filling Station. It was a Standard Oil station until at least 1970 and then became a garage/car wash. The building has been mostly vacant since the early 1980s. The County seized the property in 1995 for unpaid taxes. The crenellation on top of the tower was removed. In 2009 (bottom row of photos), the building was being restored for use as a restaurant. The planned name was "Chicken Castle". However, the building remains vacant. [map]
More Illinois:
Joliet Prison (Joliet)
Prince Castles: 1, 2 (various locations) [gone]
Garage Sale Store
Culver, IN
Castle Storage
Dyer, IN
The Garage Sale Store building previously housed Castle Storage. It now houses Major Mike's, a military surplus and camping supplies store. [map]

Castle Storage appears to be a modern building. The knights in the turrets were mass-produced. There are many of these statues around the country. [map]
Candy Castle
Santa Claus, IN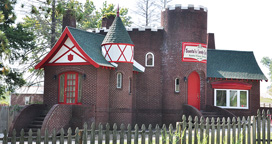 Elf's Workshop
Santa Claus, IN
The Candy Castle and Elf's Workshop were originally part of "Santa Claus Town" which was opened in 1935. Santa Claus Town is believed to have been the first themed attraction in the country. The Candy Castle was sponsored by the Curtiss Candy Company of Chicago. It was the first building constructed in Santa Claus Town. Santa's Workshop and a Toy Village were constructed in 1936. Other buildings and structures soon followed. Santa Claus Town closed in the 1970s. The buildings remained vacant and deteriorating until 2005 when restoration of the Candy Castle began. It reopened in 2006 as a museum and candy store. There are plans to restore a couple of the other remaining buildings. The Elf's Workshop building was still abandoned in 2018. For more, see these websites: 1 and 2. [map]
Shoe Castle
Decatur, IN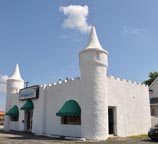 I believe this building was originally the Shoe Castle, a shoe store. After that, it was used as a fast-food restaurant. It later housed a MediaCom office. The building now houses the Discount Smoke Shop. Does anyone know more about it? [map]
Castle Car Wash [gone]
Princeton, IN
This Castle Car Wash was built in 1997. These photos are from 2010. The business was closed in 2011. In 2012, the building was still vacant. By 2015, the tower and the castle-features on the building were gone. It was reduced to a vacant box.
Mad Jack's Fresh Fish
Kansas City, KS
Mad Jack's Fresh Fish has occupied this building since 1984. This building looks older than that. Does anyone know what was here originally? [map]
Children's Castle
Kenner, LA
Snow Castle [gone]
Lacombe, LA
The Children's Castle featured live performances including music, magic, puppetry, storytelling, dance, and opera when this photo was take in 2010. By 2014, the building was housing the Castle Theatre. I believe the building has been vacant since 2019. [map]

The Snow Castle building was originally used as a fireworks stand many years ago. The columns in front look like they might have been rockets. The ice cream stand opened around 2009. by 2013, the building had been repainted and the faux stone detail was gone. The building appeared to be vacant in 2020. It was gone by 2022.
Irish Bayou Castle
Slidell, LA

2010:
The Irish Bayou Castle, aka the Fisherman's Castle, was built by Simon Hubert Villemarrette in 1981. According to one source, he planned on using the place as a tourist attraction for the 1984 Worlds Fair but that never happened. Another source says that Villemarrette was building the castle as a home for himself and died before it was finished. The castle was vacant for many years. It survived Hurricane Katrina with only minor damage. The castle was restored from 2009-2016. The building will be used for private events, photo shoots, and possibly as a bed and breakfast. In 2022, one of the turrets was damaged, most likely from a hurricane. For more, see these websites: 1, 2, and 3. [map]
Castle Restaurant
Leicester, MA
The Castle Restaurant opened in 1950. The building itself was constructed in 1937, modeled after the Morro Castle in Havana, Cuba. [map]
RoadsideArchitecture.com

Copyright. All photos at this website are copyrighted and may only be used with my consent. This includes posting them at Facebook, Pinterest, blogs, other websites, personal use, etc.

Tips & Updates. If you have suggestions about places that I haven't covered, historical info, or updates about places/things that have been remodeled or removed, I'd love to hear from you: roadarch@outlook.com.