(hit "refresh" to get the most recent version of this page; click on photos for larger images)
Deep in the Heart Art Foundry (now Pyrology Foundry & Studio)
Bastrop, TX
Deep in the Heart Art Foundry was established in 1980. The name was changed to Pyrology Foundry & Studio in 2022. The company creates bronze statues of people, animals, and things. The company makes the Beaver statues for the Buc-ee's gas station chain. For more, see this website. [map]
Sam HoustonHuntsville, TX
In 1994, David Adickes built this 67 foot tall statue of Sam Houston. It is entitled "Tribute to Courage". There is also a giant head to pose with. For more, see this website. [map]
Stephen F. AustinAngleton, TX
This 60 foot tall concrete statue of Stephen F. Austin was built by David Adickes and installed in 2005. [map]
Stephen F. AustinBellville, TX
President EisenhowerDenison, TX
This giant bust of Stephen F. Austin was built by David Adickes and installed around 2012. [map]

This giant bust of President Eisenhower was built by built by David Adickes was installed in 2011. [map]
Busts of Four PresidentsHouston, TX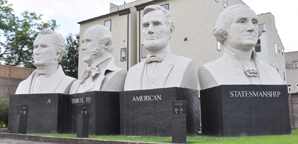 These Busts of Four Presidents were installed in 2008 in a residential neighborhood facing I-10 and I-45. The statues of Stephen F. Austin, Sam Houston, Abraham Lincoln, and George Washington are sometimes referred to as "Mount Rush Hour." They are on a tiny strip of land known as the American Statesmanship Park. The 18-foot-tall concrete statues were created by David Adickes. [map]
David Adickes StudioHouston, TX

2008 and 2011:
2018: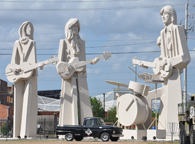 This is where David Adickes created giant statues and busts for Presidents Parks (Williamsburg, VA and Lead, SD). In 2010, Adickes moved his studio to Huntsville, TX. However, the Houston studio remained in operation. In 2014, the Presidential busts were moved to Adickes' new studio on Nance St. in Houston. Later that year, a 34-foot-tall Charlie Chaplin statue was installed. For more, see this website. [map]

The Beatles statues are 36-feet tall and were built in 2007. They were left behind when Adickes studio moved. They were still at the old location in 2016. By 2017, they had been moved to the 8th Wonder Brewery Lot. They are supposedly only there for a year and are for sale. [map]
RoadsideArchitecture.com

Copyright. All photos at this website are copyrighted and may only be used with my consent. This includes posting them at Facebook, Pinterest, blogs, other websites, personal use, etc.

Tips & Updates. If you have suggestions about places that I haven't covered, historical info, or updates about places/things that have been remodeled or removed, I'd love to hear from you: roadarch@outlook.com.