(hit "refresh" to get the most recent version of this page; click on photos for larger images)
former station
Shamrock, TX
This former station now houses Olde Station Antiques. [map]
former station
Shamrock, TX
This former station last housed Budget Fuels. I believe it has been vacant since at least 2008. The rings on the canopy support poles might indicate this was originally a Conoco station. [map]
former station
Lamesa, TX

This former station appeared to be vacant when this photo was taken in 2012. [map]
former station
Lamesa, TX
former station
Tyler, TX
This former station in Lamesa was probably built in the 1920s or 1930s. [map]

This former station in Tyler now houses a bus company office. It is now painted white and blue. Its last days as a gas station were as an ARCO. I don't know what brand was sold here originally. [map]
former Texaco station
Dallas, TX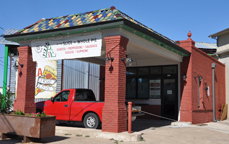 The canopy of this former Texaco station had walled up since at least 2007. In 2019, the walls were removed and the building restored. It now houses Pizza Pie. [map]
former station
Dallas, TX
former Ball service station
Wellington, TX
This former station in Dallas might have been in use as a private residence or office when this photo was taken in 2011. [map]

The Ball service station was built in 1919. The canopy and roof collapsed around 2007. This photo is from 2011. Around 2022, there was a new roof and canopy. For more, see these websites: 1 and 2. [map]
former Skelly station
Skellytown, TX
This former Skelly station was probably built in the 1920s or 1930s. Skellytown was named after William G. Skelly, the founder of the Skelly Oil Company. This area was booming with oil drilling and refining during the 1920s. For more, see these websites: 1 and 2. [map]
former Pure Oil station
San Antonio, TX

2011: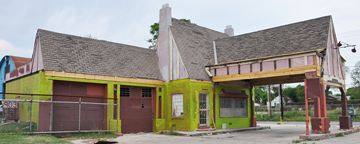 2018:
This former Pure Oil station has been vacant and endangered for many years. In 2016, the building was painted beige. This is the only Pure Oil canopy-style cottage station left in San Antonio and maybe the only one left in Texas. [map]
former Pure Oil station [gone]
Houston, TX
This former Pure Oil station might have been in use as a repair shop when these photos were taken in 2011. By 2014, the building had been demolished.
former Pure Oil station
Orange, TX
This former Pure Oil station never had a canopy but I'll include it here to keep these rare examples of Pure Oil cottage stations in Texas together. This building now houses the Greater Orange Chamber of Commerce. [map]
Texas
Art Deco
Texas
Iceboxes
Texas
Conoco
Texas
Humble Oil




RoadsideArchitecture.com

Copyright. All photos at this website are copyrighted and may only be used with my consent. This includes posting them at Facebook, Pinterest, blogs, other websites, personal use, etc.

Tips & Updates. If you have suggestions about places that I haven't covered, historical info, or updates about places/things that have been remodeled or removed, I'd love to hear from you: roadarch@outlook.com.