(hit "refresh" to get the most recent version of this page; click on photos for larger images)
former station
Strawn, TX
This former station was owned and operated by Zim Zimicki. The Zim's building also housed a restaurant and Dr. Pepper bottling plant. It now houses a pottery shop. [map]
Magnolia Petroleum Building
Dallas, TX
The Magnolia Petroleum Building was built in 1920. The flatiron-shaped building had offices above and sold gas under the canopy. The building is also referred to as the Triangle Point Building and the KLIF Building. KLIF, a Dallas radio station, used the building for its studios from 1964-1980. In 2019, the building was renovated with all but the front arches walled up with windows, creating interior space. A staircase was also installed under the front of the building. [map]
Grimes Garage
Hillsboro, TX

2011:
2018: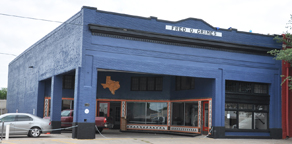 This Grimes Garage was built in 1906. The building originally had two large windows at the sides of a central entrance. A car and tires were displayed in the windows. At some point the entrance doors and the window on the left were removed to create this canopy for servicing cars and selling gas. By the 1940s, the garage was serving as a Texaco station with 14 pumps. The garage closed in 1965. The building housed Classic Auto Memories for many years. Sometime after 2016, that business was gone. In 2018, the building was repainted and Lone Star Fossils had moved into the building. For more, see this website. [map]
former Madison Garage
Del Rio, TX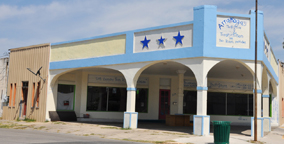 The Madison Garage was built in 1930. I assume there were gas pumps under the canopy. [map]
Robert L. More gas station
Vernon, TX
The Robert L. More gas station was built around 1914 and leased to various owners. Robert L. Moore bought the building around 1933. The station has been closed for many years. For more, see these websites: 1 and 2. [map]
former station
Waxahachie, TX
Witherspoon Building
San Antonio, TX
This former station housed Purple Dragon Tattoo since 1993. This photo is from 2011 when the building was housing the Two Amigos Taqueria and a tattoo studio. It now houses a beauty salon. [map]

The Witherspoon Building was built from 1929-1930 for the Witherspoon Refining Co. There was a gas station under the canopy. The building has been converted into lofts. [map]
Texas Company Filling Station
Victoria, TX
The former Texas Company Filling Station is listed on the National Register of Historic Places. [map]
former station
Texarkana, TX
This former station was built in 1925. It was originally known as the 999 Service Station. "999" was the station's phone number. The "999" opal glass letters at the tops of the columns were backlit at night. There were also large "999" letters on the building under the canopy on the office walls. In the late 1960s, the station was selling Conoco and Goodrich Tires. The building now houses Big Boy Toyz. [map]
Texas
Art Deco
Texas
Iceboxes
Texas
Conoco
Texas
Humble Oil




RoadsideArchitecture.com

Copyright. All photos at this website are copyrighted and may only be used with my consent. This includes posting them at Facebook, Pinterest, blogs, other websites, personal use, etc.

Tips & Updates. If you have suggestions about places that I haven't covered, historical info, or updates about places/things that have been remodeled or removed, I'd love to hear from you: roadarch@outlook.com.