(hit "refresh" to get the most recent version of this page; click on photos for larger images)
De Dee's Dairy
Niagara Falls, NY
Super Cream
Homer, NY
De Dee's Dairy looks like it was built in the 1950s or so. [map]

The Super Cream building appears to be from the 1950s or 1960s. The angle of the roof suggests this might have been built as a Carvel. These photos are from 2010. In 2013, this stand was occupied by Super Scoops. Super Cream moved to a much larger building a little further north. This pole sign was moved there. [Super Scoops map]; [Super Cream map]
King Kone is another 1950s/1960s Carvel-looking stand. It opened in 1973. [map]
Hoyer's Ice Cream
West Haverstraw, NY
Hoyer's Ice Cream appears to be from the 1950s or earlier. For more, see these websites: 1 and 2. [map]
Moxie's Ice Cream
Wynantskill, NY
Purity Ice Cream Company
Ithaca, NY
Moxie's Ice Cream is housed in a stand from the 1930s. It was previously known as Wagar's Dairy. The Moxie family has been running this stand and making their own homemade ice cream since 1969. There are always new flavors - made in 150-gallon batches with vintage equipment. For more, see this website. [map]

The Purity Ice Cream Company opened in 1936. This store features over 40 flavors of ice cream as well as baked goods. For more, see this website. [map]
Krisch's Restaurant &
Ice Cream Parlor
Massapequa, NY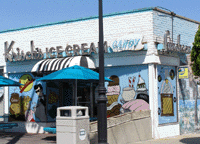 Krisch's Restaurant & Ice Cream Parlor opened in 1920. This business features diner-like atmosphere and food, as well as homemade ice cream. In 2022, the business added a new backlit plastic sign in front and moved the neon sign to the side of the building. [map]
Dairy Freeze Chill and Grill [gone]
Latham, NY
Pink Roof Ice Cream Stand
Lake George, NY
The Dairy Freeze Chill and Grill was part of the Latham Greens Family Fun Center. The building was demolished in 2013.

The Pink Roof Ice Cream Stand appears to be from the late 1960s or early 1970s. [map]
Martha's Dandee Creme
Queensbury, NY
Martha's Dandee Creme was once part of a restaurant and cabin complex which was built in the 1950s. The original sign had a large bulb arrow. The photo at the left above is from 2001. The property was originally used as a chicken farm. A rooster, possibly from that farm, used to hang around the restaurant. He was the inspiration for the fiberglass statue on top of the sign. The statue is named "Charlie." In 1999, the entire property was sold to Six Flags. Their Great Escape Amusement Park is just across the road from Martha's. In 2009, the previous owners bought back the ice cream stand and restaurant. The restaurant still remains closed. The neon sign was altered to advertise exclusively for the ice cream stand (second photo above). For more, see these websites: 1 and 2. [map]
Snowman Ice Cream
Troy, NY
The Snowman Ice Cream stand has been here since 1953 and still uses the original Emory Thompson machines to make its ice cream. These photos are from 2010. The sign was restored in 2015 with new panels. While the new sign appears identical to the old one, there are a couple of minor changes. The painted "N" in "Snow" on one of the panels was upper case originally. This was corrected for the new sign. The "Snowman" neon text was changed from red to blue. [map]
Mister Shake
Richfield Springs, NY
Mister Shake features an old sign topped by a rabbit and a funky mini golf course. The sign is gone but the rabbit statue is now on the roof. [map]
Ice Cream Island
Dansville, NY
Cooligan's Island
(now Pink Cow)
Alden, NY
May's Alterations
Auburn, NY
vacant building
Muncie, IN
These buildings were originally built as Picture Island locations which were photo developing kiosks similar to Fotomats. I believe they were built in the late 1960s and early 1970s. All four of these buildings are located in shopping center parking lots.

This photo of Ice Cream Island is from 2010. By 2012, there was an addition to the side of the building which houses Vern's Dog House. [map]

This photo of Cooligan's Island is from 2005. By 2012, the building was housing the Pink Cow Ice Cream. [map]

The photo of the Mays Alterations building is from 2009. I believe the business is still operating. [map]

This photo of the vacant building in Muncie, IN was taken in 2006. The building was still vacant in 2021. [map]

Fotomat buildings had pyramid-shaped roofs. For more, see this website.
RoadsideArchitecture.com

Copyright. All photos at this website are copyrighted and may only be used with my consent. This includes posting them at Facebook, Pinterest, blogs, other websites, personal use, etc.

Tips & Updates. If you have suggestions about places that I haven't covered, historical info, or updates about places/things that have been remodeled or removed, I'd love to hear from you: roadarch@outlook.com.