(hit "refresh" to get the most recent version of this page; click on photos for larger images)
Fischer's Furniture and Appliance Company
Tell City, IN
Fischer's Furniture and Appliance Company was established in 1948. [map]
Miller Milkhouse
E. Main St.
Richmond, IN
2005:
2009:
Miller Milkhouse
W. Main St.
Richmond, IN
Miller Milkhouse was a glass box type convenience store with a butterfly roof. These stores were owned by Miller's Dairy. I believe the E. Main St. location shown above was built in 1962. In 2005, the store still had the original sign. The sign was changed later and the Miller name was dropped. This was the last location to close of the four built in Richmond. [map]

The W. Main St. location shown above had been vacant since at least 2007 and was boarded up when these photos were taken in 2010. It had reopened by 2015. It has the same sign now as the one on E. Main St. and the billboard style sign has been repainted. For more, see this website. [map]

There were at least two other locations in Muncie, IN. Both of these buildings still survive: on E. Adams St. and on Dr. MLK Jr Blvd.
Muncie Liquors
Muncie, IN
The Muncie Liquors store was built in 1965 as Chic's Liquors. The store was owned by Chic Haughey. There were supposedly two other locations built with this design: one in Bloomington, IN and another in California. However, I can't find anything at all about them. [map]
Arman's
Gary, IN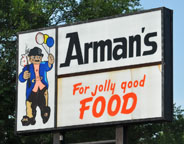 This Ruben's building appears to be another Chic's Liquors location as described above. Before it was Ruben's, this restaurant was known as Arman's. The hobo statue may have been inspired by those produced for the Hobo Joe's coffee shop chain. Does anyone know how long this place has been Ruben's, when it was Arman's, or remember when this was a liquor store? [map]

There was at least one other Arman's with this Hobo statue. It might have been the one in Valparaiso, IN (gone now). A statue turned up in Merrillville, IN but it is also gone now. Another statue turned up in Pana, IL and has been there since sometime after 2018.

The Arman's in Gary has a plastic hobo sign. There is nothing special about the building. [map]

The Chic Liquors and Ruben's buildings were built with the same concrete, "Uni-roof" design which was used in Marion, IN for several buildings including this concrete house designed by Fran E. Schroeder and built in 1963 for Arnold Wilkins who owned the Uni-roof patent. A fire station and a dry cleaners were both built using this design. However, those buildings have been demolished.
RoadsideArchitecture.com

Copyright. All photos at this website are copyrighted and may only be used with my consent. This includes posting them at Facebook, Pinterest, blogs, other websites, personal use, etc.

Tips & Updates. If you have suggestions about places that I haven't covered, historical info, or updates about places/things that have been remodeled or removed, I'd love to hear from you: roadarch@outlook.com.