(hit "refresh" to get the most recent version of this page; click on photos for larger images)
Carvel claims to have designed the pitched roof and sheet glass front which became the standard for ice cream stands. Carvel was founded in 1934. By 1952, there were 125 locations operating between Maine and Florida. The following year, there were more than 250 stores between Maine and Wisconsin. There are now more than 5,000 locations in the U.S. and Canada. The revolving, four foot tall plastic ice cream cones at many of the locations shown below were produced by the E&T Plastic Manufacturing Company in Long Island City, NY. For more, see these websites: 1, 2, and 3.
Carvel [gone]
Hartsdale, NY
Carvel
Kings Park, NY
This Carvel in Hartsdale was the first location built. It opened in 1936 and featured car hops. This all-glass front, pitched roof building was a later addition to the front of the original store. Carvel developed this design in 1947. At some point, the company had ice cream trucks which mimicked these buildings. In 2008, this location closed and the building was demolished in 2009. For more, see this website.

The Carvel in Kings Park features another original building. Although the building has been altered somewhat it still has the original neon lettering on the front. There is no freestanding pole sign. [map]
Carvel [gone]
Darien, CT
Carvel
West Haverstraw, NY
The Carvel in Darien had an original rooftop cone sign. These photos are from 2003. Apparently, this location closed and the building is gone.

The Carvel in West Haverstraw has an old cone attached to its sign but the building is completely modern. I don't know whether the cone was originally on the roof or on a pole. [map]
Carvel
North Massapequa, NY
Carvel
Massapequa, NY
The Carvel in West Hempstead has the original building and signs. [map]

The Carvel in North Massapequa is located in a strip mall. The cone sign is installed on a pole a couple of doors away. This photo is from 2007. By 2015, the top part of the cone was missing and the round part at the bottom was broken. [map]

The Carvel building in Massapequa has been modified. However, the location still has the vintage cone at the center of the roof and nicely preserved neon. [map]

There is former Carvel location in Massapequa, NY which now houses Marshall's Ice Cream Bar.
Carvel
Hackensack, NJ
Carvel
Ridgewood, NY
Carvel [gone]
Yonkers, NY
The Carvel in Hackensack is located in a strip mall. Usually, these plastic cone signs were installed on the front corners of Carvel's slant-roofed walk-up stands. The neon text was installed on the sides of the buildings. In this case, when this store was built in 1969, the company was transitioning to strip mall locations. This is the only one like this left. There was another sign like this in West Haverstraw, NY.

By 1974, the cones had stopped revolving. The motors were burned out and deemed too expensive to replace. However, the cones are still internally lit and the neon letters still flash on and off. The diamond-shaped reflectors were replaced in 1990. [map]

The Carvel in Ridgewood features two rooftop cone signs. These photos are from 2007. By 2014, the tops of the cones were missing. By 2018, they were both gone. The building is original but covered with siding and more modern signs. For more, see this website. [map]

This Carvel cone in Yonkers was installed on top of a modern strip mall type building. The sign must have been saved from an original building or salvaged from another location. By 2016, this location had closed and the cone was gone.
Carvel
Whitestone, NY
Carvel
Bronx, NY
Dairy Castle [gone]
Saugus, MA
The Carvel cone in Whitestone has been broken since at least 2006 and was sitting behind the store when this photo was taken in 2009. I don't know if it is still there. I doubt these signs are repairable. As of 2016, the store still had neon letters on the side of the building. For more, see this website. [map]

This Carvel in Bronx still features the original neon channel letters and a rooftop cone. For more, see this website. [map]

The Dairy Castle was a former Carvel. It was part of Route 1 Miniature Golf which had been around since 1958. I don't know when this Carvel was built. The mini golf closed in 2016. In 2017, the courses and this building were demolished. The only thing left is the orange dinosaur statue.
Kurver Kreme
Albany, NY
Lickety Split
East Greenbush, NY
Curly's Ice Cream
Riverdale, NJ
Kurver Kreme claims to have opened in 1952. I don't know if they were originally a Carvel or just copied their building style. The rooftop sign's lettering is also very Carvel-like. For more, see this website. [map]

Lickety Split appears to be a former Carvel. [map]

Curly's Ice Cream opened in 1958 as a Carvel. It became Curly's in the 1970s. [map]
R.K. Motor Co.
Highspire, PA
Sea Swirl
Mystic, CT
This R.K. Motor Co. building originally housed a Carvel. [map]

The Sea Swirl building originally housed a Carvel. This stand specializes in fried clams and soft-serve ice cream. For more, see this website. [map]
former Carvel
Long Branch, NJ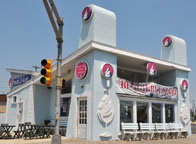 This former Carvel was transformed into a Tasti D-Lite sometime in or after 2008. By 2018, the building was housing a Dunkin' Donuts. [map]
Colonia Dairy Maid
Colonia, NJ
The Colonia Dairy Maid was originally a Carvel. It was operating here by 1962. [map]
Carvel
West Palm Beach, FL
I believe this Carvel opened in 1956 and was the first location in Florida. There were at least 84 locations built in Florida. This cut-out style roof was apparently part of the original design since there's another former location in North Miami like this. This building also had the classic neon signs on both sides of the roof. The original giant cones at this West Palm Beach location were damaged in a hurricane in 2004 and had to be replaced. These cones have a waffle pattern rather than the origial pleated style. They are now put in storage before hurricane season for protection. This stand continues to use its original soft serve machine. There are other Carvel locations in Florida but I don't believe any have old buildings or signs. By 2019, much of the glass front had been replaced. For more, see these websites: 1 and 2. [map]
former Carvel
Milwaukee, WI
This former Carvel housed a Boy Blue ice cream stand when these photos were taken in 2007. There were about 10 Carvels built in the Milwaukee area in the early 1950s. They included locations in Loves Park, IL and Waukesha, WI. In the early 1960s, the owner of these stands had a falling out with Carvel and they all became Boy Blue stands. I believe this location in Milwaukee was the only still-operating Boy Blue left. It was still open in 2014 but by 2016, it had closed. The pole sign was gone and the "Boy Blue" panel on the roof had been removed. The building was still vacant in 2018. [map]

There are at least four other Carvel/Blue Boy buildings which have survived but have been repurposed: 1, 2, and 3. If you know of any others, I'd love to hear from you. For more, see this website.
More Carvel Signs & Buildings
New Milford, CT
Daytona Beach, FL [vintage; gone]
Miami, FL [vintage]
North Miami, FL [vintage; now Chef Creole] [map]
Loves Park, IL
Niles, IL
Pikesville, MD
East Brunswick, NJ
East Rutherford, NJ
Perth Amboy, NJ
Scotch Plains, NJ
Astoria, NY [gone]
Bronx, NY [map]
Brooklyn, NY [vintage; gone]
Ellenville, NY
Fort Montgomery, NY
Glen Cove, NY [map]
Lido Beach, NY
Mamaroneck, NY [map]
Merrick, NY
Plainview, NY [map]
Port Washington, NY
Wantagh, NY [gone]
Dickson City, PA
Tannersville, PA [map]
Milwaukee, WI
Milwaukee, WI [gone]
Waukesha, WI

If you know of others, I'd love to hear from you.

Books:
Carvel Ice Cream by Lauren McGowen & Jennifer Dempsey
RoadsideArchitecture.com

Copyright. All photos at this website are copyrighted and may only be used with my consent. This includes posting them at Facebook, Pinterest, blogs, other websites, personal use, etc.

Tips & Updates. If you have suggestions about places that I haven't covered, historical info, or updates about places/things that have been remodeled or removed, I'd love to hear from you: roadarch@outlook.com.