(hit "refresh" to get the most recent version of this page; click on photos for larger images)
former Bilal's Oasis
Trenton, NJ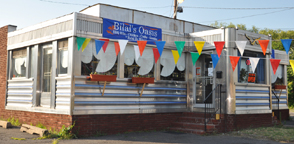 Bilal's Oasis was housed in a Mountain View from around 1956. It was previously known as Baxter's Diner. This photo was taken in 2009 just after Bilal's Oasis opened. By 2011, it was known as Ummi's Soul Food & More. It was closed in 2013 and still vacant in 2018. [map]
Roadside Diner
Wall, NJ

The Roadside Diner is a Silk City from 1950. It has always been located here. It was previously known as the Circle Diner and Rusty's Diner. [map]
Royal Diner
Washington, NJ
The Royal Diner is an O'Mahony. It was originally named the Hill's Diner. I believe it was built in the late 1940s. [map]
Whitehouse Diner
Whitehouse Station, NJ
The Whitehouse Diner has been abandoned for many years. While it appears to be a Mountain View, it's actually older than that and has been updated. There is a barrel roof under the additions. These photos are from 2009. By 2015, the diner was surrounded by chain link fencing. It was still there in 2016. [map]
Wildwood:
Wildwood Diner: 1, 2 [demolished]
Country Diner [gone]
Windsor, NJ
The Country Diner was a Kullman from around 1964. Sometime between 2003 and 2006, the "USA" was added to the top of the sign. This diner had been closed since at least 2008. It was demolished in 2019.
RoadsideArchitecture.com

Copyright. All photos at this website are copyrighted and may only be used with my consent. This includes posting them at Facebook, Pinterest, blogs, other websites, personal use, etc.

Tips & Updates. If you have suggestions about places that I haven't covered, historical info, or updates about places/things that have been remodeled or removed, I'd love to hear from you: roadarch@outlook.com.