(hit "refresh" to get the most recent version of this page; click on photos for larger images)
Angie's Bridgeton Grill
Bridgeton, NJ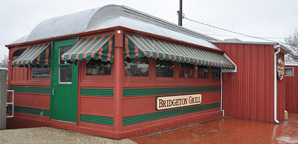 Angie's Bridgeton Grill is a Silk City from 1939. This photo is from 2010. In 2012, the diner suffered a devastating fire. The owners admitted to arson. The diner remains closed. For more, see this website. [map]
The 54 Diner is a Mountain View (#425) from 1954. It is now known as Angie's Cafe. For more, see this website. [map]
Elgin Diner [gone]
Camden, NJ
The Elgin Diner was a Kullman from 1958. It closed just after the top row of photos were taken in 2007. The diner reopened in 2010, just after the bottom row of photos were taken. By 2012, the diner had closed again. In 2014, it was demolished. It will be replaced with a Family Dollar store.
Deepwater Diner
Carneys Point, NJ

The Deepwater Diner is housed in a Silk City (#5809) from 1958. These photos are from 2007. In 2011, the exterior of diner was covered up. [map]
Tick Tock Diner
Clifton, NJ

This Tick Tock Diner is a Kullman from 1994. Originally, there was a 1949 Silk City here and this sign is from then. In the 1970s, another diner was located here. For more, see these websites: 1 and 2. [map]
Cookstown Diner
Cookstown, NJ
I believe the Cookstown Diner is housed in a Mountain View from the 1950s. It closed around 2007. This photo is from 2009. The diner was still there and vacant in 2021. [map]
Harris Diner
East Orange, NJ
The Harris Diner is an O'Mahony from 1952. In 2015, the diner was badly damaged in a fire. It will most likely be demolished. In 2020, the diner was still there but boarded up and surrounded by chain link fencing. For more, see this website. [map]
Forked River Diner
Forked River, NJ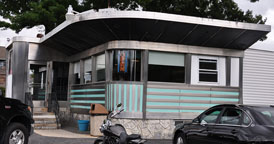 The Forked River Diner is a Kullman from around 1960. For more, see this website. [map]
RoadsideArchitecture.com

Copyright. All photos at this website are copyrighted and may only be used with my consent. This includes posting them at Facebook, Pinterest, blogs, other websites, personal use, etc.

Tips & Updates. If you have suggestions about places that I haven't covered, historical info, or updates about places/things that have been remodeled or removed, I'd love to hear from you: roadarch@outlook.com.