(hit "refresh" to get the most recent version of this page; click on photos for larger images)
Colonial Diner
Lyndhurst, NJ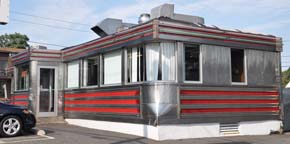 The Colonial Diner is a Mountain View (#267) from around 1948. These photos are from 2009. In 2010, the exterior was given a makeover. For more, see these websites: 1 and 2. [map]
Mack Diner [gone]
New Brunswick, NJ

The Mack Diner was a Fodero from 1941. It was last used by All-Ears Records but was closed and boarded up for many years. It was supposedly moved to somewhere in Pennsylvania in 2010. For more, see this website.
abandoned diner
Newark, NJ
Arlington Diner
North Arlington, NJ
The abandoned diner was built by Erfed and was most recently known as Klena's Hut. It had been vacant for many years when this photo was taken in 2009. By 2012, the exterior had been covered up and the diner housed the Havana Deli. By 2016, the diner was still covered up with siding and housing the El Monumento restaurant. [map]

The Arlington Diner is a 1966 Kullman that has been updated over the years. For more, see this website. [map]
Egg Platter Diner [gone]
Paterson, NJ
The Egg Platter Diner is a Master Diner from 1957. These photos are from 2009. In 2017, it was announced that the diner would be donated to the Paterson Museum. However, instead it was demolished in 2018.
former Mike's Grill
Paterson, NJ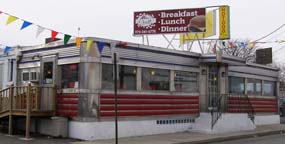 Mike's Grill was housed in a Silk City from 1954. It was previously known as Chappy's Diner and the Railway Diner. This photo is from 2009. By 2012, the diner was known as the Goodfellas Grill. By 2015, it was housing the Silk City Grill. It closed later that year. It was still vacant in 2020. [map]
At the Hop Diner [gone]
Pomona, NJ

The At the Hop Diner is an O'Mahony from around 1952. It was previously known as the Blue Diamond Diner and the Pomona Diner. This photo is from 2012 when the diner appeared to be closed. It was still vacant in 2014. In 2015, the diner was demolished. Some of the features including some of the steel panels and doors will supposedly be used to create a diner in Warsaw, Poland. For more, see this website.
Salem Oak Diner
Salem, NJ
The Salem Oak Diner is a 1955 Silk City (#5512). [photo thanks Robby Delius] [map]
Summit Diner
Summit, NJ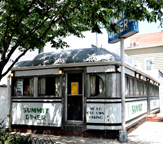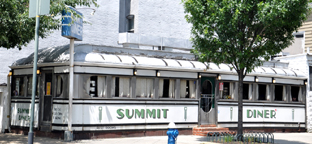 The Summit Diner is a 1938 O'Mahony. It has wood paneled walls, eight booths and 20 stools. [map]
RoadsideArchitecture.com

Copyright. All photos at this website are copyrighted and may only be used with my consent. This includes posting them at Facebook, Pinterest, blogs, other websites, personal use, etc.

Tips & Updates. If you have suggestions about places that I haven't covered, historical info, or updates about places/things that have been remodeled or removed, I'd love to hear from you: roadarch@outlook.com.