(hit "refresh" to get the most recent version of this page; click on photos for larger images)
Mom's Diner [gone]
Avenel, NJ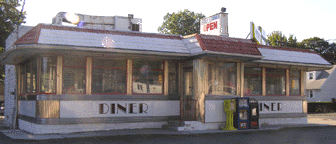 Mom's Diner was previously known as the Premium Diner. It was a Fodero from the late 1940s. The diner had been vacant for many years. It was demolished in 2013.
Mustache Bill's Diner
Barnegat Light, NJ
Mustache Bill's Diner is housed in a Fodero from 1959. [map]
Club Diner
Bellmawr, NJ

2003: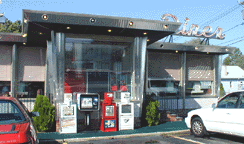 2005:
The Club Diner is a Kullman from the early 1960s. In 2005, the exterior was updated. For more, see this website. [2005 photos thanks Spencer Stewart] [map]
Crossroads Diner
Belvidere, NJ
The Crossroads Diner is a Campora diner from 1957. In 2018, it was announced that a Dunkin' Donuts would soon be built on the lot. In 2019, the diner was sold at auction. It will reopen someplace in New York in 2020.
The Short Stop Diner is a Kullman/Manno, built in 1953. The place was very small with room for only 15 at the counter (no booths). In 2003, when the top row of photos were taken, there was a 15-minute limit on parking outside with a sign that said "Eat it and Beat it". The Short Stop was famous for its "eggs in a skillet" which were served in the small iron pan that they were cooked in. In 2004, this diner was converted into a Dunkin' Donuts (bottom row of photos). By 2016, canopies had been added to the front of the building and an addition to the roof was built which further conceals the diner even more. [map]
White Circle Diner
Bloomfield, NJ
The White Circle Diner is a 1957 Manno. In 2006, this diner was closed and put up for sale. Sometime later, it became Big Vic's BBQ Diner. In 2009, it was known as the American Grill. Shortly thereafter, the diner was vacant again. In 2011, it became Jay's Grill. By 2013, the diner was housing Taqueria Los Gueros. For more, see this website. [map]

There were two other diners in the White Circle Diner System chain. The one in West Palm Beach, FL, renamed the Orange Circle Diner when it was moved there, was later demolished. Does anyone know the whereabouts and status of the third White Circle diner?
former Branchburg Diner
Branchburg, NJ
The Branchburg Diner was housed in an O'Mahony from 1954. It was previously known as the Royal Diner. The diner had been closed since 2001 while the bar attached to it was open. These photos are from 2009. By 2011, the diner was housing a 25 Burgers. The letters around the diner were replaced to reflect the new name. In 2015, the exterior of the diner was covered up or replaced with fake brick siding. It is now known as 30 Burgers. For more, see this website. [map]
RoadsideArchitecture.com

Copyright. All photos at this website are copyrighted and may only be used with my consent. This includes posting them at Facebook, Pinterest, blogs, other websites, personal use, etc.

Tips & Updates. If you have suggestions about places that I haven't covered, historical info, or updates about places/things that have been remodeled or removed, I'd love to hear from you: roadarch@outlook.com.