(hit "refresh" to get the most recent version of this page; click on photos for larger images)
Waves Surf and Sport
Surf City, NC
Alligator [gone]
Three Lakes, WI
The Waves Surf and Sport shop features a giant, modern gator mouth entrance. [map]

This Alligator was located in front of Bonack's Safari World Taxidermy. This photo is from 2007. By 2009, the statue was gone.
Souvenir City
Biloxi, MS
Gatorland
Orlando, FL
When Souvenir City was sold in 1983, the new owners added a giant alligator above the entrance and renamed the store Souvenir City: Gators. The store was virtually demolished by Hurricane Katrina in 2005. The store and gator head were rebuilt and the business reopened in 2009. This gator head is bigger and serves as the entrance to the store. For more, see this website. [map]

Gatorland opened in 1949. The gator mouth entrance was built in 1962. In 2006, there was a major fire at this tourist attraction. The gator mouth was damaged but soon restored. It no longer functions as the entrance but stands alongside it. For more, see this website. [map]
Swampy
Christmas, FL

2005:
2009:
Swampy was constructed in 1992 (another source says 1989). At 200 feet long, it is the largest alligator ever built. The statue stands in front of Jungle Adventures which has 20 acres of wild animal exhibits and shows. Swampy's mouth once acted as the entrance but it was converted into a ticket booth after a lawsuit by Gatorland (described above) for its similar design. For more, see these websites: 1 and 2. [map]
Giant Gator [gone]
Kissimmee, FL
The Gator in Kissimmee was second to Swampy in terms of length at 126 feet long. This statue held a Jeep in its mouth and stood in front of what was JungleLand, a wild animal park and alligator farm. The park closed in 2002. The Gator was demolished in 2014.
Smok'N Butts BBQ
Panama City Beach, FL
The Smok'N Butts BBQ building with the gator on the roof was built sometime between 2011 and 2015. [map]
Corky
Bell's Seafood
Palatka, FL
Standing Gator [gone]
Homestead, FL
Gators
Breaux Bridge, LA
Corky Bell's Seafood features a gator mailbox. [map]

This Standing Gator stood in a pond next to the Mutineer Restaurant. The statue was repainted around 2016. It was gone by 2018.

The Gators in Breaux Bridge are located at the Atchafalaya Welcome Center. There are other animal statues there as well.
Gator Country
Beaumont, TX
Gator Country opened in 2005. Big Beau is 135 feet long and built of tin and wood. He was built in 2014. I think the smaller gator statue, shown in the bottom row above, was added sometime after 2017. [map]
Alligator Park
El Paso, TX
Alligator Park, aka the Plaza de los Lagartos, features a tribute to the alligators that once lived in a pond in San Jacinto Plaza from 1883 until the 1960s. The fiberglass fountain statues were created by Luis Jimenez and installed in 1995. For more, see these websites: 1 and 2. [map]
Alligator
Belleville, MI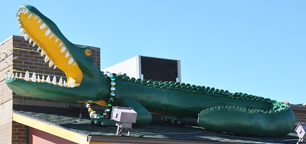 This giant Alligator is installed on the roof of the Bayou Grill. It has been here since at least 2006 when it had a more naturalistic paint job. For more, see this website. [map]
Crocogator
Globe, AZ
This concrete Crocogator is believed to have been built in the 1930s for a gas station which is long gone. [map]
RoadsideArchitecture.com

Copyright. All photos at this website are copyrighted and may only be used with my consent. This includes posting them at Facebook, Pinterest, blogs, other websites, personal use, etc.

Tips & Updates. If you have suggestions about places that I haven't covered, historical info, or updates about places/things that have been remodeled or removed, I'd love to hear from you: roadarch@outlook.com.