(hit "refresh" to get the most recent version of this page; click on photos for larger images)
Miss Pearl has been installed in this traffic median since around 2010. [map]
More Louisiana Gators:
Gatorland (Prairieville) [gone]
Alligator
Belleville, MI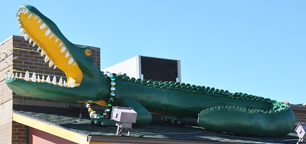 This giant Alligator is installed on the roof of the Bayou Grill. It has been here since at least 2006 when it had a more naturalistic paint job. For more, see this website. [map]
Souvenir City
Biloxi, MS
Waves Surf and Sport
Surf City, NC
When Souvenir City was sold in 1983, the new owners added a giant alligator above the entrance and renamed the store Souvenir City: Gators. The store was virtually demolished by Hurricane Katrina in 2005. The store and gator head were rebuilt and the business reopened in 2009. This gator head is bigger and serves as the entrance to the store. For more, see this website. [map]

The Waves Surf and Sport shop features a giant gator mouth entrance. I think this statue might have been built by Bob Duato. [map]
Gator Country
Beaumont, TX
Gator Country opened in 2005. Big Beau is 135 feet long and built of tin and wood. He was built in 2014. I think the smaller gator statue, shown in the bottom row above, was added sometime after 2017. [map]
Alligator Park
El Paso, TX
Alligator Park, aka the Plaza de los Lagartos, features a tribute to the alligators that once lived in a pond in San Jacinto Plaza from 1883 until the 1960s. The fiberglass fountain statues were created by Luis Jimenez and installed in 1995. For more, see these websites: 1 and 2. [map]
Alligator
Wills Point, TX
Alligator [gone]
Three Lakes, WI
This Alligator in Wills Point was installed in front of Johnny Miguel's Mexican restaurant around 2019. [map]

This Alligator in Three Lakes was located in front of Bonack's Safari World Taxidermy. This photo is from 2007. By 2009, the statue was gone.
RoadsideArchitecture.com

Copyright. All photos at this website are copyrighted and may only be used with my consent. This includes posting them at Facebook, Pinterest, blogs, other websites, personal use, etc.

Tips & Updates. If you have suggestions about places that I haven't covered, historical info, or updates about places/things that have been remodeled or removed, I'd love to hear from you: roadarch@outlook.com.