(hit "refresh" to get the most recent version of this page; click on photos for larger images)
Giant Catfish
Wahpeton, ND
This Giant Catfish statue is 40 feet long and 12 feet tall, making it the world's largest catfish statue. It has been named the Wahpper. The statue was built by Dave Oswald of DWO Fiberglass and installed at the Kidder Recreation Area in 1997. For more, see this website. [map]
This Giant Catfish statue is installed above the sign for the Twin Lakes Catfish Kitchen. [map]
Giant Catfish [gone]
Parsons, TN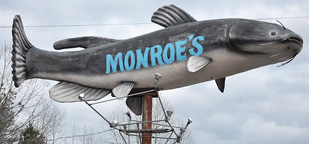 This Giant Catfish statue was installed in front of Monroe's Restaurant. This photo is from 2010. The statue was removed around 2022.
This Giant Catfish statue was installed on the roof of Kelly's Katfish Korner in town originally. The statue is now located in front of what appears to be a closed warehouse. In 2021, the statue was laying on the ground with a broken tail. [map]
Giant Catfish
Des Allemands, LA
This Giant Catfish statue is installed at Spahr's Seafood Restaurant. There is also a giant fishing pole and float next to the Catfish. The statue has been here since about 2007. [map]
Giant Catfish
Jackson, OH
Giant Catfish
Pigeon Forge, TN
This Giant Catfish statue in Jackson is installed on top of the sign for the Lazy Dog Camp Resort. [map]

This Giant Catfish statue in Pigeon Forge is located at Huck Finn's Catfish. He is dressed as Santa for the holiday season. This catfish is probably made from the same mold as the one in Dickson described above. For more, see this website. [map]
This Giant Catfish statue is perched on top of this town's welcome sign. The catfish is about 20 feet long. Paris is home to the annual "World's Biggest Fish Fry" which began in 1953. In 2008, it was announced that another catfish statue would be installed in Paris. It would be about six feet tall and wear a beret. I don't think that it was ever built. [map]
Giant Catfish
Lampasas, TX
This Giant Catfish statue is installed in Campbell Park. This sculpture was created by Joe Barrington and is entitled "Been Fish'en". The catfish is 16 feet long. The pickup is a 1959 Chevy. The sculpture was previously installed in Waco, from around 2005-2009. It has been here since 2010. [map]
Giant Fish
Throckmorton, TX (now Odessa, TX)
This Giant Fish sculpture was also created by Joe Barrington like the one shown above in Lampasas, TX. "Cooter's Guide Service" was painted on the side of the truck. It was installed sometime after 2013. These photos are from 2018. By 2019, the sculpture was gone. Later that year, it turned up at the Faudree Ranch Apartments in Odessa. [map]
Giant Catfish [gone]
Fort Smith, AR
This Giant Catfish statue was mounted on truck at Motor Street Auto. I can't find any information about a "Big Baja Fish Camp" so it is probably a fictitious business. I assume this catfish and pickup were inspired by Joe Barrington's "Been Fish'en" (described above). These photos are from 2008. By 2011, the fish and truck were gone.
Giant Catfish
Chico, CA
This Giant Catfish statue is about 10 feet long. There was once a catfish farm here. [map]
Catfish
Belzoni, MS

This wire Catfish sculpture known as "King Cat" is more than 40 feet long and installed in a now-empty pond. It was built in 1994 by Wes Bobo. The catfish originally spouted water from its head. It is installed next to the Catfish Museum. By 2016, the catfish's skin was gone. Belzoni is known as the Catfish Capital of the World.
Catfish
Kansas City, KS
This Catfish has stood in front of Mad Jack's Fresh Fish since at least 2008. [map]
RoadsideArchitecture.com

Copyright. All photos at this website are copyrighted and may only be used with my consent. This includes posting them at Facebook, Pinterest, blogs, other websites, personal use, etc.

Tips & Updates. If you have suggestions about places that I haven't covered, historical info, or updates about places/things that have been remodeled or removed, I'd love to hear from you: roadarch@outlook.com.