(hit "refresh" to get the most recent version of this page; click on photos for larger images)
Giant Fish
Prairie du Chien, WI
This Giant Fish is located at Valley Fish & Cheese. Somehow, I didn't notice the wood-carved Sturgeon when these photos were taken in 2012. However, it is still there. [map]
Giant Perch
Port Stanley, ON
Captain Wylie
Port Clinton, OH
This Giant Perch was mounted on top of a sign in Glover Park next to the lift bridge when this photo was taken in 2007. By 2014, it was moved closer to the center of town. [map]

Captain Wylie is a 20-foot-long fiberglass walleye. He is paraded around during the annual Walleye Festival. Port Clinton proclaims itself to be the Walleye Capital of the World. These photos are from 2005. The statue is now normally parked at the Arlington Inn. For more, see this website. [map]
Beaver House
Grand Marais, MN
The Beaver House bait and tackle shop features a giant walleye statue and a relief with beavers. The store opened here in 1964. The giant walleye was installed in the early 1990s. These photos are from 2011. The store closed in 2012 and reopened in 2016. [map]
Giant Walleye
Rush City, MN
This Giant Walleye is also installed at a gas station. He is about 14 feet long and made of fiberglass. This giant fish has been here since the late 1990s. A sign next to the giant fish indicates that it was caught by Paul Bunyan. [map]
Willie Walleye
Baudette, MN
Willie Walleye is 40 feet long and was built from steel and plaster. The statue was installed in Bay Park in 1959. These photos are from 2011. In 2018, the statue was replaced with a nearly identical fiberglass version. For more, see these websites: 1, 2, and 3. [map]
Giant Walleye
Shell Lake, WI
This Giant Walleye has two tails in order to present the same leaping action to traffic coming from both directions. The statue has been here since at least 2006. [map]
Giant Walleye
Lake Kabetogama, MN
This Giant Walleye statue is 14 feet long and has a saddle on its back for photo-ops. This statue is a replica of the one built in 1949. The original concrete walleye was built by Duane Beyers. For more, see this website. [map]
Giant Walleye
Garrison, MN

2001: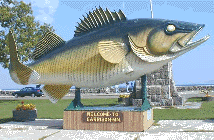 2011:
This Giant Walleye statue was built in 1965 when Garrison declared itself the "Walleye Capital of the World." It is 26 feet long. The fiberglass statue was originally intended to be portable and used to accompany Miss Garrison in the annual parade. It is now installed on a cement base. Around 2008, the statue was painted a copper color. [map]
Giant Walleye
Battle Lake, MN
Giant Walleye
Isle, MN
This Walleye statue in Battle Lake is located at the Otter Tail Beach Resort. [map]

This Walleye statue in Isle is installed in front the First National Bank of Milaca. For more, see this website. [map]
Walleye & Muskie
Isle, MN
These Walleye and Muskie statues are located at Johnson's Portside Bait & Liquor. They have been there since at least 2007. [map]
RoadsideArchitecture.com

Copyright. All photos at this website are copyrighted and may only be used with my consent. This includes posting them at Facebook, Pinterest, blogs, other websites, personal use, etc.

Tips & Updates. If you have suggestions about places that I haven't covered, historical info, or updates about places/things that have been remodeled or removed, I'd love to hear from you: roadarch@outlook.com.