The Rooster in Overton is installed on a pole next to the Red Rooster Bar. This photo is from 2014. The statue was repainted in 2016. [map]
Giant Rooster [gone]
Duanesburg, NY
Giant Rooster [gone]
Otego, NY
Giant Rooster
Chestertown, NY
The Rooster in Duanesburg acted as signage for Jewett's Poultry Farm (egg producers). This photo is from 2004. The statue was damaged by vandals in 2006 and removed. The owners plan to restore it. However, as of 2015, the statue was still missing.

The Rooster in Otego stood in front of PD's Used Furniture. This photo is from 2005. By 2014, PD's had closed and the statue was gone.

The Rooster in Chestertown is located in front of the Silver Star Diner. The restaurant is also nicknamed "The Chicken Diner" after this statue. The photos on the left are from 2007. In 2010, vandals dragged the statue into the road and it was destroyed. A few months later, the restaurant replaced the statue with a new one (photo on right). The chef's hat and neckerchief were customized additions. [third photo thanks Bridgette Roos] [map]
Giant Roosters
Lake George, NY (now Dallas, GA)

2005: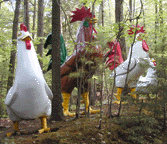 These four Roosters were previously located at Magic Forest in Lake George. There were many other giant statues there. In 2018, the owner sold off most of the statues at the park. The taller and the brown statues were the classic type. The two smaller, goofier smooth type are much rarer. Some other examples are described at this page. [map]
Giant Rooster
Celina, OH
Giant Rooster
Hennessey, OK
Giant Rooster
Bend, OR
Giant Rooster [gone]
La Pine, OR
The Rooster in Celina is at Sunshine Treasures Farm. [map]

The Rooster in Hennessey is located at Rooster's Honkytonk and Chicken Shack. [map]

This aluminum Rooster in Bend is located at Eastside Gardens. [map]

This Rooster in La Pine was installed at Norma's Red Rooster restaurant. It appeared sometime between 2012 and 2015. This photo is from 2016. By 2021, the restaurant had closed and the statue was gone.
Giant Rooster
Hummelstown, PA
Giant Rooster
King of Prussia, PA
>The Rooster in Hummelstown is located in someone's backyard. [photo thanks Patricia Cain]

The Rooster in King of Prussia stands at the entrance to NorView Farms. [map]
Giant Rooster
Harrisville, RI
The Rooster in Harrisville is located in the back of the parking lot of Wright's Farm Restaurant.
Giant Rooster
Providence, RI
2004:
2010:
2013:
The Rooster in Providence stood in front of Sollitto's Liquors. The statue was painted with the message "USA Love It or Leave It" when the first photo above was taken. By 2008, the statue had been repainted. In 2013, Sollitto's closed and the statue was removed. It was restored and now stands in front of Antonelli Poultry. [third photo thanks Bob Connell] [map]
Giant Rooster
Decatur, TX
Giant Rooster
Luling, TX
Giant Rooster
Huntsville, TX
Giant Rooster
Sanger, TX
Giant Rooster
Odessa, TX
The Rooster in Decatur is located at the Stuckey's and Shell gas station truck stop. [map]

The Rooster in Luling has been here since at least 2008. It may have been installed when the property had a gift shop known as the Cranberry Goose. The property now appears to be used as a residence. [map]

The Rooster in Huntsville is installed in front of Speedy Chicken. The restaurant opened in 2010. [map]

The Rooster in Sanger is installed in front of Babe's Chicken Dinner House. [map]

The Rooster in Odessa is located at Big Sky Towing. The truck and rooster were installed in 2013. [map]
Giant Rooster
Fabens, TX
Giant Rooster
El Paso, TX
The Rooster in Fabens in installed next to Wholesale Lumber. This is another aluminum statue. [map]

The Rooster in El Paso stands on top of the La Granja Plaza sign. The translation of "granja" is farm. [map]
Giant Rooster
Provo, UT
Giant Rooster
American Fork, UT
Giant Rooster
Painter, VA
Giant Rooster [gone]
Rich Creek, VA
The Rooster in Provo is installed at the Provo Pawn Shop. [map]

The Rooster in American Fork is located at the American Fork Pawn Shop. [map]

The Rooster in Painter stands on top of Colonna Industries sign. The company is a welding contractors business. [map]

The Rooster in Rich Creek stood in front of Mutt's Furniture. It was gone by 2021.
Giant Rooster [gone]
Everson, WA
Giant Rooster
Longview, WA
Giant Rooster
Freedom, WY
The Rooster in Everson was located at Evernook Dentistry. There were previously restaurants located here (Dunny's Drive In and Mexico Tipico). The statue was still there in 2018 but gone by 2019.

The Rooster in Longview is installed on the roof of a Shell gas station convenience store. [map]

The Rooster in Freedom stands in front of Barnyard Acres RV Park & Campground. This is a modern, aluminum statue based on the fiberglass statues. These metal statues have more detail.
RoadsideArchitecture.com

Copyright. All photos at this website are copyrighted and may only be used with my consent. This includes posting them at Facebook, Pinterest, blogs, other websites, personal use, etc.

Tips & Updates. If you have suggestions about places that I haven't covered, historical info, or updates about places/things that have been remodeled or removed, I'd love to hear from you: roadarch@outlook.com.