(hit "refresh" to get the most recent version of this page; click on photos for larger images)
Cup O' Chino
Bonsall, CA
2008:
2014:
The Cup O' Chino drive-thru coffee stand is shaped like a giant cup of cappuccino. It was built in 1995. These photos are from 2008. By 2010, the stand had closed and was moved to the back of the property in storage. Another cup-like building with a protruding straw is also located on this back lot. I don't know where that one was located. [map]
Son-Rise Espresso
Lake Isabella, CA
Perry's Cherry Diner [gone]
Green Bay, WI
Java J's (now Bristol BBQ)
Bristol, VA
Son-Rise Espresso has what appears to be an iced latte made of trash cans. [map]

The former Perry's Cherry Diner featured a giant cup incorporated into its building. It was built around 2005 but closed the following year 2006. By 2009, the building was demolished. The original Perry's Cherry Diner in Sturgeon Bay, WI is also closed. It did not have a giant cup.

Java J's features another modern giant cup. This drive-thru location opened in 2007. Around 2012, Java J's closed and Bristol BBQ had taken its place. The giant cup is still on the building and has been repainted. [map]
Dillanos Coffee
Roasters Cup
Sumner, WA
former Dillanos Coffee
Roasters Cup [gone]
Seattle, WA
This Dillanos Coffee Roasters Cup is installed inside Dillanos' production facility. It was originally built for the Washington State Fair in Puyallup, WA.

A second Dillanos Coffee Roasters Cup was made for a customer in Seattle. The cup had been installed on a pole at Short Stop Coffee since at least 2007. The cup still had the Dillanos label and a straw. In 2013, the business became the Way Station Coffee Co. and the cup was repainted and the straw was removed. In 2014, the business moved a block away. The cup was repainted and was moved to the roof. By 2018, the coffee shop had closed and the building was housing the Seattle Biscuit Company. The cup is gone.
Lily-Tulip Corporation [gone]
Springfield, MO
Dixie Cup
Lexington, KY
The Lily-Tulip Corporation headquarters was built in 1952. It had an entry shaped like a giant cup with a straw. In 1989, the company became the Sweetheart Cup Company. In 2004, it was bought out by the Solo Cup Co. The plant closed in 2011 but the cup was still there. In 2015, the building was renovated for a new tenant and the giant cup was demolished. For more, see this website.

The Dixie Cup water tower in Lexington was erected here in 1958. Georgia-Pacific Corporation operates on the property now but this tower retains the Dixie Cup label. [map]
Solo Cup Company
Augusta, GA
Lily-Tulip Cup
Riverside, CA
This Solo Cup plant is still in operation - now as the Dart Container Corporation. It was built in 1947 for the Lily-Tulip Corporation. The building went through the same sequence of company names as the one described above in Springfield, MO. These photos are from 2009. In 2012, the "DART" name replaced "SOLO" on the Cup. [map]

The Lily-Tulip Cup in Riverside stands in front of the former Lily-Tulip Cup plant. It is about 30 feet tall. It appears to stand in the middle of a non-operating fountain. The plant was built in 1958 and the cup was probably built at that time. The first photo is from 2008. The concrete cup had been repainted by 2013 when the second photo was taken. [map]
Lily-Tulip Cup [gone]
Toronto, ON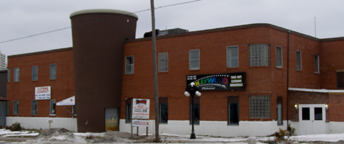 This former Lily-Tulip Cup building was nearly identical to the ones in Springfield, MO and Augusta, GA shown above. This cup was originally painted white. This photo was taken in 2007. Lily-Tulip, later Solo Cup, had moved to another location and this building was being used by multiple tenants at that time. In 2010, this building was demolished. For more, see this website.
Milkshake Cup
Garden City, UT
Creamsicle
Slush
Clermont, FL
Cherry Limeade Cup
Anson, TX
Tervis Tumbler
North Venice, FL
The Milkshake Cup is located at La Beau's Drive-in. This walk-up stand features raspberry milkshakes. The sign has been here since at least 1981. It is probably from the 1960s or 1970s. [map]

The Creamsicle Slush is located at the Showcase of Citrus. It was installed there around 2019. [map]

This giant Cherry Limeade cup is installed at Hatahoe Fish & Chick. The first Hatahoe Drive-in opened in Roby, TX in 1963. There were other locations in Hamlin, TX and Haskell, TX. There might have been others. This location was here by the early 1970s and it is the only one left. The sign originally had neon. [map]

Tervis Tumbler's headquarters features a two-story tall entrance representing their drinking glass. It was built in 2005. [map]
Coca-Cola Cup
Sacramento, CA
2008:
2014:
This giant Coca-Cola Cup was installed in 1996 in front of this Coca-Cola bottling plant. After Coca-Cola's botched recipe change and name change to New Coke in 1985, it began labeling its products as "Classic Coke". Between 2009 and 2011, it dropped the "Classic" from its labels. This cup was repainted for the switch. [map]
Solo Cup
Miami, FL
This giant Solo Cup is entitled "Jokester 2." The 10-foot-long sculpture was installed in 2018. It was built by Paula Crown as a statement about the impact of single-use plastic waste on our environment. For more, see this website. [map]
Dixie Cup Water Tower
Easton, PA
The Dixie Cup Water Tower is on the roof of the former Dixie Cup factory. The factory opened in 1921 and closed in 1983. It was later used as a warehouse. There are plans to turn the building into the Dixie Commons with apartments, offices, and retail space. The water tower will be refurbished. The original Dixie Cup water tower from the 1920s is slightly different from the one that is there today. [two top photos thanks to Clint Newton] [map]
More Giant Cups & Glasses:
Cups Cafe (Homer, AK)
Glass of Tea (Tuscaloosa, AL) [gone]
Coffee Pot & Cup (Alamosa, CO)
Coca-Cola Cup (Orlando, FL)
Orange Juice Glass (various cities, FL) [gone?]
Coffee Cup (Sandpoint, ID)
Don Hall's Restaurant (Fort Wayne, IN)
Coffee Cup (Kentwood, MI)
Fountain Drink Cup (Cape, Girardeau, MO)
Gust Hauf Stein (Glendive, MT)
Milkshake (King, NC)
Joe's Diamond (Kearny, NJ) [vintage; gone]
Teacups Ride (Wildwood, NJ)
Glass of Beer (Las Vegas, NV)
Coffee Cup (Troy, NY)
Coffee Cup (Berlin, OH)
Coffee Cup (Sharon, PA)
Coffee Cup (Wilkes-Barre, PA)
Coffee Cup (Moab, UT)
Giant Cup (Tooele, UT) [gone]
Giant Cup (Milwaukee, WI)
Nescafe Cup (Caracas, Venezuela)

I don't believe this patented coffee cup was ever built.
RoadsideArchitecture.com

Copyright. All photos at this website are copyrighted and may only be used with my consent. This includes posting them at Facebook, Pinterest, blogs, other websites, personal use, etc.

Tips & Updates. If you have suggestions about places that I haven't covered, historical info, or updates about places/things that have been remodeled or removed, I'd love to hear from you: roadarch@outlook.com.