(hit "refresh" to get the most recent version of this page; click on photos for larger images)
In the early 1940s, Levengood Dairies of Pottstown built at least four milk and ice cream retail stores shaped like cups with straws protruding from their tops. They were originally just cup-shaped structures made of steel with sliding doors. Over the years, additions have been made to all four of the buildings shown below.
The Cup
Pottstown, PA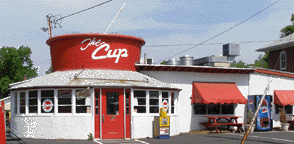 The Cup in Pottstown reopened in 2011 after being closed for many years. Since 2013, the building has housed Mannino's Pizzeria. The straw has been removed. [map]
CD's Place
Boyertown, PA
Rita's Italian Ice
Pennsburg, PA
In recent years, The Cup in Boyertown has housed "The North End Sandwich Shop" and "Mike's Corner Cup". Since, it has been "CD's Place." [map]

The Cup in Pennsburg was later called the "Penn Cup". It has been part of the "Rita's Water Ice" chain for many years. [map]
Speedie's Dinette
Reading, PA
Speedie's Dinette was originally another The Cup location. The restaurant is still open. [first photo thanks Ralph Hassel] [map]

I suspect that this building which houses "Toby's Cup" in Phillipsburg, NJ may also have been part of The Cup chain.
Coffee & Cream [gone]
North Smithfield, RI
Dixie Cup House
Columbia, NJ
City Limits Diner
Stamford, CT
The Coffee & Cream cup advertised for a small drive-through coffee kiosk set back from the road. The giant cup was built around 1991. It doubled as a water fountain around 2001 when the first photo was taken. The ladder in the photo wasn't normally there. The second photo is from 2009 when the cup was functioning as a fountain. In 2013, I was told that the place is now known as Coffee & More. The cup had been repainted and steam was emitted from the straw. Photos from 2013 show the place was known then as the Icebox. In 2014, the building and cup were demolished.

The Dixie Cup House houses Bob's Barber Shop. For an earlier photo, see this website. [map]

The City Limits Diner features this giant coffee cup as part of its sign. There are two other City Limits Diners in White Plains, NY (from 1994 and 1996). This location opened in 2002. By 2017, it was known as the Stamford Diner. [photo thanks DinerFan] [map]
Teacups
St. Paul, MN
Coffee Mug
Seattle, WA
Mug of Cocoa [gone]
New York, NY
These Teacups are located at Como Park. This same ride appears at many other amusement parks across the country. The design was probably inspired by Disneyland's Mad Tea Party ride which was built in 1955.

This Coffee Mug has been there since at least 2007 when the business was known as In N Out Espresso. It housed Red Cup Espresso after that. By 2021, the building was housing the LuLa Coffee Co. and the Mug had been painted white. [map]

This Mug of Cocoa was part of the Hershey's Times Square animated sign which was created in 2002. Machines created the illusion of steam rising from the mug. In 2017, Hershey's moved to a larger space in Times Square and all of the signs were removed. The new location has digital screens on the building.
Coffee Cup
Sacramento, CA
Cup O' Joe [gone]
Columbus, OH
Cupcake Cafe
Minneapolis, MN
This Coffee Cup is installed on the roof of a Starbucks. It has been here since at least 2008. Does anyone know if it was here from a previous business? [map]

This Cup O' Joe store was located in the Lennox Town Center shopping center. This location closed in 2017 and this cup is gone now.

The Cupcake Cafe features this giant coffee cup on the side of the building. These photos are from 2008. In 2016, the building began housing T-Rex Cookie. By 2019, it was housing Farside Coffee. [map]
Giant Coffee Cup
Milwaukee, WI
Giant Coffee Cup
Oklahoma City, OK
Giant Coffee Cup
Sandpoint, ID
The Giant Coffee Cup in Milwaukee was installed in 1997. It originally advertised for the Milwaukee Coffee Co. which occupied the space below. Since then, the building has housed different businesses. The Original Caradaro Club Pizza is there now. In 2009, the Caradaro Club announced that the cup would be replaced with a giant slice of pizza. However, that never happened. In 2021, the cup remains. [map]

The Giant Coffee Cup in Oklahoma City was installed on the roof of Stella Nova when it opened in 2018. [map]

The Giant Coffee Cup in Sandpoint houses Industry Coffee which opened in 2014. The Cup was previously located in Spirit Lake, ID. It may have been located in Coeur d'Alene after that. [map]
Mobius Coffeehouse [gone]
Brenham, TX
2011:
2018:
The Mobius Coffeehouse opened in 2009. This giant cup was built from wood and fiberglass in 2010. It is more than six feet tall. The giant cup was missing for a few years. It was back by 2018 but in a lumpier shape and covered with some sort of tarp. By 2019, the place had closed and the cup was gone.
Java Hut [gone]
Pipe Creek, TX
Koffee Kup Restaurant
Holly Hill, FL
Dunkin Donuts
Lake Park, FL
Not of This World [gone]
Roswell, NM
The Java Hut cup was painted turquoise previously. This photo is from 2011. By 2018, the business had closed and the cup was gone.

The Koffee Kup Restaurant features this giant cup on top of their sign. [map]

This Dunkin Donuts has a vintage neon sign until 2021. This coffee cup has been on the building since at least 2007. For more, see this website. [map]

The Not of This World coffee shop and gift store opened around 2008. It had closed by 2012 when this photo was taken. I don't know if this giant coffee cup was built for this business or if it was already there. The cup was removed in 2017 when the facade was "improved" and the building began housing Cosmic Salad.
Coffee Cup
Moab, UT
Mystic Biscuit
Del Norte, CO
The Coffee Cup in Moab was installed in front of the Eklectic Cafe by 2007. The cafe closed in 2020 and the building is still vacant. The handle had been damaged when this photo was taken in 2023. [map]

The coffee cup and mug at the Mystic Biscuit restaurant and coffeehouse were installed sometime between 2012 and 2018. The business closed around 2019 but these sculptures are still there. [map]
Coffee Cup
Vining, MN
Nestle Cup
Waverly, IA
Maltby Espresso [gone]
Snohomish, WA
Giant Martini [gone]
Ocean City, MD
Giant Hurricane
New Orleans, LA
The Coffee Cup in Vining was created by Ken Nyberg from scrap metal. It is one of several of his sculptures located in Nyberg Park. For more, see this website. [map]

The Nestle Cup is located in front of their production plant. [photo thanks Glenda Campbell] [map]

Maltby Espresso featured a latte-shaped drive-thru kiosk. I believe this place opened in 2006. I'm told that this cup was originally used as an ice cream stand in Everett, WA. In 2017, it was replaced with a normal looking coffee booth.

The Giant Martini was a 25-foot-tall sour apple martini. It was installed at the Paddock Nite Club. I believe this sign had been there since around 2000. By 2014, the place had become the Cowboy Coast Country Saloon and the martini as gone. For more, see this website.

This Giant Hurricane is displayed inside the Southern Food & Beverage Museum. It was donated by the Sazerac Corporation after the company retired it from promotional purposes. For more, see this website.
RoadsideArchitecture.com

Copyright. All photos at this website are copyrighted and may only be used with my consent. This includes posting them at Facebook, Pinterest, blogs, other websites, personal use, etc.

Tips & Updates. If you have suggestions about places that I haven't covered, historical info, or updates about places/things that have been remodeled or removed, I'd love to hear from you: roadarch@outlook.com.