(hit "refresh" to get the most recent version of this page; click on photos for larger images)
Center Cleaners
Chicopee, MA
Lamplighter
Motor Lodge [gone]
Dennis Port, MA
Bongi's Turkey Roost
Duxbury, MA
As the sign says, Center Cleaners has been here since 1965. [map]

The Lamplighter Motor Lodge, now the Lamplighter Motel, appears to be from the 1950s. This photo is from 2011. By 2014, the neon had been removed and the panels were painted over or replaced for the Oceanside Motel. For more, see these websites: 1 and 2. [map]

Bongi's Turkey Roost was established in 1947. This sign has been here since at least 1957. It is lit at night. The business sells locally raised turkeys, turkey pies, fried chicken, salads, and fruit pies. [map]
Mark You Restaurant [gone]
Fall River, MA
The Mark You Restaurant featured a huge, neon dragon sign and a glass block facade. The restaurant closed in 2007 and reopened in 2010. The sign is now in a private collection. For more, see this website. [middle photo thanks DinerFan]
Rayco Motors [gone]
Fitchburg, MA
Hotpoint Appliances
Great Barrington, MA
Swift Cleaners [gone]
Greenfield, MA
Ryan and Casey
Liquors [gone]
Greenfield, MA
Rayco Motors was a small used car lot. This sign was probably from the 1950s. It was removed around 2018.

This Hotpoint Appliances sign hangs above Cotswold Furniture Makers. At least a couple businesses have occupied this storefront since the appliance store closed but this sign remains. These signs were mass-produced. There is another one just like this one in Titusville, FL. [map]

Swift Cleaners featured two rooftop signs. The blue blade sign advertised to traffic coming from both directions. The larger sign was one-sided. This photo is from 2011. Both signs were gone by 2016.

Ryan and Casey Liquors has been around since around 1910. This sign was probably from the 1950s. It was removed in 2019 and replaced with a plastic box sign. The neon sign is now in a private collection.
Harrigan's Liquor Store
Hamilton, MA
Muldoon
Bros. Gas [gone]
Lowell, MA
Merrimac Rug
& Linoleum [gone]
Lowell, MA
Proodian & Sons Rugs
Lynn, MA
The Harrigan's Liquor Store sign might be from the 1950s. This photo is from 2009. In 2021, the sign was restored by Neon Williams. The panels were repainted. New wiring and neon tubing were also installed. For more, see this website. [map]

This Muldoon Bros. Gas station was still in business despite the rusty appearance of this sign. I don't know if the company had other stations at one time. This photo was taken in 2011. This sign was removed sometime after 2017. It is now in a private collection.

Merrimac Rug & Linoleum opened in 1941. Around 2009, the store moved to a new location. By 2016, the sign was gone.

Proodian & Sons Rugs was established in 1936. This sign was built in 1953 by the owner's brother who had a sign shop in Hartford, Connecticut. The "RUGS" letters are lit in two different shades of red which give them a three-dimensional look. The bull nose end of the sign features metal bands. There are no housings to indicate that it ever had neon. The sign has been encased plastic panels to protect it for decades. The neon was restored in 2022 by Neon Williams. [map]
New England Motor Court [gone]
Malden, MA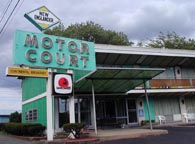 The New England Motor Court sign was probably built in the 1950s or 1960s. This photo is from 2003. The sign was still there in 2013 but gone by 2017.
Simco's Takeout
Mattapan, MA
Skip's Snack Bar
Merrimac, MA
C&T Paint & Wallpaper [gone]
Natick, MA (later Dedham, MA)
Paul Revere [gone]
New Bedford, MA
Skip's Snack Bar was established in 1947. The restaurant has been at this location since 1955. In 2022, it was announced that the business was closing. This sign was refurbished just before this photo was taken in 2011. When the stand is closed for the off-season, the sign is covered up. [map]

C&T Paint & Wallpaper features this somewhat 3-D sign of a painter on a metal ladder. The sign was installed around 1959. The eight-foot-tall sign was originally made of wood. In 2019, it was announced that the business was moving downtown. The "Man on the Ladder" sign was moved to the company's location in Dedham, MA. That location has closed and I don't believe he was moved again.

The Paul Revere sign was built in 1948 by the C.I. Brink sign company of Boston. It was installed on Route 6 on the roof of the Revere Copper Products Company. The company was founded by Paul Revere. The sign is made of copper produced by the company and is 25 feet tall by 44 foot wide. There are five colors of neon. The horse's legs were lit in two-part animation creating a galloping action. There are five colors of neon, more than 200 neon pieces, and 1,000 feet of neon tubing in 126 sections. The sign deteriorated over the years and the neon was disconnected in the 1970s. The sign was taken down in 1994. In 1997, the sign was saved by WHALE, the Waterfront Historic Area League, which began fundraising for the sign's renovation. It cost between $50,000 and $100,000 to restore. In 1998, the sign was installed along I-195 and relit with a 50-foot-long electronic message board below it. In 2013, it was announced that the sign was a safety hazard and distraction. In 2014, it was removed and put in storage. In 2017, it was sold to Dave Waller of Neon Williams who has been restoring the sign. He hopes to install it on public view somewhere in the Boston area. For more, see this website.

The Revere Copper Company in Rome, NY has a very similar sign at its factory. It was built in 1951. The sign was lit with red neon and the horse's legs on that sign were animated in the same way as this one in New Bedford. The original letters for "Revere, Copper - Brass" remain on the scaffolding. In 2023, it was announced that the sign will also be restored by Dave Waller. The Rome location has the original detailed plans for the signs which will make the restoration of both signs very accurate. [map]
Fowle's News
Newburyport, MA
Fowle's News opened here in 1865. The vitrolite facade and sign on the building are from the 1920s. The neon sign is from the late 1930s and was refurbished in 2003. In 2012, Fowle's closed. The building housed CR Moulton's restaurant after that. In 2018, it was announced that Superfine Food was moving in. The Fowle's signs and facade remained. Superfine closed in 2019. In 2021, the BRINE oyster and steak bar opened in the building. [map]
South Pacific
Chinese Restaurant [gone]
Newton, MA
State St. Fruit Store
Northampton, MA
IGA Super Market
Northfield, MA
The South Pacific Chinese Restaurant opened in 1964. It closed in 2012. The sign was removed in 2016.

The State St. Fruit Store opened in the 1930s. In recent years, with new owners, the store has expanded into a deli and liquor store. [map]

These IGA Super Market signs were mass-produced but very few remain now. This is the only one I know of that still hangs above an operating grocery store. [map]
RoadsideArchitecture.com

Copyright. All photos at this website are copyrighted and may only be used with my consent. This includes posting them at Facebook, Pinterest, blogs, other websites, personal use, etc.

Tips & Updates. If you have suggestions about places that I haven't covered, historical info, or updates about places/things that have been remodeled or removed, I'd love to hear from you: roadarch@outlook.com.