(hit "refresh" to get the most recent version of this page; click on photos for larger images)
Bliss Brothers Dairy
Attleboro, MA
The Bliss Brothers Dairy makes their own ice cream and also has a full-scale restaurant with a nice 1960s-style intact interior. There is also a viewing window where you can watch milk being bottled and ice cream packaged. One of Bliss Brothers' early milk delivery wagons is also on display. [map]
Bedford Farms
Bedford, MA
Benson's Ice Cream
Boxford, MA
Bedford Farms was founded in 1880. They started making ice cream in the late 1940s. In 1984, this became their sole business. In 2001, they added a second location in Concord, MA. For more, see this website. [map]

Benson's Ice Cream features homemade ice cream. It is located in the W.E. Perley-Benson house which was built in 1860. [map]
Kimball Farm
Carlisle, MA
Great Brook Dairy Farm
Carlisle, MA
This Kimball Farm is a simple stand with great ice cream. See this page for the company's Westford location. [map]

The Great Brook Dairy Farm has been here since the 1930s and is now surrounded by the Great Brook Farm State Park.
Four Seas
Centerville, MA
Gary's Ice Cream
Chelmsford, MA
Four Seas Ice Cream opened in 1934. It is the oldest ice cream shop on the Cape. The building it occupies was originally a blacksmith shop. The Four Seas also sells other foods in addition to the great homemade ice cream. For more, see this website. [map]

Gary's Ice Cream opened in 1973. In addition to their great ice cream, they have a big lawn and picnic tables. There have been various ice cream stands on the property since the 1950s. Since Gary retired in 2021, this building has housed the Chelmsford Creamery and the neon sign is gone. For more, see this website. [map]
Broadway Dairy Maid
Everett, MA
Florence Soft Serve
Florence, MA
The Broadway Dairy Maid looks like it's been here since the 1950s or 1960s. When I was there in the winter of 2009, the windows were papered over and the sign was covered with an advertisement for shoveling services. Hopefully, this was just for the off-season and this stand will reopen in the spring. [photo thanks DinerFan] [map]

Florence Soft Serve offers 24 flavors of soft serve as well as hard ice cream and other desserts. [map]
White Farms Ice Cream
Ipswich, MA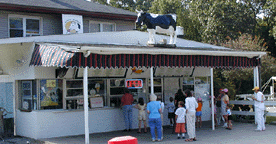 White Farms Ice Cream has been around since 1953 and features homemade ice cream. For more, see this website. [map]
Heritage Farm Ice Cream and Restaurant
Lowell, MA
Heritage Farm started out as Glennie's & McKay's which opened in 1932. The stand was destroyed by a flood in 1936 and reopened as just Glennie's. It became Heritage Farm in 1974 and although they no longer offer homemade ice cream, they offer an extensive sundae menu. The sign was from the mid-1950s and was later altered to change the name from Glennie's to Heritage. During a reroofing project in 2020, the sign fell over and was badly damaged. All of the neon was broken. The sign was replicated. For more, see these websites: 1 and 2. [map]
Erikson's Ice Cream
Maynard, MA
Erikson's stand opened here in 1937. The dairy was established in 1909. The building shown in the photo on the right is located next door to the stand. This is where the ice cream is produced. Milk was also bottled there until 1965. [map]
Park Street Ice Cream
Natick, MA
Park Street Ice Cream occupies this cute little building and offers homemade ice cream. [photo at left thanks DinerFan] [map]
RoadsideArchitecture.com

Copyright. All photos at this website are copyrighted and may only be used with my consent. This includes posting them at Facebook, Pinterest, blogs, other websites, personal use, etc.

Tips & Updates. If you have suggestions about places that I haven't covered, historical info, or updates about places/things that have been remodeled or removed, I'd love to hear from you: roadarch@outlook.com.