(hit "refresh" to get the most recent version of this page; click on photos for larger images)
Louis Mohana Furniture
Bourg, LA
The Baby and Dresser at Louis Mohana Furniture was built in 2015. It is 16 feet wide. The other painted sign features the owner as a baby in a highchair. I don't know if that was done by Cerney. I believe it was installed around 2013. [map]

There was another Cerney sign built for the store in 2009 which is apparently gone now. The two-sided billboard was 14 feet tall. It depicted two men holding a sofa. There was also another sign built of the owner sitting in a recliner with a dog next to him.
Jigsaw Ranch
Centrahoma, OK
Wish Farms
Plant City, FL
Cerney built the cow panels for the Jigsaw Ranch in 2011. The now-damaged larger cow was 12 feet tall. There is another panel with a rancher building a black bull out of jigsaw pieces which I missed. For more, see these websites: 1 and 2. [map]

Cerney's panels at Wish Farms are about 22 feet tall and were built in 2019. The depictions of company employees, Lonnie Gonzalez, "Big Willie" Jackson, and Ralph Houston Sr., were based on photographs. For more, see this website. [map]
West Coast Turf
Winchester, CA
Little Girl with
Torn Teddy Bear and Dalmatian
Dunlap, IA
These West Coast Turf signs have been battered by weather and sprinklers. They are now propped up behind the company's building. [map]

Little Girl with Torn Teddy Bear and Dalmatian was created in 1999. It was placed in a cornfield as a visual oddity for drivers. The girl is 16 feet tall. This photo is from 2006. Cerney repaired the dog's broken leg in 2007. [map]
Tailgate Motor Co.
Fremont, NE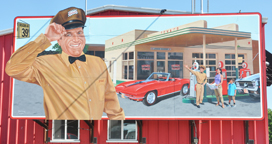 This mural at the Tailgate Motor Co. was installed in 2014 for the Siemer Auto Center. It depicts a Texaco station and a service attendant. The piece is entitled "Friendly Service at Siemer Auto Center." Tailgate has been there since around 2018. [map]
Treasure Hunt [gone]
Granger, IA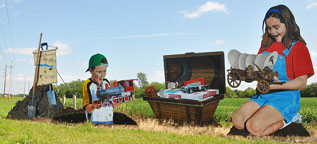 Treasure Hunt was created in 2007 and installed in a farmer's field. It depicts two children who have dug up a treasure chest filled with vintage toys. By 2018, the signs were gone. In their place was a small Corvette sign which looks like a Cerney creation. For more, see this website. [map]
Creepy Crawler
Miles City, MT
This piece, entitled Creepy Crawler, depicts a 16-foot-tall baby, a rhino, a bison, and a velociraptor. It was installed next to the interstate on private property in 2015. For more, see this website. [map]
Big Baby with Tractors
Goodyear, AZ
2006:
2012:
The Big Baby with Tractors sign is about 20 foot tall. It was built in 1998 for Duncan Family Farms which was located next to the interstate. The farm closed in 2001 but the artwork was still visible from westbound I-40 until 2013. Over the years, the artwork had been vandalized with graffiti. The fleeing farmer was either stolen or destroyed. The head of the driver of the tractor that the baby was playing with also went missing. The scolding mother was gone by 2006. In 2013, the remaining figures were removed for new development. In 2020, Cerney recreated the Big Baby sign and it was installed near the Duncan Family Farms new location. For more, see this website. [map]
The "Muffler Men" project was a collaboration between John Cerney and Scott Farmer. The 18-foot-tall panels were installed in 2019. They pay tribute to the fiberglass statues that was built in the 1960s. The three pieces include a Miss Uniroyal, a standard Paul Bunyan, and a Gas Station Attendant doing the twist. For more, see this website. [map]
Dell Osso Family Farm
Lathrop, CA
This 40-foot-wide painted sign at the Dell'Osso Family Farm was created in 2007 by Carlos Lopez from Stockton, CA. I don't know if Lopez ever worked with Cerney but he was definitely influenced by him. The sign was repainted in 2021. [map]
RoadsideArchitecture.com

Copyright. All photos at this website are copyrighted and may only be used with my consent. This includes posting them at Facebook, Pinterest, blogs, other websites, personal use, etc.

Tips & Updates. If you have suggestions about places that I haven't covered, historical info, or updates about places/things that have been remodeled or removed, I'd love to hear from you: roadarch@outlook.com.