(hit "refresh" to get the most recent version of this page; click on photos for larger images)
Scheid Vineyards
King City, CA
Pat's Pimentos
King City, CA
Jeff Maier
J. Lohr Vineyards & Wines
Greenfield, CA
Dennis Caprara
Dole Company
Gonzales, CA
Pisoni Farms/Breschini Ranch
Gonzales, CA
Coast Automotive Warehouse
Salinas, CA
Hayward Lumber
Salinas, CA
Salinas Sports Complex
Salinas, CA
United Way
Salinas, CA
River Ranch Fresh Foods
Salinas, CA
Monterey Wines
Soledad, CA
Monterey Wines
Greenfield, CA
farmers
Tulare, CA
Giant Golfers [gone]
Palm Desert, CA
These Giant Golfers were commissioned for the Bob Hope Chrysler Classic Golf Tournament. The figures were about 18 feet tall and represent, from left to right, comedians George Lopez and Bob Hope, and Charley Hoffman, the winner of the 2007 Tournament. Lopez hosted the tournament in 2007 and 2008. These photos are from 2008. The figures are gone now.
Cowboy Ruckus was created by Cerney and installed in 2016. The two 18 foot tall cowboys appear to be arguing from opposite sides of the highway. Unlike other Cerney pieces, these signs are double-sided so they can be seen from either direction of the road between Vaughn and Roswell.
Welcome to Roswell
Roswell, NM

Welcome to Roswell was installed in 2013 as a gift to the city. Roswell is a UFO-themed town. The signs depict a stranded UFO and alien family being assisted by locals. Two months after the signs were installed, the alien baby on the left was stolen. Cerney created a second one and it was installed later that year. There are solar-powered LED lights on the UFO which keeps the signs lit at night. For more, see this website. [map]
Louis Mohana Furniture
Bourg, LA
The Baby and Dresser at Louis Mohana Furniture was built in 2015. It is 16 feet wide. The other painted sign features the owner as a baby in a high chair. I don't know if that was done by Cerney. I believe it was installed around 2013. [map]

There was another Cerney sign built for the store in 2009 which is apparently gone now. The two-sided billboard was 14 feet tall. It depicted two men holding a sofa. There was also another sign built of the owner sitting in a recliner with a dog next to him.
West Coast Turf
Winchester, CA
Little Girl with
Torn Teddy Bear and Dalmatian
Dunlap, IA
These West Coast Turf signs have been battered by weather and sprinklers. They are now propped up behind the company's building. [map]

Little Girl with Torn Teddy Bear and Dalmatian was created in 1999. It was placed in a cornfield as a visual oddity for drivers. The girl is 16 feet tall. This photo is from 2006. Cerney repaired the dog's broken leg in 2007. [map]
Treasure Hunt [gone]
Granger, IA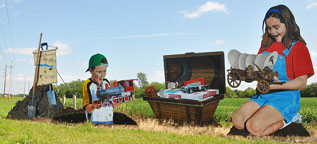 Treasure Hunt was created in 2007 and installed in a farmer's field. It depicts two children who have dug up a treasure chest filled with vintage toys. By 2018, the signs were gone. In their place was a small Corvette sign which looks like a Cerney creation. For more, see this website. [map]
Big Baby with Tractors [gone]
Goodyear, AZ
2006:
2012:
The Big Baby with Tractors sign was about 20 foot tall. It was built in 1998 for Duncan Family Farms which was located next to the interstate. The farm closed in 2001 but the artwork was still visible from westbound I-40 until 2013. Over the years, the artwork had been vandalized with graffiti. The fleeing farmer was either stolen or destroyed. The head of the driver of the tractor that the baby is playing with also went missing. There was a scolding mother installed with the group originally. In 2013, the remaining figures were removed for new development.
More Cerney Signs:
Indio, CA [gone]
San Francisco, CA [gone]
Temecula, CA
Ames, IA
Iowa City, IA
Atchison, KS
Miles City, MT [map]
Fremont, NE [map]
Centrahoma, OK
Houston, TX
Marfa, TX
Casper, WY
Calgary, AB
RoadsideArchitecture.com

Copyright. All photos at this website are copyrighted and may only be used with my consent. This includes posting them at Facebook, Pinterest, blogs, other websites, personal use, etc.

Tips & Updates. If you have suggestions about places that I haven't covered, historical info, or updates about places/things that have been remodeled or removed, I'd love to hear from you: roadarch@outlook.com.