(hit "refresh" to get the most recent version of this page; click on photos for larger images)
Sunsphere
Knoxville, TN
Sheraton Hotel
Nashville, TN
The Sunsphere was constructed in 1982 which is too late to be considered mid-century but I'll include it here anyway. The sphere is 74 feet in diameter and mounted on a 266-foot-tall tower. It was created for the 1982 World's Fair. The globe was used as a restaurant and observation deck. The restaurant is now gone. For more, see these websites: 1, 2, and 3. [map]

The Sheraton Hotel was built in 1975 as a Holiday Inn. The revolving restaurant on top of the building closed in 2000. It is rented out for special events. [map]
NewsChannel 5
Nashville, TN
This NewsChannel 5 building was constructed in 1968. The station was then known as WLAC-TV. The name was changed to WTVF-TV in 1975. [map]
Sears Crosstown Parking Garage
Memphis, TN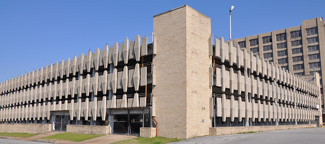 This Sears Crosstown Parking Garage appears to be from the 1960s or 1970s. The Sears Crosstown store in the background was built in 1927. It closed in 1983 and I don't believe this structure has been used since then either. [map]
Cossitt Public Library
Memphis, TN

2007:
2019:
The Cossitt Public Library was designed by Walk C. Jones, Jr. and built in 1959. There are still original building features inside and out. The aluminum louvers were originally painted blue while the terra cotta screen wall on the side of the building was painted yellow. I don't believe the louvers ever moved at all. The reflecting pool, no longer used, once had vertical jets that shot four colored streams of water towards the sky. By 2011, it had been filled in with grass. In 2020, the building was being renovated. For more, see this website. [map]
Sam C. Phillips Recording Studio
Memphis, TN
The Sam C. Phillips Recording Studio building previously housed a Midas Muffler shop and Hart's Bakery. From 1958-1960, the building was gutted and the exterior remodeled to create the recording studios and offices. For more, see this website. [map]
Fire Station #2
Memphis, TN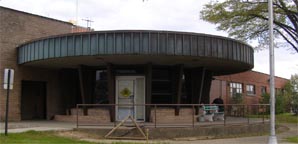 The Memphis Fire Station #2 appears to be mid-century modern. It features a round building attached to a more conventional rectilinear building with bays for the fire engines. [map]
Shoppers Garage
Memphis, TN

The canopy of this Shoppers Garage appears to be from the 1960s. The parking garage's concrete structure itself might be older. [map]
RoadsideArchitecture.com

Copyright. All photos at this website are copyrighted and may only be used with my consent. This includes posting them at Facebook, Pinterest, blogs, other websites, personal use, etc.

Tips & Updates. If you have suggestions about places that I haven't covered, historical info, or updates about places/things that have been remodeled or removed, I'd love to hear from you: roadarch@outlook.com.