(hit "refresh" to get the most recent version of this page; click on photos for larger images)
Hardie & Caudle
Chattanooga, TN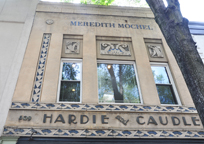 This Hardie & Caudle clothing store was built in 1923. The building now houses a law office. [map]
Wichman Monuments
Chattanooga, TN
2005:
2021:
Wichman Monuments was established in 1946 and this building appears to be from then. The building had a rock facade, a neon sign, and a huge display of grave markers in front. The business closed in 2018. The building now houses Tow Pro Towing. For more, see this website. [map]
Post Office and Courthouse Building
Chattanooga, TN
This Post Office and Courthouse Building was designed by R. H. Hunt and Company and built from 1931-1933. The building is now known as the Joel W. Solomon Federal Building. For more, see these websites: 1, 2, 3, and 4. [map]
R.L. Coulston & Sons
Covington, TN
R.L. Coulston & Sons Building Materials occupies this 1930s-looking building. Does anyone know what business was here originally and when this was built? Perhaps the neon Frigidaire sign is a clue. [map]
Maurice Building
Jackson, TN

The Maurice Building was built in the 1920s. Kisber's department store moved to this building in 1951. The store had an entrance with display windows in the middle of the building and a neon blade sign between the words "Maurice Building". The building now houses a law firm. For more, see this website. [map]
Beckner's Jewelry [gone]
Johnson City, TN
former S&W Cafeteria
Knoxville, TN
Beckner's Jewelry was established in 1886. The store later moved to this location. This vitrolite structural glass facade was probably installed in the 1930s or 1940s. The store closed in 1985. This photo was taken in 2007. By 2012, the vitrolite had been removed and the building was housing Misty's Blues and Jazz. For more, see these websites: 1 and 2.

The S&W Cafeteria was built in 1936. This location was part of the S&W Cafeteria chain which was based in Charlotte, NC. Another building remains in Asheville, NC. The Knoxville location closed in 1981. The building was restored and reopened as the S&W Grand restaurant in 2009. It closed in 2011. The building now houses the Aveda Institute. For more, see this website. [map]
WREC Radio
Memphis, TN
Deluxe Arcade
Memphis, TN
This WREC Radio transmitter building is no longer in use. It appears to be from the 1920s or 1930s. [map]

The Deluxe Arcade was built around 1936. The building housed multiple shops and has been nicknamed "Memphis first retail mall." There are identical facades on Madison Ave. and N. 2nd St. [map]
former Sears Crosstown
Memphis, TN
This Sears Crosstown department store was built in 1927. The retail store closed in 1983. Sears continued with catalog operations here until 1993. The building has been vacant since then. In 2015, renovation work began to transform the building into housing and retail space. For more, see these websites: 1 and 2. [map]
National Guard Armory
Memphis, TN
These National Guard Armory buildings were built from 1941-1943 with WPA funding. The buildings were vacant by the late 1970s. The white and blue building now houses the Office of Youth Services and Community Affairs. For more, see this website. [map]
Riverfront Parking Garage
Memphis, TN
The Riverfront Parking Garage appears to be from the 1930s or 1940s. The neon sign appears to be a recent addition. [map]
Red Rose Dairies Building [gone]
Murfreesboro, TN

The Red Rose Dairies Building appeared to be from the 1940s. It had been vacant since at least 2006. After the ice cream place closed, the building housed the Red Rose Coffee House and Bistro for several years. It was demolished in 2011.
RoadsideArchitecture.com

Copyright. All photos at this website are copyrighted and may only be used with my consent. This includes posting them at Facebook, Pinterest, blogs, other websites, personal use, etc.

Tips & Updates. If you have suggestions about places that I haven't covered, historical info, or updates about places/things that have been remodeled or removed, I'd love to hear from you: roadarch@outlook.com.