(hit "refresh" to get the most recent version of this page; click on photos for larger images)
Starnes Jewelers
Albemarle, NC
Acme-McCrary Corporation
Asheboro, NC
Starnes Jewelers was established in 1898. This building was erected in 1907. This storefront was part of a remodeling in the late 1920s. The Carrara glass tiles were added then. The facade was restored around 1990. [map]

This Acme-McCrary Corporation building appears to be from the 1940s. A skywalk connects this building to an older one. The company is a hosiery manufacturer. [map]
Randolph Hospital
Asheboro, NC
The Randolph Hospital was built in 1932. Stairs leading to this entrance were removed and other features were altered during a 1951 remodeling. For more, see these websites: 1 and 2. [map]
former S&W Cafeteria
Asheville, NC
The S&W Cafeteria opened in 1929. It was part of a chain with locations in North Carolina, Virginia, Georgia, Tennessee, and Washington, DC. S&W left the building in 1974 and a few other restaurants and businesses operated there after that. After being vacant for several years, in 2008, the S&W Steak & Wine restaurant opened here. The upper floors were converted into condos. For more, see this website. [map]

There is another former Art Deco S&W Cafeteria in Knoxville, TN.
WPTF
Cary, NC
The WPTF transmitter building was constructed in 1934. It was expanded and remodeled in 1941. The building is still in use by the station. [map]
Century Building
Charlotte, NC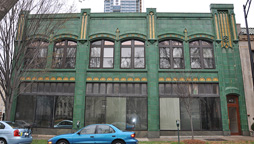 The Century Building was designed by Charles Christian Hook and built from 1925-1926. The terra cotta facade was restored in the 1980s. [map]
Snow Building
Durham, NC
The Snow Building was built in 1933. [map]
Fire Department Headquarters
Goldsboro, NC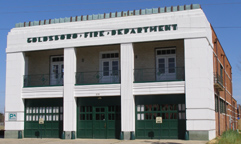 This Fire Department Headquarters was built in 1939 as a WPA project. This facility closed in 1976 when the fire department relocated. The building was later used for a variety of uses. It was condemned in 2005 and nearly demolished in 2006. Although the building was restored, I believe it is still vacant. For more, see this website. [map]
Salisbury Building
Salisbury, NC
The Salisbury Building was built in 1928. [map]
RoadsideArchitecture.com

Copyright. All photos at this website are copyrighted and may only be used with my consent. This includes posting them at Facebook, Pinterest, blogs, other websites, personal use, etc.

Tips & Updates. If you have suggestions about places that I haven't covered, historical info, or updates about places/things that have been remodeled or removed, I'd love to hear from you: roadarch@outlook.com.