(hit "refresh" to get the most recent version of this page; click on photos for larger images)
AMF Pro 300 Bowl
Portland, OR
2008:
2015:
The AMF Pro 300 Lanes was probably built in the 1950s or 1960s. The building was repainted around 2012. The neon "BOWL" letters were lit sequentially at night. In 2017, it was announced that this place was closing. In 2018, a small-scale Target store will open in the remodeled building. The canopy has been preserved. The sign was replaced. The "BOWL" letters have been simulated with backlist plastic boxes for "TARGET". For more, see this website. [map]
The Ranch Motel has 25 A-frame units and an on-site restaurant. The buildings were probably built in the 1960s. [map]
Holiday Village Motel
Chemult, OR
The Holiday Village Motel features 1960s looking office and eight A-frame cabins. For more, see this website. [map]

There is another motel in Fort Klamath, OR with A-frame units.
Oregon City
Municipal Elevator
Oregon City, OR
KGW-TV
Portland, OR
Veterans Memorial Coliseum
Portland, OR
The Oregon City Municipal Elevator was built in 1955. It was designed by Stevens & Thompson. It is 130 feet tall with an observation deck on top. [map]

The KGW-TV broadcast center was built from 1964-1965. [map]

The Veterans Memorial Coliseum was built from 1959-1960. It was designed by Skidmore, Owings & Merrill. For more, see these websites: 1, 2 and 3. [map]
Pier 99 Marine Center
Portland, OR
The Pier 99 Marine Center, originally known as the Totem Pole Marina building, was built in 1960. The building was designed by John Storrs. The roof features eight hyperbolic paraboloids. The building later housed Marineland at Pier 99. It now houses a hot tub store and Rivers West Small Craft Center. [map]
Surftides Inn
Lincoln City, OR

The Surftides Inn was built in 1936. The Recreation Dome shown above which houses a pool was built in 1953. This part of Lincoln City was still known as Oceanlake at that time. The building was originally painted turquoise. For more, see these websites: 1 and 2. [map]
Gordon House
Silverton, OR

The Gordon House was designed by Frank Lloyd Wright in 1957 and completed in 1963. It was originally located in Wilsonville, OR. When it was threatened with demolition in 2001, the house was moved about 20 miles to this location at the Oregon Garden. For more, see these websites: 1 and 2. [map]
Pilot Rock Market
Pilot Rock, OR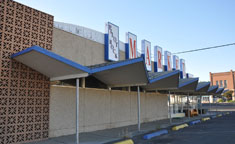 The Pilot Rock Market appears to be from the 1950s or 1960s. [map]
Spencer Butte Middle School
Eugene, OR

Spencer Butte Middle School was built in 1962. [map]
Burns High School
Burns, OR
Burns High School was built in 1959. The barrel-roofed building serves as the school's gym. [map]
U.S. Bank
Baker City, OR
This U.S. Bank was built in 1960. The relief panels are made of pre-cast concrete. [map]
former U.S. National Bank
Eugene, OR
The former U.S. National Bank was built in 1961. The building features pre-cast concrete panels. It now houses the Cascade Title Co. [map]
RoadsideArchitecture.com

Copyright. All photos at this website are copyrighted and may only be used with my consent. This includes posting them at Facebook, Pinterest, blogs, other websites, personal use, etc.

Tips & Updates. If you have suggestions about places that I haven't covered, historical info, or updates about places/things that have been remodeled or removed, I'd love to hear from you: roadarch@outlook.com.