(hit "refresh" to get the most recent version of this page; click on photos for larger images)
Powder River Motors
Baker City, OR
Powder River Motors occupies an Art Deco looking showroom. These photos are from 2008. The business is now known as the Baker City Auto Ranch. [map]
former Lew Williams Chevrolet
Eugene, OR

The Lew Williams Chevrolet dealership was designed by Balzhiser, Seder & Rhodes and opened in 1960. The dealership became Romania Chevrolet in 1969. Since 2005, the property has been owned by the University of Oregon. For more, see this website. [map]
Sheppard Motors
Eugene, OR
The Sheppard Motors building was built in 1960. Sheppard moved here around 1988. I believe the building previously housed Emerald Chrysler and Barker Motors. [map]
Bruce Chevrolet
Hillsboro, OR

2008:
2015:
The Bruce Chevrolet showroom and sign were built for Hamby Motors in 1967. The top part of this sign revolves. In 2012, the sign was repainted and the building was remodeled. There have been many historic losses in recent years from Chevrolet dealership buildings suffering the same fate in the name of consistent, corporate branding. [map]
Balsinger Ford [gone]
Klamath Falls, OR
The Balsinger Ford showroom was built in 1929. The building was restored in 2007 and became known as the Egyptian Event Center. Before that, the building had been used as an office for Cell-Tech, a holiday donation center for the Salvation Army, and a warehouse. There was a roof collapse in 2007 from heavy snow but it was confined to the back part of the building. The building remained vacant until it was demolished in 2016. For more, see these websites: 1 and 2.
former Leever Motor Co.
Medford, OR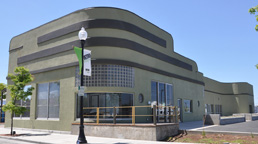 The Leever Motor Co. building was built in 1947. The company sold Willys and Packards here until 1954 when it became a Dodge dealership. The building is often referred to as the Monarch Building. In the 1970s, the building housed the Monarch Seed & Feed store. In the early 1980s, Lithia Motors bought the building and remodeled it. In 2013, Lithia returned the building to its Streamline Moderne appearance. This photo is from 2015. By 2017, the building was housing the Common Block Brewing Company. [map]
Gilbert Chevrolet
Milton-Freewater, OR
I believe Gilbert Chevrolet moved into this building in the late 1970s. Does anyone know what dealership was here originally? The building appears to be late 1940s or early 1950s. These photos are from 2008. By 2012, the business was gone and the Chevrolet letters had been removed. The building now houses TYCO Body & Paint. [map]
RoadsideArchitecture.com

Copyright. All photos at this website are copyrighted and may only be used with my consent. This includes posting them at Facebook, Pinterest, blogs, other websites, personal use, etc.

Tips & Updates. If you have suggestions about places that I haven't covered, historical info, or updates about places/things that have been remodeled or removed, I'd love to hear from you: roadarch@outlook.com.