(hit "refresh" to get the most recent version of this page; click on photos for larger images)
Fairlanes Bowl
Madison Heights, MI

The Fairlanes Bowl was built in 1957 or 1958. These photos are from 2011. The bowling alley closed around 2012 and remains vacant. [map]
Mayflower Lanes
Redford, MI

The Mayflower Lanes features a similar roof to the Fairlanes Bowl shown directly above. This building appears to be from the late 1950s or early 1960s. [map]
Striketown
Manistee, MI
300 Bowl [gone]
Alma, MI
The Striketown and 300 Bowl bowling alleys appear to be from the 1960s. The 300 Bowl closed in 2016 and was demolished in 2017. [Striketown map]
Holiday Lanes [gone]
Lansing, MI
The Holiday Lanes opened in 1963. These photos are from 2011. In 2012, the name was changed to the Spare Time Entertainment Center. The sign panels were replaced and the building has been remodeled. I'm told that the zig-zag roofline is gone. For more, see these websites: 1 and 2. [map]
American Concrete Institute
Detroit, MI

The American Concrete Institute was designed by Minoru Yamasaki and built in 1959. The building now houses Eco Works. For more, see this website. [map]
doctor's office
Dearborn, MI

This eight-sided doctor's office appears to be from the 1960s. This photo is from 2011. Later that year, this building was converted into a drug store. [map]
former Bel-Aire Lanes [gone]
Farmington, MI
I believe the Bel-Aire Lanes opened in the 1960s. These photos are from 2005 just before the building was damaged by a serious fire. The building has since been demolished.
Thunderbowl Arena
Allen Park, MI
The Thunderbowl Arena is a nightclub and bar located next to the bowling alley. There are additional 20 lanes in this building as well. The previous sign letters and name was "Utopia". I don't know what the original name on this building was. Thunderbowl was built in 1962 and has a total of 70 lanes. For more, see this website. [map]
Cloverlanes Bowl [gone]
Livonia, MI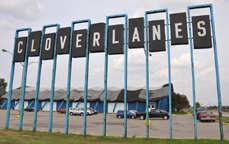 The immense Cloverlanes Bowl featured 64 lanes. It was built in 1962 and closed in 2015. The place was demolished in 2016.
fiberglass canopy
Detroit, MI
This fiberglass canopy extends over a full retail block. It is located directly across the street from Wayne State University. This canopy was probably installed in the 1960s or 1970s. [map]
RoadsideArchitecture.com

Copyright. All photos at this website are copyrighted and may only be used with my consent. This includes posting them at Facebook, Pinterest, blogs, other websites, personal use, etc.

Tips & Updates. If you have suggestions about places that I haven't covered, historical info, or updates about places/things that have been remodeled or removed, I'd love to hear from you: roadarch@outlook.com.