(hit "refresh" to get the most recent version of this page; click on photos for larger images)
Putt-Putt Golf
Bristol, TN
This well-maintained Putt-Putt is one of the company's classic old courses, complete with an original sign. [map]
Putt-Putt Golf
Kingsport, TN
This Putt-Putt is another well-maintained location. For more Putt-Putt courses, see these examples in Virginia and Ohio. [map]
Hillbilly Golf
Gatlinburg, TN
Hillbilly Golf opened in 1971 and is built on a cliffside. To access the course, you take a little incline railroad up to the top. The two courses have a hillbilly theme which includes farm equipment, outhouses, and whiskey stills. For more, see this website. [map]
Adventure Golf [gone]
Pigeon Forge, TN
The Adventure Golf course had some old figures by James Sidwell. The course was built around 1958. Sidwell is best known for his dinosaur statues. He also built figures for a Jolly Golf in nearby Gatlinburg, TN. The Gatlinburg course, which is gone now, was remodeled in the 1990s as Dinosaur Golf. These well-worn, 1960s statues at Adventure Golf were commingled with what seemed to be some more modern creations. There are some identical Sidwell statues at Rainbow Falls Golf in Myrtle Beach, SC. These photos are from 2005. The course was still operating in 2015. There was a vacant lot there by 2016. I don't know if any of the statues were saved.
Fantasy Golf
Pigeon Forge, TN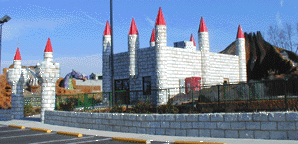 Fantasy Golf is modern but this castle-like entrance is nice. [map]
RoadsideArchitecture.com

Copyright. All photos at this website are copyrighted and may only be used with my consent. This includes posting them at Facebook, Pinterest, blogs, other websites, personal use, etc.

Tips & Updates. If you have suggestions about places that I haven't covered, historical info, or updates about places/things that have been remodeled or removed, I'd love to hear from you: roadarch@outlook.com.