(hit "refresh" to get the most recent version of this page; click on photos for larger images)
Riverboat Car Wash
Denver, CO
The Riverboat Car Wash is now part of the Autawash car wash chain with three other locations in the Denver area. This location was here by 2007 and might have been built in the early 1990s. [map]
Showboat Car Wash
St. Augustine, FL

The steamboat-shaped Showboat Car Wash opened in 2005. It was modeled after the Classic Car Wash in Campbell, CA. It is now known as the Shiny Shell Car Wash. [map]
Yankee Clipper
Fort Lauderdale, FL
The Yankee Clipper was designed by Tony Shermann and built in 1955. The building is meant to resemble a giant cruise ship. It features a mast, porthole windows, and deck-like balconies and railings. In 2014, the hotel was renamed as the B Ocean Resort. For more, see these websites: 1, 2, 3, and 4. [map]
ship building
Islamorada, FL
The ship building has housed OTHErside Boardsports since around 2015. Before that, the building housed Italy in the Isles restaurant. Does anyone know what was here originally and when it was built? [map]
Sun Viking Lodge
Daytona Beach, FL
Boat Bar
Port Orange, FL
The Sun Viking Lodge was built as the Oceanfront Villas. It became the Sun Viking Lodge in 1971. I believe this Viking ship over the entrance is from then. There is also a Viking statue located here. [map]

The Boat Bar was built in 1972. [map]
Boat and Lighthouse
Sarasota, FL
This Boat and Lighthouse were built for Art Rowe who was the former boat captain for John Ringling of circus fame. The boat was built in 1933 by Oliver Blackburn, a master shipbuilder, as Rowe's house. It continued to be used as a residence until recently. The building now houses a bed and breakfast. The lighthouse was built a few years after the boat to create more space. It is octagonal in shape and 100 feet tall. [map]
Boat-shaped House
Fernandina Beach, FL
Ship House
Horseshoe Beach, FL
This Boat-shaped House in Fernandina Beach is located near the marina. I believe it was built in 1974. [map]

This Ship House in Horseshoe Beach was built in 1998. [map]
Ripley's Believe It or Not
Panama City Beach, FL
2009:
2019:
This Ripley's Believe It or Not museum is housed in a shipwrecked ocean liner named the U.S.S Ripley. It was modeled after the Titanic and built in 2006. It was repainted around 2016. [map]
Viking Ship
Pensacola, FL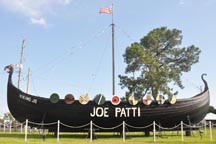 This Viking Ship in Pensacola is located at Joe Patti's Seafood. It has been there since around 2014. [map]
USS Water Witch [gone]
Columbus, GA
The USS Water Witch was a 160-foot-long replica of a Civil War ship. It was located next to the National Civil War Naval Museum. This ship was opened to the public in 2009. It was demolished in 2020. For more, see this website.
Boathouse Mobile Home Park
Rexburg, ID
The Boathouse Mobile Home Park may have been inspired by the 1976 collapse of the nearby Teton Dam, which produced a flood that destroyed much of Rexburg. Does anyone know when this house was built and anything else about it? [map]
North Avenue Beach House
Chicago, IL

The steamboat-shaped North Avenue Beach House was constructed in 1938 as a WPA project. It housed a concession stand, lifeguard station, and restrooms. In 1998, it was replaced with this slightly more realistic ship. [map]
RoadsideArchitecture.com

Copyright. All photos at this website are copyrighted and may only be used with my consent. This includes posting them at Facebook, Pinterest, blogs, other websites, personal use, etc.

Tips & Updates. If you have suggestions about places that I haven't covered, historical info, or updates about places/things that have been remodeled or removed, I'd love to hear from you: roadarch@outlook.com.