(hit "refresh" to get the most recent version of this page; click on photos for larger images)
Bay Golf [gone]
Traverse City, MI
Bay Golf was a mini golf place that had been closed for years when these photos were taken in 2006. The faux ship was named "River Country Lady". By 2008, the ship was gone.
Karl's Cuisine Cafe
Sault Ste. Marie, MI
Lockside Golf
Sault Ste. Marie, MI
Karl's Cuisine Cafe opened in 2003. This building is probably older than that. It was obviously built to resemble a giant ship like those that pass through the Soo Locks across the street. Does anyone know what this building housed originally? [map]

Lockside Golf is located next door to Karl's. It features a boat-shaped ticket office and a mini lighthouse. These photos are from 2011. The boat is now painted blue. [map]
Viking Ship
Pensacola, FL
Viking Ship
Eden Prairie, MN
This Viking Ship in Pensacola is located at Joe Patti's Seafood. It has been there since around 2014. [map]

This Viking Ship in Eden Prairie is located outside the Minnesota Vikings football team's training facility. [map]
Riverboat Inn [gone]
Branson, MO

The Riverboat Inn was also known as the Riverboat Motel. It had been here since at least the late 1990s. The third level and smokestacks were added later. In 2012, the building was badly damaged by a tornado. It was demolished in 2013. For more, see this website.
Titanic Branson
Branson, MO
Titanic Branson is housed in half-scale replica of the Titanic ocean liner. It was built in 2006. This tourist attraction allows guests to relive the last hours of that fateful voyage. A second location was built in Pigeon Forge, TN in 2010. For more, see these websites: 1 and 2. [map]
Terrible's St Jo Frontier Casino
St. Joseph, MO
Terrible's St Jo Frontier Casino is a riverboat casino on the edge of the Missouri River. It was built in 1998 as a "boat in a moat" and does not leave the shore. For more, see this website. [map]
River Road Queen
Greenville, MS
The River Road Queen building was an exhibit at the 1984 Louisiana World Exposition. It was built to look like a 19th century sternwheeler and is 110 feet long. When the Exposition was over, the ship was dismantled and moved to Greenville where it is used as the Welcome Center. [map]
Riverboat-Shaped Building
Clarksdale, MS

2007:
| | |
| --- | --- |
| 2010: | 2019: |
| | |
This Riverboat-Shaped Building was originally an ice cream shop called "The Cream Boat". I believe it was built in the 1970s. From 1988-1998, this building housed "Stackhouse Records" which doubled as a recording studio for the "Rooster Blues" label. In 2001, it became "Dela's Stackhouse Records". When the top row of photos was taken in 2007, the building was vacant and in rough shape. In 2009, restoration work began. By 2013, the building was fully restored. In 2014, Dreamboat BBQ & Tamales opened here. By 2016, the building next door began housing Levon's Bar & Grill. This boat building is used as the kitchen. [map]
S.S. Delta Dogs [gone]
Vicksburg, MS
S.S. Delta Dogs is a hot dog stand shaped like a paddlewheeler. The skirt around the bottom might indicate that it is moved to different locations. These photos are from 2010. A Google Street View map from 2013 shows it missing. Does anyone know where it is now?
Showboat Bus [gone?]
Vicksburg, MS
This Showboat Bus was apparently used as a tourist bus at one time. It was abandoned south of town when these photos were taken in 2010. I did not make note of the location. Does anyone know where it is or if it's still there?
Hurricane Camille
Gift Shop [gone]
Gulfport, MS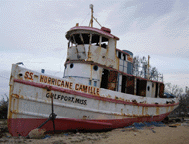 Normally, I don't include real boats in this section but rather buildings constructed to look like ships. But I'll include the Hurricane Camille Gift Shop since it was such an icon. This 72-foot-long tugboat was blown ashore by Hurricane Camille in 1969 and turned into a tourist attraction. While the boat itself survived Hurricane Katrina in 2005, the gift shop addition was destroyed. Then in 2008, the ship itself was demolished. For more, see these websites: 1, 2, and 3.
RoadsideArchitecture.com

Copyright. All photos at this website are copyrighted and may only be used with my consent. This includes posting them at Facebook, Pinterest, blogs, other websites, personal use, etc.

Tips & Updates. If you have suggestions about places that I haven't covered, historical info, or updates about places/things that have been remodeled or removed, I'd love to hear from you: roadarch@outlook.com.