(hit "refresh" to get the most recent version of this page; click on photos for larger images)
Buccaneer
Treasure Island, FL
Pirate
Ponce Inlet, FL
Beethoven Bust
Fort Myers, FL
David
St. Augustine, FL
Knight
Port Charlotte, FL
This Buccaneer, aka Bucky, stood on the roof of the Buccaneer Motel since about the late 1970s. The motel was built in 1958. In 2005 just after these photos were taken, the motel closed and was demolished. The statue was donated to the city. It is about 15-20 feet tall. In 2009, the statue was installed in the Community Center Park. For more, see this website. [map]

This Pirate is installed in the parking lot of the Lighthouse Landing Restaurant (now Hidden Treasure Restaurant). [map]

This Beethoven Bust stands at the entrance to the New University Pyramid Village. The resort was built in 2002 by Austrians which explains the Beethoven connection. For more, see this website. [map]

This 17 foot tall replica of Michelangelo's David is installed outside Ripley's Believe It or Not where it is discreetly concealed behind tall hedges. It was carved from marble from the same quarry as the Michelangelo original. The statue was created in 1963 for the New York World's Fair. In 1965, it was moved to the Movieland Wax Museum in Buena Park, CA. The musuem closed in 2005 and, in 2007, this statue was sold to Ripley's. For more, see these websites: 1 and 2. [map]

This Knight stands behind Wilson Realty and a Walgreens. Does anyone know the history of this guy? [map]
George Washington [gone]
Brandon, FL
Viking
Daytona Beach, FL
This statue of George Washington on horseback stood in a vacant lot next to a pink elephant statue when this photo was taken in 2009. Sometime after 2012, the camel was repainted purple and Washington's clothes were painted yellow. The pink elephant was also repainted. The statues were installed around 1974 when the Shelton's plant nursery was here. The elephant statue was originally painted grey. In 2004, the nursery closed and demolished but these statues remained. In 2013, the statues were sold to a man in Tampa, FL. They will be displayed in his yard next to a river.

This Viking is located at the Sun Viking Lodge. The motel's Viking theme and statue are from 1978. [map]
This Giant Man, nicknamed "Redman", stands in front of Spafford's Construction & Remodeling. The statue was made by a local man and stood in front of a produce stand between Floral City and Inverness for many years. I don't know when he was built. However, in 1976, a vintage photo shows him holding a fish in his right hand and a fishing pole in his left hand. The statue was moved here around 2001, using the rebar loops on his shoulders. The statue is about 10 feet tall. He is missing both of his hands and part of his left arm lies at his feet. [map]
Maytag Man
Fort Walton Beach, FL
This Maytag Man is about 13 feet tall. He was installed on the roof of Andrew's Appliance Repair until around 2008. Management felt that the pole that supported the statue was responsible for roof leaks and removed him. It was lying behind the store when these photos were taken in 2010. The statue is gone now. It was probably destroyed. There was another Maytag Man installed on the roof sometime after 1981. That one was destroyed by a hurricane in 1995 and replaced with this one. For more, see these websites: 1 and 2.

The only other Maytag Man statue that I know of was in Calgary, AB. That statue is gone now.
BP Man is an adapted Johnny Appleseed statue. This statue was created in the early 1990s. It was created by Mark Cline from a mold of the statue in New Market, VA. Originally, this statue was located at a restaurant in Kissimmee, FL. At some point, it was moved here to this truck stop gas station. His apple was transformed into a doughnut and a cup of coffee was added. The upside down pot on his head was changed into a ball cap. By 2018, the statue was missing his left hand and coffee cup. Does anyone know when the statue was moved here? [map]
Magic Gift ShopKissimmee, FL
Magic Castle Gift KingdomKissimmee, FL
Sports Dominator
(now Whirly Dome)Orlando, FL
Skull Kingdom [gone]Orlando, FL
ICONS ExhibitKey West, FL
These giant basketball and soccer players stood in front of the Sports Dominator sporting goods store when this photo was taken in 2005. The giant helmeted muscle man was located above the entrance. In 2012, the business became the Whirly Dome, a WhirlyBall facility. Only the basketball player remained and he had been repainted. For more, see this website. [map]

Skull Kingdom was a theme park featuring a Haunted Mansion and magic shows. The place opened in 1997 and closed in 2006. The giant skull functioned as the entrance. The building has been demolished. For more, see this website.

In 2008, J. Seward Johnson's ICONS Exhibit went on display outside the Key West Museum of Art and History. The statues were still there in 2009 when these photos were taken. These two statues were among the 11 life-sized sculptures of everyday people. As of 2014, there are still several of Johnson's statues on the grounds. For more, see these websites: 1, 2, 3, and 4. [map]
The KissSarasota, FL
Ron Jon Surf ShopCocoa Beach, FL
The Kiss statue is officially entitled "Unconditional Surrender". It was inspired by the famous VJ Day photo of a sailor kissing a nurse. The photo was taken by Alfred Eisenstaedt in 1945 and appeared in Life Magazine. The 25 foot tall statue was created by J. Seward Johnson from a photo taken by Victor Jorgensen. The original statue was styrofoam. It was replaced with an aluminum statue. [map]

Johnson's first version of this statue was built in 2005. It was installed in Times Square in New York City to commemorate the 60th anniversary of the end of World War II. I believe this statue is still put on display in Times Square every year for VJ Day.

Later in 2005, this much larger statue was installed in Sarasota. It was removed in 2006. It was reported that it was moved to San Diego, CA but I think that was a different statue. In 2007, a temporary version of this statue was installed in San Diego. That one was replaced with a permanent version in 2013.

The Sarasota statue returned in 2008. It is on loan until at least 2018. These photos are from 2009. In 2012, a car crashed into the statue. It was repaired and reinstalled later that year.

An identical statue was installed in Hamilton, NJ in 2010. There is another one in San Diego, CA. For more, see these websites: 1, 2, 3, 4, 5, and 6.

This Ron Jon Surf Shop opened in 1963 and is open 24 hours, 7 days a week. The first Ron Jon shop opened in Long Beach Island, NJ in 1961. This is their second and largest store. Shown above are three of the ten, life-sized sand and resin statues that were created in 1996. For more, see this website. [map]
Devil & Abominable Snowman [gone]Panama City Beach, FL
Orange Man [gone]Palm Coast, FL
The Devil and Abominable Snowman were used as entrances to rides at the Miracle Strip Amusement Park which first opened in 1963. The Park closed in 2004 and was demolished in 2009. The figures were created by Val Valentine. The Devil's head was the entry to Dante's Inferno with a Chance Trabant ride, a type of Scrambler. The 20 foot tall Abominable Snowman led to a Eli Bridge Scrambler ride. Both rides ran in the dark with special lighting. For more, see this website.

The Orange Man was originally known as the Orange Bird back when the Artesia Gardens produce and gift shop behind him was open. The Orange Bird had wings and a beak back in the 1980s when he was built. His midsection was a cement-filled buoy. These photos are from 2009. By 2011, the statue had been demolished. For more, see these websites: 1, 2, and 3.
Casablanca HotelMiami Beach, FL
The Casablanca Hotel, now the New Casablanca on the Ocean Hotel, was designed by Roy France and built in 1949. It features these Arabian Nights-style genie statues supporting a canopy. The hotel design was inspired by the movie "Casablanca". [map]
Sahara HotelSunny Isles Beach, FL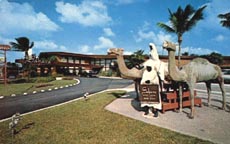 The Sahara Hotel, now the Sahara Beach Club Motel, was designed by Carlos Schoeppl and built in 1953. These camels and Arab statues are original. The Arabs' faces and hands were originally painted black (vintage postcard, top row). For more, see this website. [map]
This Big John statue was installed at this shopping center in 1969. En route to this location from Missouri, the statue was decapitated and the head had to be repaired upon arrival. The statue originally revolved on its base. The Big John supermarket was part of a chain based in Illinois where there are still several other Big John statues. When the supermarket in Cape Coral closed in 1986, the statue's grocery bags were removed from his arms. The shopping center was renamed Cape Coral Town Center. At some point, nautical flags were painted on the front and back of the statue's shirt. These photos are from 2009. In 2011, the statue was repainted. The two grocery bags were retrieved from storage and reinstalled. For more, see these websites: 1 and 2. [map]
RoadsideArchitecture.com

Copyright. All photos at this website are copyrighted and may only be used with my consent. This includes posting them at Facebook, Pinterest, blogs, other websites, personal use, etc.

Tips & Updates. If you have suggestions about places that I haven't covered, historical info, or updates about places/things that have been remodeled or removed, I'd love to hear from you: roadarch@outlook.com.