(hit "refresh" to get the most recent version of this page; click on photos for larger images)
Beethoven Bust
Fort Myers, FL
2009:
2020:
This Beethoven Bust stands at the entrance to the New University Pyramid Village. The resort was built in 2002 by Austrians which explains the Beethoven connection. For more, see this website. [map]
Marine
Melbourne, FL
David
St. Augustine, FL
Seafarer
Key Largo, FL
Dinosaur Store
Cocoa Beach, FL
This Marine statue was installed in a veteran's front yard in 2014. These statues were mass-produced. For more, see this website. [map]

This 17-foot-tall replica of Michelangelo's David is installed outside Ripley's Believe It or Not where it is discreetly concealed behind tall hedges. It was carved from marble from the same quarry as the Michelangelo original. The statue was created in 1963 for the New York World's Fair. In 1965, it was moved to the Movieland Wax Museum in Buena Park, CA. The museum closed in 2005 and, in 2007, this statue was sold to Ripley's. For more, see these websites: 1 and 2. [map]

The Seafarer at the Seafarer Beach Resort Motel was built in the late 1970s. [map]

In addition to the dinosaur exhibits at the Dinosaur Store, the museum has recreations of King Tut's Tomb and Emperor Qin's Terracotta Soldiers. This relief and statue are located at the back of the building. [map]
Chain Gang Prisoners
St. Augustine, FL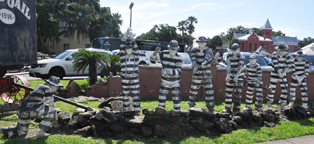 This Chain Gang Prisoners sculpture was installed in front of the Old Jail Museum around 2011. It depicts prisoners working on a road project. For more, see this website. [map]
Knights
Port Charlotte, FL
2009:
2021:
This Knight has stood next to Wilson Realty since around 2006. It is about 12 feet tall. The owner bought him at a flea market. In 2016, two smaller Knights joined him. [map]
Barefoot Mailman
Hillsboro Beach, FL
The original Barefoot Mailman sculpture was 10 feet tall and made of concrete and shells by Frank Varga. It was created in 1973 and installed in front of the Barefoot Mailman Hotel. After the hotel burned down, the sculpture was moved in front of the town's municipal hall. In 2016, it was replaced with this eight-foot-tall, bronze version. The original statue was restored again and moved to the Hillsboro Beach Lighthouse. That statue was also replaced with a bronze version in 2003. In 2016, that original statue was restored and lowered into the ocean as an artificial reef and attraction for scuba divers. In 2015, another statue was installed on the Highway A1A drawbridge between Hillsboro Inlet and Pompano Beach. These statues pay tribute to the 11 barefoot mailmen that delivered mail between Palm Beach and Miami in the late 1800s. There was another Barefoot Mailman Hotel in Pompano Beach which had a neon sign depicting the Mailman. For more, see these websites: 1 and 2. [map]
Pirate
Ponce Inlet, FL
Pirates
Treasure Island, FL
This Pirate in Ponce Inlet has been installed in the parking lot of the Lighthouse Landing Restaurant (now Hidden Treasure Restaurant) since at least 2007. [map]

These statues of Pirates in Treasure Island are installed by the pool at the Sea Chest Motel. I believe they have been there since at least the early 1960s. For more, see these websites: 1 and 2.
Captain Morgan
Key Largo, FL
Pirate
Key Largo, FL
Pirate
Dania Beach, FL
Pirate
Fort Lauderdale, FL
Pirate
Tampa, FL
Buccaneer
Tampa, FL
This Captain Morgan statue is a modern promotional liquor store statue for Captain Morgan rum. It was installed in front of Denny's Discount Liquors around 2018. There was a different pirate statue there in 2015. [map]

The Pirate statue in Key Largo is located inside the Fish House restaurant.

The wood-carved Pirate statue in Dania Beach at Alex's Flamingo Groves & Gift Shop has been there since at least 2008. [map]

The wood-carved Pirate statue in Fort Lauderdale is installed on the pedestrian bridge over Sunrise Blvd. between the Thunderbird Drive-in Swap Shop and a parking lot. It has been there since at least 2008. [map]

The Pirate statue in Tampa is located at Capital Pawn. It has been there since around 2018. [map]

This bronze Buccaneer sculpture was created by Vala Ola. It was installed on the property of the Ulele restaurant in 2020. It will be moved to the Buccaneer restaurant in Longboat Key, FL when construction is finished. [map]
Peg Leg Pete
Fernandina Beach, FL
Peg Leg Pete was carved with a chainsaw from an oak tree in 1978 by Wayne Ervin. The pirate statue was restored in 2008 and 2020. These photos are from 2021. [map]
This Buccaneer was created by George Carey's welding class. It has stood in front of Horace O'Bryant Junior High School since at least 1997. The school's teams are known as the Buccaneers. [map]
Buccaneer
Treasure Island, FL

2005:
This Buccaneer, aka Bucky, stood on the roof of the Buccaneer Motel since around the late 1970s. The motel was built in 1958. In 2005, the motel closed and was demolished. The statue was donated to the city. It is about 15-20 feet tall. In 2009, the statue was installed in the Community Center Park. For more, see this website. [map]
Conquistadors
St. Augustine, FL
George Washington [gone]
Brandon, FL
These Conquistadors stand on opposite sides of US 1 at the northern entrance to St. Augustine. The bronze statues represent Juan Ponce de Leon (left) and Pedro Menendez de Aviles (right). The statues were donated to the City in 1957. For more, see this website. [map]

This statue of George Washington on horseback stood in a vacant lot next to a pink elephant statue when this photo was taken in 2009. Sometime after 2012, the camel was repainted purple and Washington's clothes were painted yellow. The pink elephant was also repainted. The statues were installed around 1974 when the Shelton's plant nursery was here. The elephant statue was originally painted grey. In 2004, the nursery closed and demolished but these statues remained. In 2013, the statues were sold to a man in Tampa, FL. They will be displayed in his yard next to a river.
This Viking is located at the Sun Viking Lodge. The motel was built as the Oceanfront Villas and became the Sun Viking Lodge in 1971. This statue and the ship over the entrance are probably from then. [map]
Giant Man
Inverness, FL

2009:
This Giant Man, nicknamed "Redman", stands in front of Spafford's Construction & Remodeling. The statue was made by a local man and stood in front of a produce stand between Floral City and Inverness for many years. I don't know when he was built. However, in 1976, a vintage photo shows him holding a fish in his right hand and a fishing pole in his left hand. The statue was moved here around 2001, using the rebar loops on his shoulders. The statue is about 10 feet tall. He is missing both of his hands and part of his left arm lies at his feet. [map]
Astronaut
Clermont, FL
MTV Moon Man
Sanford, FL
This Astronaut statue in Clermont is located at the Showcase of Citrus. [map]

The MTV Moon Man styrofoam statue in Sanford is about 15 feet tall. It was built in 2004 for MTV, the TV channel, for the MTV Video Music Awards in Miami. It has been located at Acme Industrial Surplus since right after that or since at least 2009. For more, see this website. [map]
This concrete and rebar Strong Man statue was created by T.J. Neil in 1989. It is believed that the statue was installed at a mini golf which was on the property before the dealership. The GMC letters were added later. Many of Neil's statues are located in the Boston area where he spent most of his life. He moved to Florida in 1986 and passed away in 2010. Some of his other statues include these in West Yarmouth, MA and Brandon, VT. For more, see this website. [map]
Maytag Man [gone]
Fort Walton Beach, FL
This Maytag Man is about 13 feet tall. He was installed on the roof of Andrew's Appliance Repair until around 2008. Management felt that the pole that supported the statue was responsible for roof leaks and removed him. It was lying behind the store when these photos were taken in 2010. The statue is gone now. It was probably destroyed. There was another Maytag Man installed on the roof sometime after 1981. That one was destroyed by a hurricane in 1995 and replaced with this one. For more, see these websites: 1 and 2.

The only other Maytag Man statue that I know of was in Calgary, AB. That statue is gone now.
RoadsideArchitecture.com

Copyright. All photos at this website are copyrighted and may only be used with my consent. This includes posting them at Facebook, Pinterest, blogs, other websites, personal use, etc.

Tips & Updates. If you have suggestions about places that I haven't covered, historical info, or updates about places/things that have been remodeled or removed, I'd love to hear from you: roadarch@outlook.com.