(hit "refresh" to get the most recent version of this page; click on photos for larger images)
Giant Kachina
Elk City, OK
Giant Kachina
Carefree, AZ
Giant Kachina
Holbrook, AZ
The Kachina in Elk City stands in front of the National Route 66 Museum. It is 14 feet tall and made of painted oil drums and pipes. It was built in 1962 by Johnny Grayfish. It originally stood in front of the Queenan Trading Post in Elk City. It was restored in 1990 and moved here to the museum. For more, see this website. [map]

The Giant Kachina in Carefree is a 39-foot-tall representation of a Hopi Indian doll. It is made of reinforced concrete and weighs more than 14 tons. This Kachina has been here since at least 2002. According to one source, it was built in the mid-1960s. For more, see this website. [map]

The Kachina sign in Holbrook is located at the Rock Factory souvenir shop. [map]
Giant Kachina
Gallup, NM
Giant Kachina [gone]
Las Cruces, NM
Giant Kachina
Williams, AZ
Giant Nutcracker
Syracuse, NE
The Kachina in Gallup has been here many years. It is installed at the Greyhound bus station facing I-40. Sometime between 2006 and 2011, the base was removed. For more, see this website. [map]

The Kachina in Las Cruces was located at Bowlin's Old West Trading Post. This photo is from 2012. It appeared to be gone by 2014.

The Kachina in Williams is one of two at the Canyon Gas Trading Post & Restaurant. There has been a trading post here since 1889. For more, see these websites: 1 and 2. [map]

This Giant Nutcracker is installed next to a gas station. The statue has been there since at least 2008. [map]
Sock Puppet [gone]
Throckmorton, TX
This giant Sock Puppet was made by Joe Barrington in 2015. These photos are from 2018. By 2019, the sculpture was gone.
Giant Envelope
Lakeside, CA
Cardboard Box
Wichita, KS
This giant Envelope is installed in front of Southland Envelope Company. The company built this facility in 2000. The Envelope was probably built at that time. [map]

The giant Cardboard Box in Wichita was originally installed for the Love Box Company. In 2005, the company was bought out by Pratt Industries which updated the name on the box. [map]
Cardboard Box
McCart Ave.
Fort Worth, TX
Cardboard Box
White Settlement, TX
Cardboard Box
Longhorn Rd.
Fort Worth, TX
Cardboard Box
Plano, TX
The All Storage Cardboard Box prototype on McCart Ave. was really just a canopy. It was built around 2014. [map]

The larger, complete Cardboard Boxes for the All Storage locations in White Settlement, Fort Worth, and Plano were built soon after that. [White Settlement map]; [Fort Worth map]; [Plano map]. For more, see this website.
Giant Boombox
Atomic City, ID (now Norris, MT)
This Giant Boombox had been abandoned in a field since at least 2012. It evidently advertised for KXRO-AM which is in Aberdeen, WA. How it wound up nearly 800 miles away, I have no idea. It may have been used as a remote studio. These photos are from 2014. By 2015, it had been moved to Norris, MT. [map]
Giant Boombox
Miami, FL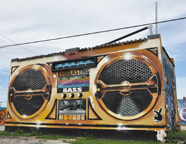 This Giant Boombox is a small building which has been painted with advertising since at least 2008. By 2011, it had been painted as a boombox. This is the third version. [map]
Giant Microphone
Colorado City, TX
2006:
2017:
The Giant Microphone stands in front of KVMC, an AM radio station. It is believed to have been built in the 1960s. It was restored and repainted around 2016. [map]
Giant Toilet
Hornberg, Germany
Giant
Weber Grill
Chicago, IL
Giant
Weber Grill
Lombard, IL
Offshore Jackup Oil Rig
Broussard, LA
The giant Toilet is part of the Duravit Design Center. Duravit is a bathroom furniture manufacturer. The Toilet is over 60 feet tall and serves as an observation platform. It was designed by Philippe Starck and built in 2004. The Toilet is illuminated at night. For more, see this website. [photo thanks Tino Beitlich]

The Weber Grill in Chicago is mounted above the entrance to the Weber Grill Restaurant. This location opened in 2002. [map]

The Weber Grill in Lombard is installed next to the restaurant, which opened in 1999. [map]

This giant Offshore Jackup Oil Rig serves as the offices for Offshore Energy Services, Inc. The building was completed in 1981. [map]
Diamond [gone]
St. Joseph, MO
Oil Patch Liquor & Deli
Signal Hill, CA
Cassette Tape [gone]
Howell, NJ
This giant Diamond was installed on the roof of Adams Fine Jewelry. This business had been here since around 1975. I don't know if there was another jewelry store here before that. This photo is from 2010. By 2015, the jewelry store and diamond were gone.

Oil Patch Liquor & Deli was adapted from an oil derrick. [map]

This giant Cassette Tape was located at The Record Store. The store opened in 1988. Around 2019, the store closed and the Tape was gone.
Giant Penny
Woodruff, WI
Giant Quarter
Everett, PA
Dime in a Box
Dime Box, TX
This Giant Penny is ten feet tall and made of concrete. The backside is blank. It was created in the 1950s to commemorate the 1953 "Million Penny Parade" fundraising campaign to build a hospital. For more, see these websites: 1 and 2. [map]

This Giant Quarter is 20 feet tall and made of metal. It was designed and built by students as part of the Lincoln Highway Heritage Corridor's Roadside Giants project. It was installed in 2009. For more, see this website. [map]

The town of Dime Box got its name from the practice of leaving a dime in a box at Brown's Mill for postal delivery before a post office was built there in 1877. Does anyone know when this "Dime in a Box" monument was built? For more, see this website. [map]
Giant Buffalo Nickel
Oklahoma City, OK
Giant Loonie
Echo Bay, ON
Giant Toonie
Campbellford, ON
This Giant Buffalo Nickel was installed in a vacant lot with other brightly painted buffalo statues as part of the Oklahoma Buffalo Corral. The statues were installed there around 2004. By 2014, only this double-sided Giant Buffalo Nickel was left. [map]

This Giant Loonie monument was built in 1992. The giant fiberglass coin is 12 feet tall. The coin itself was introduced in 1987. The coin was designed by Robert-Ralph Carmichael, a resident of Echo Bay. It was nicknamed after the loon which appears on the reverse side of the coin. The front of it features Elizabeth II, the Queen of Canada. [map]

This Giant Toonie was built in 2001 and is 18 foot in diameter. Brent Townsend, a local artist, designed the polar bear that is used on the face of this coin. This two-dollar coin is nicknamed the "toonie" since it is the equivalent value of two loonies. This monument is the second one built. The first was made from 700 lights and stood just a few feet away. It was built and installed in 1996 when the coin was first produced. For more, see this website. [map]
Giant
Thermometer
Baker, CA
Giant
Thermometer
Galt, CA
Giant
Snow Stick
Mohawk, MI
Giant Painting
Goodland, KS
This Giant Thermometer in Baker has a three-sided digital display and is 134 feet tall. It was built by YESCO of Las Vegas in 1991. That same year, strong winds broke it in half and it had to be rebuilt. Many local residents think the poorly maintained thermometer is an eyesore. It has not been lit for many years and in 2012 it was put up for sale. The first photo above is from 2006 when the thermometer was working. Just after the second photo above was taken in 2014, the thermometer was restored and relit. For more, see these websites: 1 and 2. [first photo thanks Crawford Appleby] [map]

This Giant Thermometer in Galt is located in front of Giddens Heating and Air. It was built in 2010 and is 50 feet tall. The thermometer is operational and an LED message board tells the time and gives weather reports. However, when these photos were taken in 2014, the thermometer was not working. For more, see this website. [map]

This Giant Snow Stick is 32 feet tall. It was built in 1999 and shows local annual snowfall totals. [map]

This Giant Painting is a replica of Vincent Van Gogh's "Sunflowers". The 32-foot-tall painting is placed on an 80 foot tall easel. It was built in 2001 as a reference to Kansas' "Sunflower State" nickname. This painting was created by Cameron Cross who hopes to build six others around the world. Two have been built in Canada and Australia. For more, see this website. [map]
This Birdhouse is about 30 feet tall. It was built as a real estate office for Hal Bird in the 1970s. The building appeared to be vacant when these photos were taken in 2014. For more, see these websites: 1 and 2. [map]
Bank of America
Nashua, NH
This Bank of America branch has been built to resemble a barn. Does anyone know more about it? [map]
More Giant Things:
Antlers (Casey, IL)
Bird Cage (Casey, IL)
Knitting Needles (Casey, IL)
Yardstick (Casey, IL)
Abacus (Goshen, KY) [map]
Stethoscope (Henning, MN) [map]
Ten Commandments (Murphy, NC)
Ball of Yarn (Alliance, OH)
Corkscrews (Ringoes, NJ)
Prozac Pill (Red Hook, NY)
Chandelier (Cleveland, OH)
Zippo Lighters (Bradford, PA)
Corkscrews (Irvington, VA)
Cameras (various cities)
Lamp (Donalda, AB)
Lawnmower (Columbia-Shuswap, BC)
Happy Rock (Gladstone, MB)
Maple Leaf (Millville, NB)
Maple Leaf (St. Quentin, NB)
RoadsideArchitecture.com

Copyright. All photos at this website are copyrighted and may only be used with my consent. This includes posting them at Facebook, Pinterest, blogs, other websites, personal use, etc.

Tips & Updates. If you have suggestions about places that I haven't covered, historical info, or updates about places/things that have been remodeled or removed, I'd love to hear from you: roadarch@outlook.com.