The Giant Stove was built in 1893 by the Michigan Stove Company for the Columbian Exposition in Chicago. It is carved from oak and is 25 feet tall, 30 feet long and 20 feet wide. It represents the "Garland" which was a kitchen range. In the 1880s, Detroit was the stove-making capital of the world.

After Chicago, the Giant Stove was moved to Detroit. In 1927, when the Michigan Stove Company merged with Detroit Stove Works to become the Detroit-Michigan Stove Company, the Giant Stove was refurbished and installed on Jefferson Avenue. In 1965, it was moved to the State Fairgrounds. In 1974, when it was pretty much falling apart, it was disassembled and the parts were put in storage at the Fort Wayne Military Museum. In 1998, funds were raised and the Stove was restored and re-erected at the Fairgrounds where it stands today. These photos are from 2005. In 2011, the Stove was destroyed by a fire started by a lightning strike. There are no plans to rebuild it. For more, see these websites: 1, 2, and 3.
Giant Tire
Allen Park, MI
The Giant Tire is made of fiberglass panels on a steel frame. It is about 80 feet tall. The Tire was built for U.S. Rubber to advertise its U.S. Royal Tires at the New York World's Fair in 1964. The Tire functioned as a ferris wheel with 24 barrel-shaped gondolas, rotating around the circumference of the tire. Nearly two million people rode it. After the Fair, the ferris wheel portion was sold to an amusement park in New Jersey. The Tire panels were moved to Allen Park and installed on a new steel frame. Tread was added to fill in the gap where the ferris wheel was. It was installed next to a U.S. Royal Tires sales office which is gone now. When the company's name was changed to Uniroyal, the brand name on the Tire was updated.

In 1990, Michelin Tire bought Uniroyal-Goodrich Tire Co. The Tire was renovated and updated in 1994. Neon lighting was added. In 1998, an 11 foot long nail was stuck in the Tire to advertise the company's self-sealing Tiger Paw NailGard tire. In 2003, the Tire was renovated again and the nail was removed. The Tire still stands today on eastbound I-94. For more, see these websites: 1 and 2. [map]
Twin Arrows
Twin Arrows, AZ
2004:
2012:
The Twin Arrows complex was built as the Canyon Padre Trading Post around 1949. This Route 66 tourist stop became the Twin Arrows Trading Post in the 1950s and these 20 foot tall arrows were built at that time. In addition to the trading post which functioned as a souvenir shop, there was a gas station and the Twin Arrows Cafe diner. The businesses closed in the late 1990s and the site is now closed off and owned by the state. The Arrows were restored in 2009. [map]
Arrows
Gallup, NM
Giant Arrow
Alpena, MI
Arrow
Albuquerque, NM
Arrow
Joshua Tree, CA
Arrow
San Jacinto, CA
Arrow
O'Donnell, TX
The Arrows in Gallup are located behind the Navajo Travel Plaza. I don't know when they were built. [map]

The Arrow in Alpena stands in front of the Red Arrow Party Store. [photo thanks Mark Comstock] [map]

This Arrow in Albuquerque has been here since the early 1960s. It had the name "Indian Plaza" painted on it originally. The Indian Plaza shopping center was redesigned but the arrow was allowed to stay. [map]

This Arrow in Joshua Tree is about 15 feet tall. It has been there since sometime before 2007 when the Red Arrow Gallery opened next to it. It looks like it might have been inspired by the Arrow in Albuquerque. The building now houses the re:find antiques store. [map]

This Arrow in San Jacinto is installed in front of Arrow Printing. It is about 20 feet tall and has been there since at least 2007. Arrow Printing was established in 1928. [map]

The Arrow in O'Donnell is one of ten that were installed in 2011 to mark the Quanah Parker Trail. The 23 foot tall steel arrows were created by Charles Smith. [map]
Giant Arrows
Fort Smith, AR
Giant Arrow
Meridian, TX
These five Giant Arrows in Fort Smith were created from telephone poles in 2016 by D*FACE. The project was sponsored by the Choctaw Nation. For more, see this website. [map]

This Giant Arrow in Meridian is installed in front of Hat Creek Taxidermy. It has been there since at least 2007. [map]
Longhorn Grill
Amado, AZ
The giant longhorn skull which housed the Longhorn Grill was built in 1973 for the movie "Alice Doesn't Live Here Anymore". It has been used for many things: a bait and tackle shop, a gift shop, a bar, a pizza place and office space. It had been home to the Longhorn Grill since 1998 until it closed in 2012. In 2019, it was announced that the restaurant would soon be reopening. The skull is made of concrete over wire mesh and is 15 feet tall. The horns extend 20 feet from each side. It was built by Michael Kautza who is also created the Wine Bottle and Matador & Bull in Tucson, AZ. For more, see these websites: 1 and 2. [map]
Buffalo Skull
Dubois, WY
This Buffalo Skull serves as the entrance to the Laundromat & Car Wash. I don't know what business was here originally or when this was built. [map]
Pee Wee Dalton's
Midland, TX
2008:
2012:
Pee Wee Dalton's store specializes in Western boots and accessories. The facade has been updated but the giant longhorn skull remains. [map]
Buffalo Skull
Abilene, TX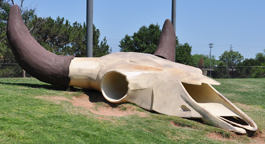 This giant Buffalo Skull is located at the Abilene and the Texas Forts Trail Visitor Center. It is 26 feet across and was built by Joe Barrington in 2012. The steel was salvaged from old oil tanks. [map]
Longhorn Skull
Albany, TX
Giant Muleshoe
Muleshoe, TX
This Longhorn Skull sculpture is installed next to the restored Sinclair station in town. It was created by Joe Barrington in 2007 and was originally located in Waco, TX. For more, see this website. [map]

This Giant Muleshoe functions as a sign for the Muleshoe Heritage Center. It is about 25 feet tall and made of steel. It was built in 1994 by Kermit Price as an Eagle Scout project. [map]
RoadsideArchitecture.com

Copyright. All photos at this website are copyrighted and may only be used with my consent. This includes posting them at Facebook, Pinterest, blogs, other websites, personal use, etc.

Tips & Updates. If you have suggestions about places that I haven't covered, historical info, or updates about places/things that have been remodeled or removed, I'd love to hear from you: roadarch@outlook.com.