(hit "refresh" to get the most recent version of this page; click on photos for larger images)
Lighthouse
Wildwood, NJ
Beacon Oil Company [gone]
Bayonne, NJ
This Lighthouse in Wildwood is located on the roof of Schellenger's Restaurant. The restaurant opened in 1978 and this lighthouse might be from then. [map]

The Beacon Oil Company building was vacant when these photos were taken in 2012. It remained vacant until it was demolished in 2021.
Strollo's Lighthouse
Point Pleasant, NJ
Strollo's Lighthouse
Long Branch, NJ
Snug Harbor
Las Vegas, NV
The Strollo's Lighthouse Italian ice chain was established in 1976. There are now four locations. Only these two have lighthouses. This Point Pleasant stand was built in 1999. The Long Branch location was built in 2010. The Red Bank location is housed in a former gas station. [Point Pleasant map]; [Long Branch map]

I believe the Snug Harbor strip center was built in 1989. [map]
Jordan's Lobster Dock
Brooklyn, NY
Lighthouse
Antiques
Marblehead, OH
Lighthouse
Vermilion, OH
I believe Jordan's Lobster Dock and this lighthouse were built in the mid-1980s. This photo is from 2012. By 2016, the lighthouse was painted red. [map]

The lighthouse in Marblehead stands next to Lighthouse Antiques. Does anyone know how long it's been here or the business originally associated with it? [map]

The Lighthouse in Vermilion was built in 1991. It is a replica of the lighthouse that was removed in 1929. For more, see these websites: 1 and 2. [map]
Lighthouse Christian Academy
Columbus, OH
The Lighthouse Christian Academy "Prayer Tower" lighthouse was built in the 1970s. The Sam the Sailor mannequin had been there since at least the early 1990s. These photos are from 2009. In 2011, the sailor was removed and stored inside the lighthouse. As of 2012, the building is for sale. [map]
Sunshine
Tabernacle [gone]
Lexington, OK
Bank of
the Lakes [gone]
Catoosa, OK
Lighthouse Square
Lincoln City, OR
Lighthouse Coffee Co.
Lincoln City, OR
The Sunshine Tabernacle seemed to be gone but this lighthouse remained when this photo was taken in 2011. The lighthouse was still there in 2013. By 2016, it was gone.

The Bank of the Lakes was established in 1976 in Langley, OK. I believe this is the only branch with a lighthouse sign. This photo is from 2011. By 2016, another bank was there and the lighthouse was gone.

The Lighthouse Square shopping center lighthouse was probably modeled after the Yaquina Head Lighthouse in Newport, OR. It was built in 1986. [map]

The Lighthouse Coffee Co. building has been here since at least 2009. [map]
Coopers Seafood House
Scranton, PA
Coopers Seafood House features a ship-shaped building and lighthouse. There is also a giant octopus on the roof and several pirate statues. [map]
Zion Hill Baptist Church
Dallas, TX
Lighthouse
Water Station
Laredo, TX
The Zion Hill Baptist Church was built around 1940. [map]

This Lighthouse Water Station vending machine is similar to the ubiquitous Watermill Express vending machines. I have not seen another one like this. I did not make note of the address when I took this photo in 2008. Does anyone know where it's located or if it's still there?
Vivar's Villa del Mar
Mesa St.
El Paso, TX
Vivar's Villa del Mar
Gateway East
El Paso, TX
The first Vivar's Villa del Mar restaurant was built in Juarez, Mexico in 1967. I believe one of these two El Paso locations opened in 2011 but I don't know which one. [Mesa St. map]; [Gateway East map]
Fortbend Chiropractic and Wellness
Rosenberg, TX
2011:
2018:
The Fortbend Chiropractic and Wellness, now Injury Clinics, building features this lighthouse entrance. Does anyone know what was located here originally? [map]
Lighthouse
Tomball, TX
Lighthouse
Port Isabel, TX
Lighthouse
Corpus Christi, TX
Lighthouse
Port Aransas, TX
Lighthouse
Conroe, TX
The Lighthouse building in Tomball houses Buzzle's Shaved Ice. It was built in 2000 for the Endurance Coffee Co. and installed at a different location in town. The light at the top originally revolved. The building was moved to its current location in 2002. In 2023, the top of the lighthouse was gone. [map]

The Lighthouse in Port Isabel is a real one, built in 1852. It has not been operational since 1905. It is now owned by the Texas Parks and Wildlife Department and operated by the City. For more, see these websites: 1 and 2. [map]

The Lighthouse in Corpus Christi was installed at Del Mar College in 2007. [map]

The Lighthouse in Port Aransas is located in front of Islander Beach Goods. It has been there since at least 2007. [map]

The Lighthouse in Conroe is installed at the Lighthouse Business Park in front of Precision Interior Products. It has been there since 2007. [map]
Providence
Center
Cedar City, UT
former Investors Savings Bank [gone]
Winchester, VA
The Providence Center lighthouse is 90 feet tall. It was built in 2000 for the shopping center. The light on top is lit at night. For more, see this website. [map]

Investors Savings Bank built this lighthouse bank in 1976. It is about 35 feet tall. A walk-in bank vault was located in the base of the lighthouse. The bank also built a windmill bank in Virginia Beach, VA which I believe is gone. This building in Winchester housed a CashPoint loan office when these photos were taken in 2008. In 2016, the office space structure attached to the lighthouse was demolished. The lighthouse itself was moved to a farm where it will be used as a silo. For more, see these websites: 1 and 2.
Lighthouse
Olympia, WA
Lighthouse [gone]
Olympia, WA
Lighthouse
Des Moines, WA
The first Lighthouse in Olympia shown above is located at the Olympia Yacht Club. It was built in 1930 as part of the clubhouse which was rebuilt in the 1950s. [map]

The second Lighthouse in Olympia shown above was located at Lighthouse Antiques. It was still there in 2017 but gone by 2018.

The Lighthouse in Des Moines was built as a dental office in the 1930s. The building now houses The Lighthouse Lounge and a hair salon. [map]
Mexicali Rose
Wisconsin Dells, WI
Devil's Lake
Amusements
Baraboo, WI
Harbor House Inn
Ellison Bay, WI
Lighthouse Shop
Kewaunee, WI
The Mexicali Rose restaurant features a lighthouse in its design. It was originally "The Reef" and later "The Lighthouse". The current manager believes the building is from the 1950s. For more, see this website. [map]

The Devil's Lake Amusements lighthouse is located on the mini golf course. It appears to be used for storage. This photo is from 2011. By 2013, the place had closed. It was still there but looked abandoned.

The Harbor House Inn was built in 1904. The property is located right on Green Bay so the lighthouse may have also had a functional use. [map]

The Lighthouse Shop is a gift shop featuring souvenirs and nautical collectibles. [map]
Lighthouse
Sheridan, WY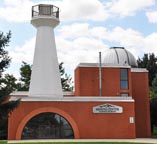 This Lighthouse structure in Sheridan is located on the roof of the Mohns Center Science Museum at Sheridan College. I don't know what it is used for.
RoadsideArchitecture.com

Copyright. All photos at this website are copyrighted and may only be used with my consent. This includes posting them at Facebook, Pinterest, blogs, other websites, personal use, etc.

Tips & Updates. If you have suggestions about places that I haven't covered, historical info, or updates about places/things that have been remodeled or removed, I'd love to hear from you: roadarch@outlook.com.