(hit "refresh" to get the most recent version of this page; click on photos for larger images)
This Mortimer Snerd statue was essentially a Paul Bunyan statue with an entirely different head. The original head from which the mold was made was created by Bill Swan. It is believed that these statues were first produced around 1967. The statues are a little over 21 feet tall. I believe all or most of these statues were sold with straw hats. The ball cap may have been an option. I believe the pants came with hand-painted patches. It is not known why these statues were named after Mortimer Snerd rather than Alfred E. Neuman whose face is a much closer likeness. This photo is from International Fiberglass marketing materials [thanks Terry Nelson]. It is not known how many of these statues were produced. There are only 11 known to still exist.
Mortimer Snerd
Flint, MI (now Hayward, CA)

2011:
Mortimer Snerd
Hayward, CA
This Mortimer Snerd statue was originally installed at Poor Boy's Pantry in Kansas City, KS. While it was there in the 1980s, the statue was painted with a Hawaiian shirt. It then disappeared in the 1990s. The statue was sold in 1998 and installed at the Dort Mall in Flint, MI. While there, the statue was known as "Howdy Doody." Bob Perani owned the statue and the mall which had a collection of his signs and other items inside. Perani passed away in 2012. In 2014, the statue was sold and moved to Bell Plastics in Hayward, CA where there are many other International Fiberglass statues and a Fireman shown in the bottom row above. In 2017, the statue was repainted. For more, see this website.

Another Mortimer Snerd statue at Bell Plastics is being restored. It came from Madison, OH and will be displayed at a museum in Atlanta, IL when it's done. [map]
Mortimer Snerd
Lake Ozark, MO
This Mortimer Snerd statue stood in front of the Dogpatch gift shop. He originally installed in the 1960s to promote Mortimer Snerd Golf. The statue held a mini golf club in his left hand. This is the only Mortimer Snerd known to have been produced with the right arm raised in the Indian model salute. This statue stood directly across the street from an International Fiberglass Indian statue. Both statues had been there many years. The Indian was restored and reinstalled in 2016. The Mortimer Snerd statue was removed in 2013 due to safety concerns. In 2020, restoration of the Snerd statue began. He will be reinstalled in 2022. For more, see this website. [map]
Paul Bunyan [gone]
Jackson, NJ
Mortimer Snerd [gone]
Jackson, NJ
This Paul Bunyan head was only displayed around Halloween to promote the Dracula's Domain haunted house and Haunted Hayrides. The body was made of wood covered with a black tarp. This photo is from around 2001. The head was sold in 2021. It is now in a private collection.

The body for this statue was used for a Mortimer Snerd statue which was displayed year-round at the same place. The owner bought the Paul Bunyan golfer statue and two Mortimer Snerd heads around 1981. They were all originally located at the Steel Pier in Atlantic City, NJ. The owner liked the Snerd head better and used it for the Bunyan statue. The second Snerd head was located in the paintball area on top of a tall pipe. In 2004, this statue was taken down for restoration. It was reinstalled in 2006. These photos are from 2012. In 2021, the statue was sold. It's not yet known where it will be installed or if it will be on public display. For more, see these websites: 1, 2, and 3.
Mortimer Snerds & Paul Bunyan
Seaside Heights, NJ (now Oaks, PA & Fargo, ND)

2001:
2007: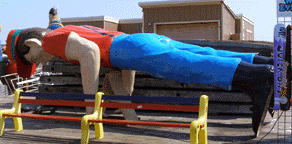 The top row of photos of the Mortimer Snerd and Paul Bunyan statues were taken in a driving snowstorm around 2001. They were located on the Seaside Heights Boardwalk. One of the Mortimer Snerd statues wore a straw hat and held an axe. The other statue wore a ball cap and had painted-on suspenders. Both the ball cap and straw hat were standard International Fiberglass stock accessories.

In 2002, the Paul Bunyan was severely damaged in a storm. That statue was put in storage. By 2007, there was only one statue on display. The Mortimer Snerd with suspenders and ball cap was installed at a mini golf above the Boardwalk next to the pier. In the middle photo, the statue was freshly painted for the coming season and in a prone position on the pier.

This Mortimer Snerd statue survived Hurricane Sandy in 2012 and is still located next to the Pier which was reconstructed. The long-missing Mortimer Snerd with the straw hat and the Paul Bunyan were seen in a parking lot storage area. In 2023, the Bunyan was installed in Fargo, ND. The Mortimer Snerd with the straw hat is now located at Arnold's Family Fun Center in Oaks, PA. For more, see this website. [map]
Mortimer Snerd
Winslow, NJ
This Mortimer Snerd statue in Winslow was located at Tom's Steaks in Edgewater Park, NJ by the early 1970s. The restaurant closed and was about to be demolished in the mid-1980s. The statue was purchased by Ray Giannascoli and moved to his drive-in. Ray named the statue Mr. Bill and renamed his drive-in Mr. Bill's. The statue is held in place with steel pipes running from his legs into the ground and guide wires set in concrete. These photos are from 2009. In 2016, the statue was repainted. [map]
Mortimer Snerd
Lake George, NY (now Dallas, GA)
2005:
2021:
This Mortimer Snerd statue in Lake George was located at Magic Forest. This statue was previously installed at the Danbury Fair in Danbury, CT. After the Fair closed in 1981, this statue and several others were acquired by Magic Forest. The statue's beard was painted on and the hat was apparently produced for him at Magic Forest. By 2014, the axe had fallen from his hands and was hidden nearby. In 2018, the owner auctioned off most of the statues at the park. This statue was restored by Mark Cline and is now located at Atlantis Plumbing. For more, see this website. [map]
Mortimer Snerd
North Central Expressway [gone]
Dallas, TX
Mortimer Snerd
Northwest Highway
Dallas, TX
Ken's Muffler & Brake featured Mortimer Snerd statues at both of its locations. In 2022, the statue at North Central Expressway was removed. It's said that it went to a museum but no one knows which one or if that is true.

The statue at Northwest Highway is still there. [map]
Mortimer Snerd
Beaumont, TX
The Mortimer Snerd statue in Beaumont stands in front of another Ken's Muffler & Brake location. He was repainted around 2007. These photos are from 2018. The statue was repainted again in 2022 for Leo's Automotive. His shirt is now black and his pants are blue. For more, see this website. [map]
RoadsideArchitecture.com

Copyright. All photos at this website are copyrighted and may only be used with my consent. This includes posting them at Facebook, Pinterest, blogs, other websites, personal use, etc.

Tips & Updates. If you have suggestions about places that I haven't covered, historical info, or updates about places/things that have been remodeled or removed, I'd love to hear from you: roadarch@outlook.com.