(hit "refresh" to get the most recent version of this page; click on photos for larger images)
A&W Burger Family [gone]Casper, WY
These A&W Burger Family statues were installed on top of the canopy of this former A&W. This A&W opened in 1954. The canopy was added in the 1960s. The statues may have been added then or later on. The current building is from 1975. In 2008, this location let its A&W franchise lapse and the restaurant closed. It reopened as Shifters EBT (Extreme Burger Technology) later that year. In 2017, Shifters closed and the statues were removed and put up for sale. The building has been sold but will no longer house a restaurant. For more, see these websites: 1 and 2.
A&W Burger Family [gone]Thermopolis, WY
This A&W Burger Family was missing the Baby Burger statue. It was stolen around 2004 and was too damaged to repair. The restaurant still had the statue. The Teen was missing his burger. This A&W was built in 1960. The statues had been there since at least 1983. This location ceased being an A&W franchise around 1996. The restaurant changed its name to the A&W Lanes. There was an eight-lane bowling alley attached to the restaurant. These photos are from 2012. By 2014, the restaurant and statues were gone.
A&W Mama Burger statuesHatch, NM
A&W statue mugs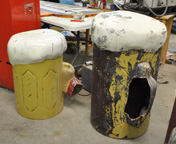 The first A&W Mama Burger statue shown above has been at Franciscan RV since around 2007. She came from a collector in California. There is also an unrestored Mama statue (third photo) and two A&W statue mugs in storage at the RV dealership. In addition, there is a Cowboy statue in front of the business. The dealership and Sparky's restaurant are owned by Teaku Nunn. He has an extensive collection of fiberglass statues.
A&W Burger FamilyLemitar, NM (now Hatch, NM)

2008:
2012 and 2017:
This A&W Burger Family was originally located in a Denver suburb (see the Belen Teen Burger below). They were moved to Lemitar around 2003. In 2008, the three statues were sold to Teaku Nunn in Hatch, NM. They were restored and repainted before being installed on the roof of his new restaurant, Sparky's. I don't know where he got the Teen Burger from. For more, see this website. [map]
Circle T Drive-inBelen, NM
The owner of the Circle T Drive-in bought a complete A&W Burger Family from a Denver area A&W in the 1980s. He split up the family between his two restaurants. Around 2003, he sold the Papa, Mama and Baby to a friend in Lemitar (see above). [map]
A&W Burger FamilyWillcox, AZ (now Santa Maria, CA)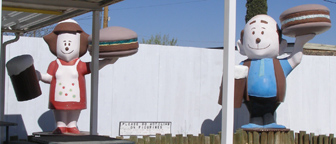 This A&W Burger Family was located the former Carter's Drive-in. Carter's was built in 1958 as an A&W drive-in. The building style with the pylon was typical of those shown at this page. The Papa Burger and Mama Burger stood in back near the picnic tables, while the Teen Burger (note the "T" on his chest) was out front next to the road. The Teen Burger spun in the wind on his platform which had a functioning, revolving mechanism at one time. The Mama and Papa revolved originally, too. This Papa Burger held a hot dog instead of a mug for some time. According to the original owners, there was never a Baby Burger at this location. The photos above are from 2008. Sometime after 2011, the repurposed oval A&W sign frame was replaced with a rectangular backlit box sign. Carter's closed in 2013. In 2015, the place reopened as Adolfo's Taco Shop and the statues were sold. In 2016, the statues were restored and sold by an antiques dealer to a private collector in Santa Maria, CA. For more, see these websites: 1 and 2.
Shirley May'sAlbany, OR
Forty One Cafe [gone]Lemoore, CA
This A&W Teen Burger in Albany stands in front of Shirley May's, a cafe. He's been there since at least the early 1990s. The statue may have come from an A&W in Corvallis, OR. [map]

This A&W Teen Burger in Lemoore stood on the roof of the Forty One Cafe (located on Highway 41). The first two photos are from 2008. By 2013, the statue was leaning significantly to the right. The third photo above is from 2014. The statue was removed in 2018. It is now in a private collection.
RoadsideArchitecture.com

Copyright. All photos at this website are copyrighted and may only be used with my consent. This includes posting them at Facebook, Pinterest, blogs, other websites, personal use, etc.

Tips & Updates. If you have suggestions about places that I haven't covered, historical info, or updates about places/things that have been remodeled or removed, I'd love to hear from you: roadarch@outlook.com.