(hit "refresh" to get the most recent version of this page; click on photos for larger images)
A&W Papa BurgerCosta Mesa, CA (now Chico, CA)
This A&W Papa Burger in Costa Mesa had been at the Costa Mesa Omelette Parlor since it opened in 1983. The statue was not altered. It was just repainted unconventionally. In 2010, the place closed and the statue was sold and moved to the Madison Bear Garden in Chico, CA. Before it was put on display inside that restaurant, the statue was repainted again in an equally unconventional way. [Costa Mesa photo thanks Susan Adkins]
A&W Papa BurgerBoulder, CO
This repainted A&W Papa Burger in Boulder hangs from the ceiling of the World Famous Dark Horse bar. There are also two A&W hamburgers. I have no idea where these pieces came from.
A&W Papa BurgerBiddeford, ME
This A&W Papa Burger was previously at D'Allaire's Motel and Cottages where they had some other statuary (including this leaping deer). In 2003, D'Allaire's sold their Papa Burger to TJ's Pizza which is just down the street. These photos are from 2003 when the statue was in storage. The mug and burger are missing from the statue's hands. This guy has heavy lipstick and golf balls for eyes, perhaps a carryover from D'Allaire's which had a mini golf course. In 2003, the owner said that they planned to restore the statue and put it on the roof. However, as of 2019, the statue was still not on display.
Wilkins' Root Beer Drive-inSelma, CA
The Wilkins' Root Beer Drive-in was originally an A&W Drive-in. There was probably an entire A&W Burger Family here when it opened. The name was changed to Wilkins' Root Beer in 1975. For more, see this website. [map]
A&W Papa BurgerAvondale, CO
2012:
2023:
The A&W Papa Burger is missing his mug and burger. He is installed in a residential front yard. By 2022, he was laying on his back next to a shed on the property. It appears he had been repainted as a Santa at some point.
A&W Papa BurgerFaribault, MN
This A&W Papa Burger stands in front of a still-functioning A&W Drive-in. In 2006, his shirt was painted turquoise but it has since been painted back to the original A&W orange. [map]
A&W Papa BurgerSpring Valley, MN
This A&W Papa Burger is located next to a still-operating A&W Root Beer stand. He has been here since at least the 1970s. I believe he was purchased individually from A&W rather than as a family set. This location opened in 1956 and features a pilgrim hat roof and canopy. The roof was turquoise in 2008. By these 2012 photos, it was back to the original orange paint. [map]
A&W Papa BurgerOglesby, IL
This A&W Papa Burger was known as "Woody the Root Beer Man" when he was located at Woody's in Streator, IL. That location closed in 2005 and the statue was relocated here. This Oglesby A&W is now known as The Root Beer Stand. [map]
former A&W Papa BurgerBlue Earth, MN
2008:
2012:
This A&W Papa Burger statue has been at this gas station since around 2002. In 2005, the statue was transformed to look like a baby Jolly Green Giant. Blue Earth is home to a huge Jolly Green Giant statue. Around 2011, the statue's pizza and beer were replaced with a can of jelly beans and a piece of fudge. [map]
Papa & Baby BurgerModesto, CA
This A&W Drive-in opened in 1957. The Papa & Baby Burger are tucked away in the patio area. I assume there was also a Mama Burger and Teen Burger here as well. There is also a vintage plastic sign and roller-skating car hops. [map]
A&W Papa Burger [gone]Sebastopol, CA
A&W Papa BurgerAuburn, NE
The A&W Papa Burger in Sebastopol was missing his mug and burger. The statue had been located at Renga Arts since at least 2014. He appeared to be gone in 2021.

The A&W Papa Burger in Auburn stands next to the Dairy Sweet. He was originally located in Colorado. He has been here since at least the 1990s. The statue was repainted in 2019. [map]
Burger FamilyRexburg, ID (now Lodi, CA)

2008: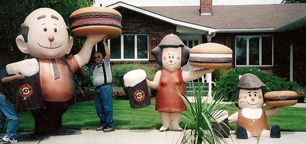 2020:
The Burger Family in Rexburg was missing the Teen Burger. The statues were originally displayed in 1963 at an A&W in St. Anthony, ID. They were removed by 1971 and put in storage at a residence in Rexburg. This photo from 2008 is from when the family brought the statues out temporarily to create attention for a yard sale. At that time, I was told that the statues were being sold to A&W corporate headquarters in Wisconsin. However, that never happened and A&W is actually headquartered in Lexington, KY. These statues remained in storage until 2018 when they were sold to the owner of the A&W in Lodi, CA. In 2019, the statues were put on display behind the restaurant with a Teen Burger that came from Nebraska. That statue is believed to have been displayed originally in Colorado. [map]
Baby Burger, Teen Burger, & Mama BurgerChamblee, GA (now Santa Maria, CA)

2010:
2015:
These Baby Burger, Teen Burger, & Mama Burger statues were located at Biggar Antiques in 2010 when these photos were taken. There was no Papa Burger. The Teen Burger's "T" advertised for "Downtown Wings." Does anyone know where these statues were installed originally? In 2011, these statues were sold and shipped to a private collector in Santa Maria, CA. The move was featured on the TV show "Shipping Wars." The owner acquired a Papa Burger from New Jersey to complete the set. That statue was previously located at a Burger Boy restaurant in Washington.
Burger FamilySanta Maria, CA
This Burger Family is also owned by the same person that owns the other Burger Family shown directly above. These statues came from a collector in Billings, MT. It is not known where they were installed originally. The Teen Burger is stored indoors while the other three statues are displayed outside in his back yard. These photos are from 2015. In 2015, this collector also acquired the three statues from Willcox, AZ. In 2019, he acquired additional statues: three Baby Burgers, a Mama Burger, and a Papa Burger.
More A&W Burger Family Members:
Papa Burger (Berthoud, CO)
Teen Burger (Sheldon, IA; now Emmetsburg, IA)
Papa Burger (somewhere on I-80 in IA; vintage postcard) [gone]
Baby Burger (Manhattan, KS) [map]
Papa Burger (Chesterfield, MI)
Burger Family (Mountain Lake, MN) [map]
Papa Burger (Albany, NY)
Papa Burger (Junction City, OR) [gone]
Papa, Mama & Teen Burger (Morinville, AB)
Mama Burger (private collection; Vancouver, BC)
RoadsideArchitecture.com

Copyright. All photos at this website are copyrighted and may only be used with my consent. This includes posting them at Facebook, Pinterest, blogs, other websites, personal use, etc.

Tips & Updates. If you have suggestions about places that I haven't covered, historical info, or updates about places/things that have been remodeled or removed, I'd love to hear from you: roadarch@outlook.com.