(hit "refresh" to get the most recent version of this page; click on photos for larger images)
former station
Knoxville, TN
In 2003, this former station was painted yellow and housed a produce stand. When this photo was taken in 2011, the building was home to CelTech. In 2014, the building housed a barber shop. By 2017, the building was housing an auto insurance office. [map]
former station
Grand Junction, TN

This former station, also known as the Hess Garage, was vacant when this photo was taken in 2011. [map]
former Gulf station
Tazewell, TN
This former Gulf station is also known as the Rose Service Station. It was built in 1930 by Carson Rose and closed in 1956. The station was restored by the town in 2001 and serves as a mini museum of petroliana. The exposed brick with lighter colored brick inlay was typical of the Gulf canopy design. [map]
former station
Lenoir City, TN
This former station was built by Frank Kinger in 1931. It featured a round office and a triangular shaped canopy. The pumps were removed and the building has been vacant for decades. These photos are from 2005. By 2009, the canopy was gone with just the supporting columns in place. By 2019, the building had collapsed on the ground but the canopy columns were still there. [map]
former Sinclair station
Murfreesboro, TN
This former Sinclair station now houses Express Market & Tobacco. These photos are from 2003. By 2015, the building had been painted orange and the columns had been faced with brick. By 2017, the building had been remodeled and the original details were gone. [map]
former Sinclair station [gone]
Newbern, TN
This former Sinclair station no longer sold gas was used as a repair shop when these photos were taken in 2007. By 2016, the building had been demolished.
former Gulf station
Soddy-Daisy, TN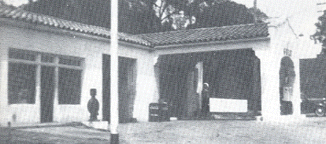 This former Gulf station was built in the 1930s as Layne's Gulf station. The bay building at the left was built in 1938 as a radio shop. The building housed A-One Automotive when these photos were taken in 2005. The building now houses a hair salon. [vintage photo thanks Darryl Grant] [map]
RoadsideArchitecture.com

Copyright. All photos at this website are copyrighted and may only be used with my consent. This includes posting them at Facebook, Pinterest, blogs, other websites, personal use, etc.

Tips & Updates. If you have suggestions about places that I haven't covered, historical info, or updates about places/things that have been remodeled or removed, I'd love to hear from you: roadarch@outlook.com.