(hit "refresh" to get the most recent version of this page; click on photos for larger images)
former Cities Service station
Whiteville, TN
former Cities Service station
Murfreesboro, TN
This former Cities Service station in Whiteville was built in the 1930s. This building appeared to be vacant when this photo was taken in 2010. [map]

This former Cities Service station in Murfreesboro housed a CITGO station when these photos were taken in 2010. By 2013, the building had been painted orange. It was operating as Bethlehem Star Market and Gas. The building now houses a used car dealership office. [map]
former station?
Murfreesboro, TN
former station?
Nashville, TN
This abandoned building in Murfreesboro appears to be a former station. I did not make note of the address for this building. Does anyone know the location or if it is still there?

This building in Nashville looks like a former station. It housed Bobbi's Tire Service when this photo was taken in 2007. The building has apparently been vacant since around 2015. [map]
former station
Memphis, TN
former Pan-Am station
Strawberry Plains, TN
This former station in Memphis had five remaining gas pump islands when this photo was taken in 2010. However, the pumps were long gone. By 2014, the station was blocked from view but it was still there. [map]

This former Pan-Am station has been closed and abandoned for many years. There are still a number of these former stations in the South including this one that was in Ocean Springs, MS. For more, see these websites: 1 and 2. [map]
former Pan-Am station [gone]
Ridgely, TN

This former Pan-Am station housed Markham Auto & Farm Service when this photo was taken in 2010. In 2013, the building was housing Buck's Detail Shop. By 2016, the building was housing Southern Building & Fab and the building had been painted brick red. In 2019, the building was gone.
Pan-Am station
Chattanooga, TN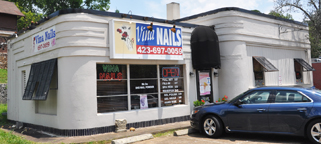 This Pan-Am station was built in 1945. The building now houses a nail salon. [map]
former station
Sewanee, TN
This Sewanee station is now home to Sewanee Auto Repair. The building looks to be from the 1930s or 1940s. It is faced with Tennessee flat rock, as is the post office next door and the bank across the street. There are still a couple of functioning old pumps out front but the focus is on repairs. The shape and proportions of this building makes me wonder if this wasn't a Pan-Am station originally. [map]
RoadsideArchitecture.com

Copyright. All photos at this website are copyrighted and may only be used with my consent. This includes posting them at Facebook, Pinterest, blogs, other websites, personal use, etc.

Tips & Updates. If you have suggestions about places that I haven't covered, historical info, or updates about places/things that have been remodeled or removed, I'd love to hear from you: roadarch@outlook.com.