(hit "refresh" to get the most recent version of this page; click on photos for larger images)
former station
Reno, NV
This former station was built around 1914. It was restored in 2001 by David Rocovits. The sign identifies it as the Borgward Garage, a reference to Rocovits' passion for Borgwald automobiles. One source refers to this building as the "West 2nd Street Filling Station" which makes me wonder if this structure was relocated. However, I'm told that this station has been here at 1st and Winter Streets since at least 1972. The pumps were replicas. Although the globes on top of the pumps advertised for Chevron and Mobil, I don't know if this station ever sold either of those brands. The pumps are gone now. [map]
former Union 76 station
Elko, NV

This former Union 76 station now houses a car wash. [map]
former Shell station
Elko, NV

This former Shell station was vacant when this photo was taken in 2014. It previously housed Goddard's Auto Sales. In 2018, the building was housing a tire shop. [map]
former Richfield station
Ely, NV

This former Richfield station is not in use. It had been painted with murals by 2007. For more, see this website. [map]
former station
Ely, NV
former station [gone]
Hawthorne, NV
In the 1950s, this former station in Ely was known as Miller Service and operated as a Shell station. It was located next door to the Miller Motel. By the 1960s, it was operating as a Phillips 66 station. It was operating as a Union 76 station in the 1990s. The pumps are gone now and the building houses a liquor store. For more, see this website. [map]

This former station in Hawthorne had been abandoned since at least 2007. The pumps had already been removed by then. This may have been a Wilshire station originally. The canopy was gone by 2021.
former Terrible Herbst Station
Las Vegas, NV
former Signal station
Las Vegas, NV
This Terrible Herbst location was built in 1979. This photo is from 2006. By 2014, it had become a Texaco station. There is another former Terrible Herbst station in Las Vegas and one in Kingman, AZ with similar designs. There are also former Terrible Herbst stations with this design in California, including this one in Barstow. For more, see these websites: 1 and 2. [map]

This former Signal station was built in 1946. It later housed a Husky station. The building housed The Ladies of the Cross in recent years. By 2018, the building appeared to be vacant. [map]
former station
Las Vegas, NV

2014:
2022: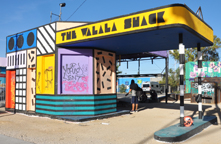 This former station was built in 1931. In recent years, the building was in use as a used car lot office. I believe that the building has been vacant since at least 2008. It was painted bright pink by 2019. In 2021, it was repainted by Camille Walala as the Walala Shack. For more, see these websites: 1 and 2. [map]
former Phillips 66 station
Las Vegas, NV
This former Phillips 66 station has been abandoned since at least 2007. There are only a handful of these double canopy Phillips 66 stations left around the country. There was another double canopy in Las Vegas which has been demolished. [map]
former station
Sparks, NV
The green paint might indicate that this former station was a Sinclair station at one time. I don't know what brand was sold here originally. In 2011, it housed a Golden Gate station. The pumps had been removed and the buildings were vacant when these photos were taken in 2014. It was still vacant in 2022. [map]
former Wilshire station
Las Vegas, NV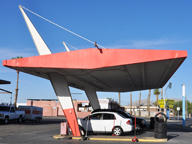 This former Wilshire station now houses Primo Tires. There are still lots of surviving examples of these canopies in California. [map]
former Orbit station
Incline Village, NV
This former Orbit station has been abandoned and endangered for many years. The pump islands are long gone but there are still some decals on the doors indicating that this was a Texaco station before it closed. There are other Orbit stations still operating in California. [map]
RoadsideArchitecture.com

Copyright. All photos at this website are copyrighted and may only be used with my consent. This includes posting them at Facebook, Pinterest, blogs, other websites, personal use, etc.

Tips & Updates. If you have suggestions about places that I haven't covered, historical info, or updates about places/things that have been remodeled or removed, I'd love to hear from you: roadarch@outlook.com.